So, you're about to take the plunge on your kitchen remodel. You've done some research, and made good use of our downloadable Kitchen Remodel Planning Guide.
Now it's time to bring in professional help. But who to hire? A general contractor? An architect? A kitchen design pro?
Who will do the best job of helping you bring your dream to life, in a cost-effective way?
What Building and Design Pros Do
To make good hiring choices, it helps to understand what these pros actually do…
What Do General Contractors Do?
It's the job of a general contractor (GC) to oversee the construction of your project from start to finish, and help you get what you want.
To achieve that, a good contractor will work closely with you to:
understand your vision and dreams
help you set a realistic budget
problem solve and offer creative solutions
Many contractors work with a set of favorite architects and designers to address homeowners' needs in those areas. Additionally, some contractors are willing, if not eager, to take on design work themselves.
Why Hire a Contractor
Quality contractors know how to:
save you money by making smart choices on materials and methods
avoid common planning and building mistakes, navigate local building code requirements, and
prepare for local government inspections
The last thing you want is to find yourself deep into the building process … only to learn that you've run afoul of local regulations.
Good contractors also know which local pros are most reliable – e.g., electricians, plumbers, masons, cabinet makers and HVAC – and which are best suited to your job's specific needs.
You may, for example, have a straightforward electrical set-up, but require a complicated plumbing or HVAC solution. An experienced GC will know who to bring in for any situation.
Get Free Quotes From Local Kitchen Pros
When to Hire a Contractor
If your job requires:
significant structural changes or repair
demolition
restoration
permitting, and/or
the involvement of local pros like cabinet makers, electricians, plumbers, masons, etc
… then unless you're a big-time DIY'er and know a lot about construction, do yourself a favor and get a contractor!
You may be wondering if situations exist in which you don't need or want a general contractor. Sure, IF:
your job is small and you have a trusted home improvement pro who can handle tasks like replacing a floor or implementing design changes that require modest structural work, or,
you are knowledgeable in all aspects of your job (including who to hire), and have the time to manage it yourself
But if you are planning a significant remodel and are not an advanced DIY'er, we strongly advise finding a qualified GC.
What Do Architects Do?
Architects – like GC's – work with you to:
understand your vision and dreams
problem solve, and
offer creative solutions
After gaining an understanding of your goals, the architect will develop ideas and conceptual drawings for discussion and refinement. That process continues until final detailed architectural drawings are agreed upon, for use during construction.
During the planning process, architects can also advise on budget … however, not all architects possess the latest, most comprehensive information on building costs for all aspects of a kitchen remodeling project … which is why it's also important to have a knowledgeable builder on your project.
Once the plans are ready, your architect will also be responsible for obtaining any necessary approvals from your local municipality.
After the planning stage, architects may or may not remain on a project. Those who remain can:
help you find and select a contractor;
help you manage the contractor;
help you oversee the entire project;
act as advisor when questions arise or changes occur;
help you stay on budget;
help with design decisions, like choosing colors and materials;
help choose and even purchase fixtures and fittings.
→ Since the potential range of responsibilities for architects can be great, it's wise to clarify your interests and expectations upfront, and make sure that you and your architect are on the same page about the architect's responsibilities at each stage of the project.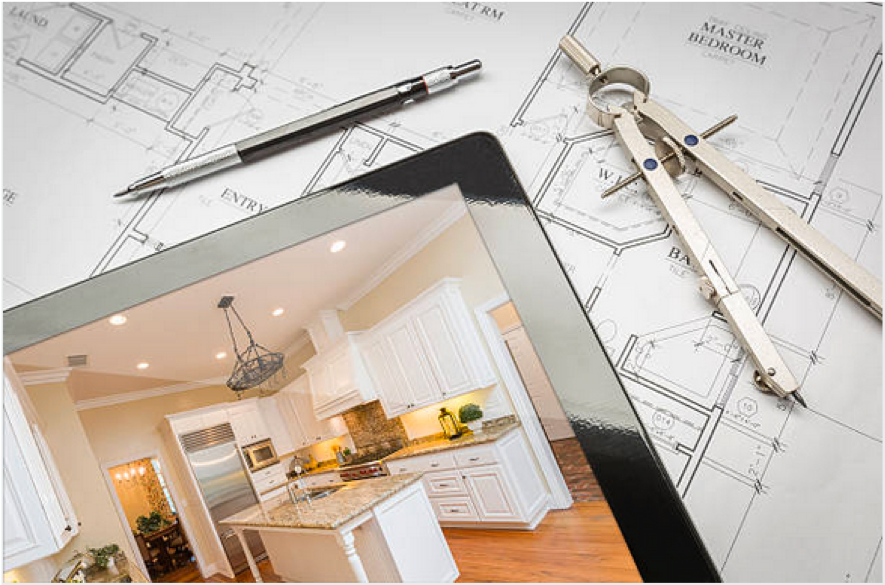 Why Hire an Architect
For jobs requiring the re-shaping or re-imagining of a space – qualified architects are probably the most likely of all building and design pros to have the education, training and experience needed to help you navigate the complex process of a kitchen remodel.
Architects' extensive knowledge of design, ergonomics, engineering, construction and local building codes, allows them to come up with innovative and creative solutions to complex problems in the most cost-effective, energy-efficient, and budget-friendly ways possible.
Additionally, for homeowners who can afford to retain their architect throughout the construction process, you will have the benefit of a knowledgeable advisor who can weigh in on the hundreds of choices that you'll make along the way, from materials, colors and styles, to solving unanticipated problems.
When to Hire an Architect
Many kitchen remodel jobs do not require an architect. However, if you are making substantial changes to the layout, structure, or use of a large space like a kitchen – e.g., moving or removing walls, expanding the footprint, changing the roof, or adding functionality like a workspace – then hiring an architect is be the best way to go. Another guideline: any remodel costing more than 5-10% of your house's value will likely benefit from the involvement of an architect.
What Do Kitchen Designers Do?
As with contractors and architects, kitchen designers strive to understand your concerns and dreams, in order to help you get the most out of your kitchen remodel.
Contrary to what some homeowners assume, kitchen designers do not simply exist to make things look pretty. Rather – based on your personal preferences, cooking style and family habits – they generate practical, stylish solutions that enhance the functionality and usability of your kitchen, so that it's comfortable and easy to use.
A kitchen designer's sphere of responsibility generally includes:
look and feel of the kitchen
comfort and ease of use
workflow
traffic flow
lighting
colors
materials
cabinets and other storage, and
safety
Importantly, the range of services provided by kitchen designers can be even wider than that provided by most architects.
Some kitchen designers provide only design services; others provide á la carte options that go beyond just design; and others offer all-inclusive service from concept to architectural drawings to complete building services. This affords homeowners the option of hiring kitchen designers for design ideas only, or, for everything from concept to construction … depending on the homeowner's needs, and the services offered by the design firm(s) you like.
Why Hire a Kitchen Designer
Professionals who have committed themselves to kitchen design know one thing very well: Kitchens! Many have spent their entire career just on kitchens, so they bring a wealth of knowledge to any job – and as a result, can present you with smart, stylish choices customized to your specific needs.
Kitchen designers know:
how to squeeze every last ounce out of a kitchen's available space – and make it look great
how to spend money wisely to help you get the greatest value from your investment; and
what works and what doesn't work, so you can avoid regrettable and costly mistakes
Additionally, like architects, kitchen designers can manage contractors and daily construction activities (or in some cases, handle the construction themselves).
If you have questions about cabinets, other storage solutions, appliance options, countertop trends, workspace efficiency, traffic flow, kitchen flooring choices, lighting, smart devices, waste disposal, recycling, or anything else to do with a kitchen's appearance or functionality… then a kitchen designer might be in your future.
When to Hire a Kitchen Designer
Some homeowners wonder if hiring a kitchen designer is an unnecessary expense. Maybe, maybe not.
If your job does requires only minor structural changes – and – if you want or need design help, then it makes sense to think about hiring a kitchen designer.
For example: on a middle-sized job with minor structural changes, a homeowner might opt to hire:
a kitchen designer for concepts and drawings – plus – a builder for construction … OR …
a full service kitchen design firm to handle all of the work from concept to construction.
There are more kitchen solutions out there than most people can keep up with. If you need help with generating creative design ideas, and access to extensive information about kitchen design, talk to some kitchen designers!
Architects vs. Kitchen Designers
The choice between hiring an architect versus hiring a kitchen designer is actually rather straightforward.
If you need or want design help and inspiration, and your job is big, or includes substantial structural changes – hire an architect.
If you need or want design help and inspiration, and the footprint of your kitchen is to remain largely intact, and structural changes are likely to be modest, hire a kitchen designer.
Either way, you'll need a good GC or builder (unless you go with an architect or kitchen designer who is also a builder!).
Time to Hire a Pro
OK you've thought it through, talked to prospects, and are ready to go. Here are a few more things to consider before hiring a GC, architect, and/or kitchen designer…
Hiring a Contractor
Perhaps the most important qualification in a good contractor is experience – there's no substitute. So find out what kinds of jobs your contractor has done, especially recently. "What have you done for me lately" was never more applicable to any profession than it is to contractors.
Contractor Training & Qualifications
Some contractors have a construction management certificate or degree.
Additionally, many states require that contractors maintain a license for handling residential projects, so check with your local government's building department. You can also check with the Consumer Protection Agency for contractor requirements in your city or county.
Contractors should also have insurance: liability, property damage, and worker's comp.
Contractor Fees
Generally, GC's charge based on percent markup of the job.
For more information about hiring contractors, visit the FTC's Consumer Information page on Hiring a Contractor – you'll find lots of great info!
Hiring an Architect
It's important to find an architect who:
understands what you want
has a style and/or design philosophy you like
has a good grasp of details
communicates effectively, and
makes you feel comfortable
With that in mind, it makes sense to:
meet with a few candidates
ask friends and neighbors for references
ask your contractor (if you have one) for recommendations
check online reviews and recommendations
When you meet with candidates, ask about:
their recent work
the kinds of concepts and drawings they provide
the services they provide
what they think about your project
topics of particular interest to you (e.g., sustainability, smart home technology, views and sunlight), and
how they structure their fees
Essentially, you are looking for someone who is a good fit for you, and for the job.
Architect Training & Qualifications
All states require architects to be licensed. Obtaining a license requires:
education – usually a bachelor's degree from accredited program
experience – usually three years of on the job training, and
passing an exam – the Architect Registration Exam
Most states also require continuing education for certified architects.
Architect Fees
Architects' fee structures vary. Some charge by the hour, others by the square foot, and others as a percentage of the entire project.
Since costs and fee structures vary widely by region, it's best to meet with several candidates to compare differences and similarities.
Hiring a Kitchen Designer
Hiring a kitchen designer is much like hiring an architect (as outlined above): it's important to find someone who understands what you want, whose work you like, and who makes you feel comfortable. It's also important that their service offerings, skills and experience align well with the specifics of your job.
Kitchen Designer Training & Qualifications
Unlike architects, the field of kitchen designers is largely unregulated.
However, there is one important certifying body: the National Kitchen+Bath Association. NKBA-certified designers pass an extensive exam that requires in-depth training and extensive industry experience.
It's certainly possible to find highly-qualified kitchen designers and design firms who do not possess the NKBA certification, so it's up to each homeowner to determine a potential design firm's suitability for a given project.
Meet with multiple candidates, review their recent work, check references, and read online reviews.
Kitchen Designer Fees
Since kitchen design services range from simple consultations to full remodeling services, the cost will depend on your specific needs and choices.
Comprehensive kitchen design services typically cost about 10% of a renovation's total expense. But if your needs are more limited, the cost could be considerably less than that.
Learn more here about hiring a kitchen designer.