Kitchen remodeling can be expensive. The average cost of a kitchen remodel in the U.S. is around $23,000, and some remodels run much more. Happily, a great kitchen remodel doesn't need to be so costly.
You'll want to focus on what your kitchen needs most, whether your needs are functional, cosmetic, or both. But regardless of what your kitchen needs, the key to a successful low-cost remodel is knowing what kinds of strategies produce the best results – and that includes the need for a "wow" factor, since your kitchen should look great!
Because every kitchen is different, and every homeowner is different, we're not going to offer up a random list of 11 small ideas that may or may not be relevant to your situation or tastes. Rather, we want to share proven design strategies and remodeling ideas that can produce fabulous results on a tight budget, regardless of what kind of kitchen you have.
Here's how to think about your small-budget project …
Main sections: Remodeling on a Tiny Budget
When working with a small budget, rule number one is: don't change your kitchen's "footprint" – the basic structure of your kitchen: wall placement, location of the island (if there is one), foundation, sink location, appliances that require water or gas to operate, and location of the cabinets. Changes to a kitchen's footprint are expensive, so you'll save many thousands of dollars by avoiding major structural changes.
Instead, focus on upgrades that are easier to make, high-impact, and cost-effective:
Get Free Quotes From Local Kitchen Pros
Here are some great ways to make a major impact on the functionality and appearance of your kitchen, without breaking the bank:
Appliances tend to wear out after 5-10 years, and tend to look dated over time.
The strategy of replacing all major appliances at once can really enhance appearance and functionality of a kitchen, and save you money too:
Contemporary appliances come in an array of colors, finishes and styles, giving you the opportunity to make a statement.
When you choose your appliances all at once, you can ensure that they all have a similar appearance, e.g., a stainless steel finish, or even a colored surface if you like. You can also match the style of various appliances' design details (like handle styles), so that your entire array of kitchen appliances suddenly looks very unified and stylish. When people walk into your kitchen, they will notice.
If In terms of savings, buying all your appliances at the same retailer affords you the opportunity to get a volume discount. If you're buying all your appliances from one retailer, a discount is very reasonable, so don't be shy about asking!

Also, a growing number of retailers offer "packages" from a single brand, for great prices. For example: this sleek, stainless steel, 4-piece Frigidaire kitchen combo for around $3,200...


Find appliance packages like the one above at the BHG Shop.
If you do little more than replace your major appliances, you'll likely find that your outdated kitchen suddenly looks and works a whole lot better!
Your kitchen's color scheme is an important consideration when remodeling on a very tight budget. Often, it's the color of the walls and ceiling that give older kitchens a dated appearance … and there's nothing like a fresh new paint job to brighten up an outdated kitchen.
Plus if you can do the painting yourself, your cost is little more than the paint itself, plus related materials like brushes, masking tape and protective sheets.
As for color selection, we do love colorful kitchens. However, when it comes to walls and ceilings, a homeowner's best bet is often to go pale: either white, off-white, or light colors. Pale kitchens offer enormous flexibility, because not only do they look great, but also, they allow other key points of interest to stand out, like pendants, artwork, appliances and countertops.
The kitchen below is an example of just how great a white-plus-pale paint combination can look, especially when paired with new, matching appliances! Take note also of how this color scheme allows other accents in the kitchen to sparkle. That's important, because on a tight budget, you can use inexpensive accents like towels, glassware and fruit bowls to add interest and flair: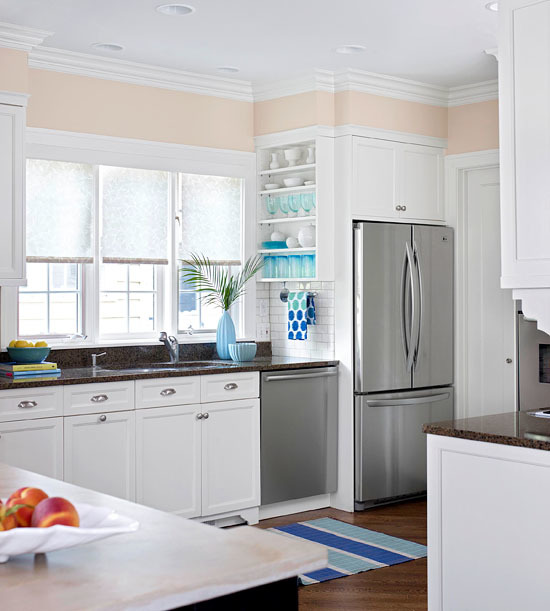 For more ideas and inspiration, check out our White Kitchen Design Ideas slideshow in the main part of our site.
Kitchen lighting is an often-overlooked aspect of kitchen design and remodeling, especially when on a tight budget. Many kitchens do not have enough light, or the light is not aesthetically pleasing. A lighting makeover can produce dramatic results.
Designers often think in terms of "layering" the light in kitchens: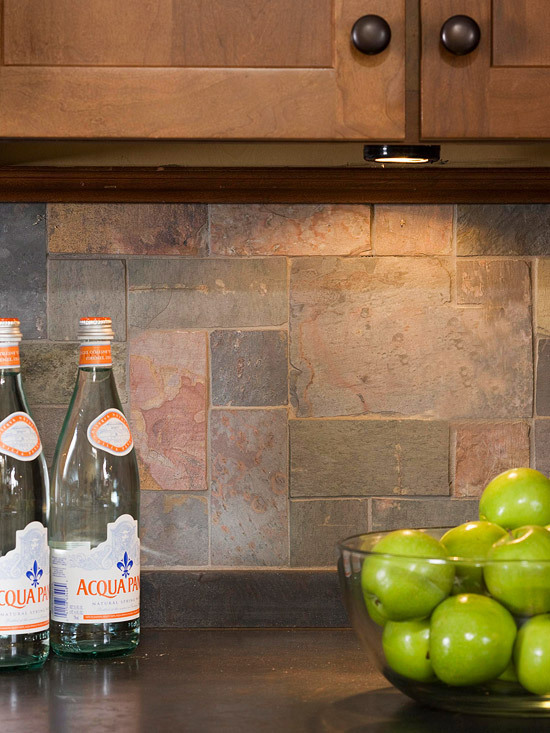 Ambient lighting: which can fill parts or all of a room to create a softer, less harsh effect.
Task lighting: lights up counters, cooking surfaces and storage areas so you can see what you are doing.
Accent lighting: highlights kitchen elements that look best with small-scale spot lighting. For example, art pieces and inside glass cabinets.
Decorative lighting: like designer pendants and wall sconces, add flare and personality.
Adding a few pendants for task or accent lighting is one relatively low cost way to go, and the choices have never been more interesting.
Indirect, under-cabinet lighting is another great way to brighten food prep areas, while also providing warmth and appeal to the room. Under-cabinet lighting can also be very cost effective – achieved with simple LED strips!
Also, think about under-island lighting to add more glow to a room, or in-cabinet lighting to show off glass cabinets.
And consider adding a few spot light fixtures to emphasize special kitchen features, or a favorite piece of art. Spot lights can be placed on ceilings or walls.
Cabinets, countertops and flooring all play a major role in the appearance of any kitchen, so think about whether replacing or refinishing one or more of these surfaces would represent the kind of improvement you're looking for:
Cabinets
Replacing cabinets can be expensive, but refinishing them can completely change the look of your kitchen, and costs a fraction of installing new cabinets.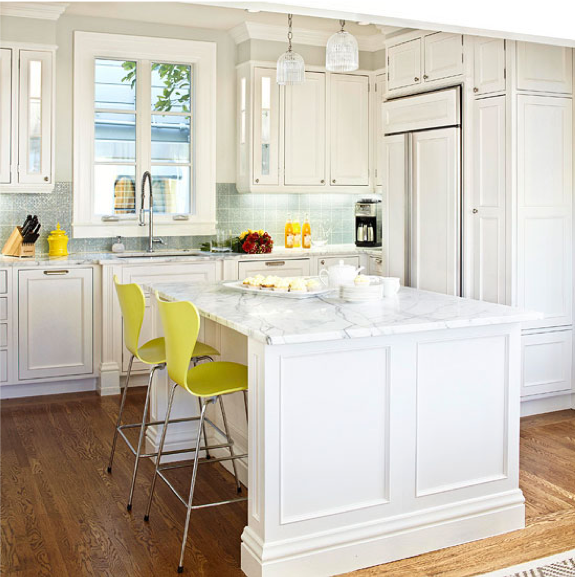 If your cabinet boxes and doors are in relatively good shape, simply repainting them can work wonders!
Consider adding glass to a few cabinet doors. Local glass stores and home service retailers can supply you with pre-cut glass, or cut it for you.
And finally, go out and find some great new cabinet handles and pulls – that will certainly enhance the look and feel of your "new" cabinets!
Countertops
Replacing your countertops is another way to add new vitality to a kitchen. Some countertop materials like laminates and granite are surprisingly affordable, and occasionally you can find remnant materials at local retailers.
Replacing a countertop is not the cheapest way to upgrade a kitchen, but it's worth exploring if your current countertops are old and dated.
Backsplashes
Perhaps your counters are in good shape, but you need a backsplash. These days there are all sorts of options for great-looking, low-cost backsplash tiles that you can install yourself. We particularly like the peel & stick offerings, which are super-easy to install.
Flooring
Replacing floors won't be cheap, but if you have wood floors and the wood is in good shape, refinishing is a great option…and a newly refinished floor can look every bit as great as a brand new floor, especially if you change the color of the finish!
A growing number of consumers are painting or stenciling their floors, if the surface can handle it.
The bottom line on surfaces is: while you may not be able to refinish all of your cabinets, counters and flooring on a tiny budget, you might be able to tackle one or even two of these surfaces – and almost always, the change is dramatic!
Walls
If you have an open wall with not much going for it, consider adding shallow shelves for decoration or storage. Alternatively, fill the space with an array of art.
Molding
Adding molding to plain walls is a great way to upgrade the look and feel of a room for minimal cost. Carpenters or handyman pros can take care of this for you, or if you're a DIY'er, you can add the molding yourself.
If a new coat of paint is part of this plan, add the molding before painting.
Sometimes there's just not enough in the remodel budget to do anything substantial. No worries, there's a strategy for that too!
Fix What Needs Help
Think about the one, two or three things in your kitchen that really need help, and focus just on those. Maybe it's an old sink and faucet, or outdated track lighting on the ceiling. Focus just on getting those key items addressed first.
Upgrade What Nobody Sees
Find (or even make) inexpensive drawer inserts for silverware and utensils, and cupboard organizers for spices. Splurge on a Lazy Susan cabinet insert to make corner cabinet spaces more accessible.
Paint or stencil your pantry walls for an added touch class!
Electrical Upgrades
If you suffer from the occasional blown fuse when too many appliances are running, upgrade your electrical outlets with the help of a trusted local electrician.
Buy New Small Appliances
Maybe you need a new toaster or toaster oven? A new blender? Coffee or expresso maker? Rice cooker? Check out our Editors' picks for great small appliance choices…
Add a Ceiling Fan
Ceiling fans are great, and they are especially great in kitchens, where warm air is frequently generated. If your kitchen ceiling is high enough to allow room for a ceiling fan, explore this option in our Shop section. Not only do contemporary ceiling fans look great, but they also provide much needed ventilation.
Décor-ate the Room
Pay a visit to your favorite low-cost retailer for home accents (think Target stores). Pick up a new flower vase, a fruit bowl, nice tissue holders, colorful new dish towels, a contemporary picture frame or two, and whatever else might fit with the style of your kitchen.
Voila! With very little money and a bit of creativity, you really can get that kitchen looking nice again!
Want More Ideas?
Check out these stories and resources in the main part of our site! Small