As noted in our Kitchen Remodel Planning Guide, homeowners make hundreds of decisions during the course of a kitchen remodel.
Many of those decisions, large and small, involve spending money.
It's easy to go over budget during the course of a remodel, thinking that any one decision won't make that much of a difference…but all those decisions, large and small, add up. The good news is that with a little planning, foresight and creativity, you can save thousands of dollars – maybe even tens of thousands – on your remodel.
Here are some strategies – and lots of individual ideas – for saving tons of money on your way to a fabulous new kitchen:
Get Free Quotes From Local Kitchen Pros
Smart Planning
Anyone who has been through a remodel knows how important it is to plan well, and plan in advance. Smart planning means fewer unpleasant surprises, fewer delays, fewer cost overruns, and better overall results.
Take the time to consider:
How your kitchen is used by everyone in the family
The difference between what you must have, what you want to have, and where you can compromise
That may sound obvious, but it's common during the planning process to fall in love with a greater number of big ideas and cool options than your budget allows. That's why thinking about what is essential, and what isn't, matters so much.
To get started, check out our comprehensive Kitchen Remodel Planning Guide – designed to help you think about what you want and what you need for your kitchen remodel.
Also, keep in mind that planning is a process. That's why budget planning worksheets are helpful. A worksheet allows you to keep track of multiple options as you go through the process. Once you know the products, styles, colors, surfaces and features that you like most, you can view them all in a single worksheet, and start to make choices about the best ways to allocate your budget. •
Download the Kitchen Remodel Planning Worksheet.
Savings-Oriented Mindset
Homeowners with a savings-oriented mindset not only get more for their money, they often come out of the process feeling happier with the results.
We're not talking about being "cheap" (though there is nothing wrong with that!). Rather, we're talking about finding creative and cost-efficient ways – at every step of the process – to achieve your goals in cost-effective ways.
Here's how…
Mind Your Kitchen's "Footprint"
The importance of your kitchen's footprint is discussed in our Kitchen Remodel Planning Guide, but it's such an essential concept for saving money, that we wanted to cover it here too.
Early in the planning process, you have an important decision to make: will you work with your kitchen's existing "footprint" or change it? The "footprint" is basically your kitchen's infrastructure, i.e.:
The foundation
The walls (and especially the "load-bearing" walls)
The sink and other plumbing
Doors and windows
Gas lines
Lighting, electrical sockets and wiring
Changing or modifying any of these elements will add cost. Moving or tearing down a load-bearing wall is, for example, very expensive. Changing the location of a sink is expensive. And so on.
That doesn't mean you should avoid structural alterations. Just be aware that every structural change will bring added expense, so look for creative ways to achieve your goals with as little modification to the footprint as possible.
For example, if your current kitchen feels too small: consider painting the walls and ceiling white; choosing highly-reflective appliance and countertop surfaces to brighten up the room; and, enlarging windows or adding a skylight! There are lots of ways to change the appearance of a room without changing its fundamental footprint.
Kitchen Footprint Tip for Energy Efficiency
Avoid keeping your refrigerator near warming sources like heaters, ovens, windows and doors. Fridges located near warm air sources must work harder to keep food cool, which in turn increases energy costs. Modifications to a kitchen's footprint to ensure greater energy efficiency might be well worth the cost. Discuss this with your architect and/or GC if you have such a situation.
Staged Remodel
A staged remodel is not for everyone, but if you want to save money, spacing out the work over time is an interesting option.
For one thing, it divides your remodel costs over multiple years, making the overall job potentially more affordable.
Also, doing the work over time – especially for first-time remodelers – offers the ability to learn more about the process, and apply learning from each stage to the work that comes next. For those who've not worked with a GC (general contractor), this can be a great benefit.
Some contractors will be reluctant to take on a job that happens over time; they'd rather get in, do the job, and get out. But for others, staging means that if both parties are flexible, a contractor might be able to fit your work in between their other larger jobs as time allows: a "win-win" for both of you. Local supply and demand may also play a role.
Additionally, staging allows true DIY'ers to conduct some of the work themselves. While we do not advise doing an entire remodel on your own, some DIY'ers are very capable of handling drywall installation, smaller plumbing jobs, and even laying down new flooring if the GC ensures that the foundation and sub-floor are in good shape.
For some, staging your remodel over time is an option worth considering.
Timely Decisions & Deliveries
One of the biggest causes for construction project delays and cost overruns is: homeowners waiting to the last minute to make decisions on major purchases. That includes appliance choices, cabinet choices, flooring choices, fixtures and fittings, even paint colors.
What if the product and style you want is at the right price when you need it … but out of stock? Do you (and your contractor) wait until it's back in stock? Do you choose another item you may like less, or that may cost more? If you wait, will you temporarily lose your contractor to another job?
It's important that you as a homeowner do the necessary thinking, planning and preliminary shopping upfront, so that when it's time for items to be purchased, delivered and installed, those items have already been selected, and are in stock ready for delivery.
Cabinets
Cabinets – including installation and hardware – account for the single largest expense in most kitchen remodels, so it's important to understand all your options, and save where you can in the context of your objectives.
The first choice is relatively simple:
install new cabinets, or,
refurbish existing cabinets
… but that's where the simplicity ends.
New Cabinets
New cabinets are of course more expensive. Homeowners can very easily spend $5,000-$10,000 on new cabinets, with higher-end options costing $12,000-$60,000 or more.
Fortunately, cost-saving options exist at every level! Here are some great ways to save…
Custom vs. Semi-Custom vs. Stock/Pre-fabricated Cabinets
Custom cabinets are the most expensive of all kitchen cabinet options. They offer the highest level of quality, and can be configurated any way you want, with whatever materials you want, in whatever finishes you want. Custom cabinets also tend to "feel" more substantial, and last longer.
Installation is nearly always done by the cabinet maker or a contractor.
Semi-Custom, ready-to-assemble (RTA) cabinets are a great choice for homeowners wanting new cabinets without the custom price tag; costs can be half of what you'd pay for completely custom cabinets. For this reason, semi-custom cabinets are very popular.
You will need to choose from existing designs, materials, finishes and configuration options. The more options you choose, the more expense is added. Measurements are reasonably customizable.
Installation can be done by contractors or DIY-capable homeowners.
Stock, pre-fabricated cabinets are the choice for those on a tight budget. Stock cabinets are available in standard sizes and finishes, but are not customizable, so you will need to work around these cabinets after you install them, to create a seamless appearance.
Consider Less Expensive Materials
Most cabinets are constructed of wood, laminate or thermofoil.
Wood is generally the most expensive material as always. Alder, maple, oak and pine are usually less expensive than cherry, mahogany and walnut, which are less expensive than exotic woods.
Wood styles come and go, so be sure that if you choose natural wood, you select a variety that you really like, over one that is simply "popular" at the time.
Laminates and thermofoil are less expensive than wood, look great, come in endless colors and designs, and are easy to clean. Some of these materials may experience degradation over time, so ask suppliers about life expectancy and warranties.
Look at Different Door Styles
Your choice of cabinet door styles can have a surprisingly substantial effect on the cost of your cabinets. Flat and slab doors are less expensive than doors with raised panels, wood insets or glass insets. Cost also varies depending on the maker or manufacturer.
So after doing some initial thinking and research, get out there and see what's available.
Customize Wisely
The more you customize, the more you spend, and this doesn't just pertain to custom versus semi-custom cabinets. There are many additional – and often tempting – ways to customize cabinets:
Unique sizes
Special depths
Special doors
Glass fronts
Custom lining
Molding and trim
Corbels
Decorative inlays
Finished end panels
Designer colors
The key is to be thoughtful about selecting only those particular customizations that really matter to you. That might mean choosing a unique cabinet size for an oddly-shaped area to make use of all available space … or … adding glass panels to just a few doors, to highlight objects with particular visual appeal.
The simpler you keep it, the more you will save.
Drawers vs. Pullouts
Pullouts are great for all sorts of reasons, but they cost more than drawers, so where you can stick with doors you'll save money.
A good way to make doors work in lieu of pullouts is to add sliders inside the cabinet. For example, rather than installing pull-out trash cabinets, choose cabinet doors instead, and place the trash bins on full-extension slides for easy access. Easy-peasy!
Open Shelving
Another good option for saving money is to opt for open shelving in some locations.
This option makes particular sense when:
The items being stored offer visual appeal (for example, books or a collection if storage jars);
Cabinet depts are very shallow;
You're looking for additional storage space (for example, on a wall that previously had no shelves or storage capability).
Upgrades and Insets
What happens behind closed cabinet doors can add a lot of expense! That includes soft-close sliders, full extension sliders, and the endless array of cool insets you might want … from slide out spice racks to in-drawer knife holders.
One good cost-saving strategy is to opt for simpler, open, flexible cabinet spaces during the initial construction phase, then add special insets over time as you find ones you really love. You'll save a lot that way!
Fancy Finishes
Glazes and other fancy finishes can add a lot of visual appeal, but are also quite expensive. Think twice about how important this option really is for you.
And of course, visit some cabinet showrooms. That's the best way to get a clear idea of the many different styles, materials, and customization options currently available.
Find a custom cabinet maker near you!
Existing Cabinets
Not everyone doing a kitchen remodel actually needs new cabinets. If the cabinet boxes and doors are in reasonably good physical shape (ignoring the paint or stain), very often a creative refinish can work wonders. Here are some options worth considering:
Keep the Boxes, Replace the Doors
If your cabinet boxes are in good shape, but the doors have seen better days, replace just the doors.
You can also look into semi-custom options if the specs can be matched, or, have new custom doors made. A good handyman or DIY'er might be able to handle a job like that. So can most carpenters, and any cabinet maker willing to take on the project.
Simple styles like slab doors and Shaker might work best when replacing just the doors, since those styles may be easier to match to cabinet existing boxes.
Refinish or Reface Existing Cabinets
Cabinet refinishing or refacing can save you a ton of money versus installing new cabinets, and take a fraction of the time. Options run the gamut from repairing and refinishing surfaces to replacing all existing surfaces, shelves and drawers with new materials.
This can be a great option for almost any homeowner in need of new cabinets
Find a local cabinet refinisher!
Pick and Choose
Occasionally, homeowners find that some of the existing cabinets are in good shape and worth keeping, while others – perhaps in a different part of the room – should be refurbished or replaced.
Here's your chance to get custom cabinets where you need them, and make good use of what can be saved.
Creative solutions like this help homeowners reduce costs, and get the best possible outcomes for the money.
Paint (or Repaint) Existing Cabinets
Painted cabinets have long been popular, and that still holds true today. You can have cabinets painted any color you like, and some of the money you save by not replacing existing cabinets can be used for special finishes like glazing.
Check out these popular kitchen color ideas.
White Works Well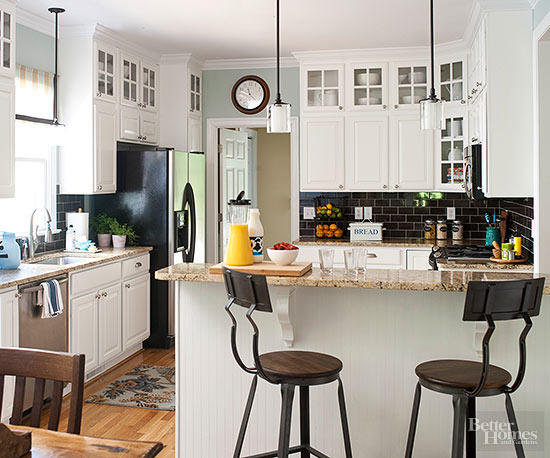 If you are leaning towards a new paint job for your kitchen cabinets, don't rule out white.
White helps camouflage small imperfections, and makes older cabinet styles look fresher and more contemporary.
White cabinets in combination with white or pale walls also offer you a chance to add fabulous splashes of color to your kitchen for some great style accents.
Re-Stain Existing Cabinets
Stained wood cabinets are also popular. Re-staining existing cabinets to restore their beauty is a good option.
Just make sure that the wood surfaces of your cabinets are in sufficiently good shape to take a new round of cleaning, sanding and refinishing.
Special Lighting
A great strategy for enhancing the appearance of newly refinished kitchen cabinets is to employ special lighting.
New under-cabinet lighting adds a level of sophistication to any kitchen, and also serves to brighten up your food prep areas.
New hanging pendants or ceiling track lights can add extra sheen and appealing highlights to newly refinished cabinet surfaces.
And, these lighting options help to increase the overall visual appeal of your kitchen space, especially during evening hours.
Splurge on Special Upgrades
A little of the cash you save by refinishing (rather than replacing) your kitchen cabinets could be well-spent on special features and upgrades. This includes enhancements like soft-close drawer slides, drawer insets, tilt-out trays, a lazy Susan, new molding, and new cabinet hardware.
Before you know it, your refinished cabinets won't just look new, they will be new!
Cabinet Hardware
Nothing finishes off nice cabinetry like great hardware – knobs, handles and pulls. These days the options seem endless, from cheap … to nice but still inexpensive … to nice and more expensive … to downright extravagant! So visit local big box retailers and specialty hardware stores that carry such items, and also search online.
In the context of an entire kitchen remodel, spending a bit more for really nice cabinet hardware can be worth it.
Appliances
There are two ways to save on appliances:
The brands, models and features you select
Your purchasing strategy
Selecting Your Appliances
For detailed information on choosing the right appliances, check out our buying guides:
These guides help you identify and decide on which options might be best for your particular needs, and that alone is a good way to save money!
We don't always need the most expensive brand of refrigerator or cooktop, nor do most of us need – or even want – all the bells and whistles available with some brands. So it's important to figure out what you need, what you want, and what you can live without.
Here are a few tips specific to choosing major kitchen appliances:
Visit retailers during the planning phase, to evaluate first-hand the difference between various brands and features. And before you go: look through our guides (linked above), and do some research online. By the time you enter retail outlets, you should know what brands and features interest you most. That way, your initial shopping trips will be more efficient and productive as you focus on answering your outstanding questions, and gathering additional information. You'll also know what to ask when you meet with sales people.
Look at different brands, and don't necessarily choose the most expensive one you can afford. Often, less expensive but well-known brands offer the same quality and features found in more expensive brands, for lower prices. That's money you can put to work elsewhere!
Don't pay for what you won't need or use! Some features sound interesting or cool, but in reality, won't be used much. For example, does your new fridge really need to play music, or connect to social media? Other features, like well-lit refrigerator compartments and ovens that self-clean, are regarded by many as offering great value. The bottom line: only you know what's valuable to you! So do your research, then visit stores to decide which brands and features offer the most compelling value to you personally … and avoid overpaying for features that offer no real benefit.
Purchasing Your Appliances
Appliance retailers frequently have sales. The catch is, sometimes sale prices are not significantly lower than regular prices, so buyer beware, and know thy prices.
If you really want to shop the sales, September and October are months when retailers often unload "last year's models," so those sales tend to be among the most compelling.
Another option for getting the best prices on major appliances is to take a more strategic approach:
It's not unusual for retailers to offer 10%-20% discounts for purchases involving three or more major appliances.
Do some initial shopping to determine which brands, models and features you like best, and at what prices.
When you're ready to purchase – meaning that you know when your contractor wants the appliances delivered for installation – visit your favorite retailers and let them know that you are close to making final decisions, to see what they can offer.

---

Alternatively, consider requesting retailers' best prices by phone or email. This takes the face-to-face negotiating out of the equation.

---

Either way, ask your favorite retailers to include any delivery, handling and tax costs so that you are comparing apples to apples.
Ask for volume discounts. Kitchen remodels typically involve buying three or more appliances including:

Refrigerator
Cooktop and oven, OR, range
Hood and/or venting system
Warming drawer
Microwave
Dishwasher
Sink and faucet
Washer
Dryer

Ask about:

Price match guarantees
Any trade-in discounts
Manufacturer rebates
Energy Star appliance utility rebates (you may need to contact your local utilities for this)

For those on a tight budget: floor models, dinged items (small dents), and refurbished appliances can offer further savings opportunities.
Countertops
Countertops are the third most expensive category in most kitchen remodeling budgets, after cabinets and appliances. Each material has its own unique cost, quality and performance profile, and no material is perfect.
Countertop Material Costs
While every material can be found in a range of costs depending on quality and individual traits and characteristics, costs generally break into the following tiers…
Highest Cost Range (< $300 / Sq. Ft.)
Granite, marble, quartz, lava stone, specialty metals (copper, zinc, pewter, bronze).
Moderate to High Cost Range
Butcher block, concrete, limestone, porcelain, soapstone, stainless steel, travertine.
Moderate Cost Range
Reclaimed wood, recycled glass, resin, solid surface (e.g., Corian), tile.
Low Cost Range
Bamboo, laminate, palmwood, recycled paper, recycled polyethylene (HDPE).
Our experience is that when people visit showrooms to check out the materials they find most interesting – especially after doing some upfront research – most homeowners know quickly which surface or surfaces hold the greatest appeal.
After that, it's a matter of general price range, color choice, specific all-in costs for your project and budget, and availability.
Stone Tips
For those who really like stone countertops including marble, granite, quartz, slate and soapstone:
Consider tiles instead of a slab. Stone tiles are much less expensive than slabs, and contemporary countertop tiles come in large sizes, with minimal grout lines.
Stones like marble and granite are graded based on uniqueness, color and availability (not necessarily quality). To save money, focus on the lower grades and more common colors. Most are equally if not more beautiful than more expensive options.
Avoid fancy edge finishes: bull-nose and beveled edges add to your cost.
Some stone suppliers offer remnant slabs from larger jobs. If the slab fits, take it! This is a great way to reduce your cost … and nobody but you will know it's a "remnant"…unless you choose to say so.
Consider pre-fabricated slabs. These are essential off-the-shelf slabs cut and finished in common sizes, colors and configurations. If your counter's shape and size is relatively standard and requires little customization, this option just might work, and it's substantially less expensive than custom cuts from natural slabs.
Choose Affordable Grades
Stone isn't the only material that gets graded; so do other materials, like bamboo, solid surfaces and recycled glass.
If the material you're considering is one of those that gets graded, make sure you look at the differences between grades, and lean towards standard grades over premium grades. For most homeowners, the highest grades will be unnecessarily expensive.
Get Estimates
Once you know the surface you want – and assuming it's available in multiple outlets – get "all-in" estimates that include any cutting and finishing work required, plus shipping and delivery costs, taxes and installation.
Final costs can vary substantially from one retailer to the next, and some might also alert you to coming sales.
Consider Your Timing
Some countertop surfaces are more susceptible than others to dings, chips, scratches and stains. Consider your timeframe. If you know that you'll be around in 20 years, a more durable and more expensive countertop surface or quality level could make more sense.
However, if you think you might be gone in 5-10 years, consider surfaces and quality options that may not remain quite as pristine over the long haul, but are also less expensive.
Doors & Doorways
Doors
In-facing (interior) and out-facing (exterior) doors come in a wide variety of materials and configurations. Many homeowners overlook doors in the planning process and end up with installed doors they wish were different.
Talk with your architect and/or GC to reinforce your desire to be a smart, budget-conscious remodeler, and let them know that your need to save money extends to kitchen doors too. Review door recommendations for: materials, style, the amount of light they let in, security, and cost.
In most cases you will be able to identify less expensive options than those being recommended, simply by changing brands or cutting back on features of minor importance.
Even door handles come in a wide array of costs and functionality, and should be reviewed before purchasing.
Doorways
Are you thinking of converting a kitchen/dining room combination into a great room? What if – instead of tearing down the wall between the rooms – you substantially increase the size of the passageway between the rooms, and remove any physical door still there? Perhaps even make the passage taller?
That would open up the space, and might save you a bundle on any costs associated with creating a great room.
The same thinking applies to mudrooms or any other room connected to the kitchen. Take a fresh look at everything, to see where passageways can be opened up, and physical doors removed.
Windows
Windows: we love them. But they are not cheap, and really good windows are really not cheap. So how do we save money on kitchen windows, and still satisfy our desire to let the light in?
Keeping your existing window space configurations intact will save money (as opposed to enlarging the window openings), even if the actual windows are replaced.
To let more light in, consider skylights or sun tunnels (a.k.a. light tubes, solar tubes) instead of adding more or larger windows. Skylights and light tunnels are efficient options, and with skylights, offer instant ventilation on hot days.
When it comes to replacing existing windows, there are of course high-end, standard and cost-efficient options, in a variety configurations and glass types. The cost range can be great, so review the options with your architect and/or GC to identify how you can achieve your goals cost-efficiently. And keep in mind that new windows are likely to increase energy efficiency, so that's a longer-term savings advantage.
Flooring
Selecting new kitchen flooring isn't just a matter of budget, material, color and style. Costs and quality levels vary widely…even at comparable price points. Regardless of the budget level you're shopping at, pay close attention to durability and quality when you visit showrooms, and speak with a variety of outlets and reps.
You're likely going to be living with your floor choice for a long while, so make sure that the flooring you choose will stand the test of time, especially in busy households!
Flooring Costs
Kitchen floor material costs vary enormously – from $0.50 to $30 per square foot – not including installation. As a general rule, the more expensive the material, the more expensive the installation fees, which typically run between $0.50 and $10 per square foot.
Highest Cost Range
Stone tiles.
Moderate to High Cost Range
Hardwood boards, ceramic tiles.
Moderate Cost Range
Engineered wood.
Low Cost Range
Cork, laminate, linoleum, vinyl.
How to Save on Flooring
If you want to stay in the low cost range, you'll be in good company. There are hundreds if not thousands of gorgeous, creative choices using cork, laminate, linoleum or vinyl.

---

We have a great piece on inexpensive kitchen flooring ideas here
If you have an existing wood floor, consider refinishing it rather than replacing it. Wood floors add warmth and beauty to any room. Older wood floors are particularly well-suited to refinishing, since the boards tend to be solid, and slightly thicker, and thus can easily take one or two refinishes before wearing down too much.

---

As for finish, you can stain wood floors in a wide variety of colors, and you can even blend colors, so be creative!

---

Is your floor damaged? Capable flooring pros can handle most types of repairs if the damage is not too extensive, so don't let a visible – but fixable – problem in your floor lead you to think that that the entire floor must be replaced. Ask your contractor.
If you're going with new wood floors, look at the less expensive wood varieties and finishes. For example, bamboo, pine, hickory and red oak tend to be less expensive than maple, walnut and white ash and white oak.

---

Engineered wood is a less expensive alternative to solid wood planks, and often it's impossible to tell the difference once the flooring is laid. Also, with engineered woods, you know exactly what the stain and finish look like when you buy them. If you're not sure what will work best, take a few samples home with you.

---

A less common option is plywood – yes, plywood. High quality plywoods, properly prepared, can be stained or painted. And if you paint your floor any color you want!
Consider DIY installation. Some materials are easier to install than others. Tiles and engineered wood planks are particularly good candidates for DIY floor installations
Regardless of which flooring materials you favor:

Watch for sales, and visit the discount floor stores.
Select from inventory that's in stock; it's generally less expensive than product you need to order.
Ask about remnant inventory. Retailers order flooring materials in large quantity. As supplies dwindle, stores sometimes offer remaining inventory at substantial discounts. This is particularly common with engineered wood – a popular option in many homes today.
Buy the flooring materials yourself. Bring the materials home with you (or have the retailer deliver). This will save you the expense of having your contractor go get the materials.
Lighting
If you are using an architect or designer, they will probably want to design your overall lighting scheme, and select or recommend specific fixtures. That's great, but keep in mind that lighting fixtures can be very expensive. So at the very least, make sure you review and approve all lighting choices.
Another strategy is to work closely with your architect or designer to develop a room lighting strategy including fixture locations, but choose the fixtures yourself. We like this option because it allows you to take advantage of an expert's skill and knowledge, but keeps you in charge of final shopping, design preferences, and item-by-item cost control.
You could also try to DIY all lighting yourself, but this is one area where it's good to have at least some professional input.
How to Save on Lighting
Really well-lit kitchens make use of multiple light sources – some refer to this as "layered lighting":
Task lighting – to ensure you can see what you are doing around the food prep and cooking areas
Indirect lighting (sometimes called ambient lighting) – to add warmth and visual appeal
Accent lighting – to focus attention on specific areas or objects of interest
Decorative lighting – to add interest to a room or space … "eye candy"
Here are some tips on how to make the most of your budget, using these concepts:
Use inexpensive under-cabinet lighting to brighten up food prep counters. Under-cabinet task lighting can double as indirect, ambient lighting, so ideally, use dimmers.
Use over-cabinet lighting for additional indirect light to warm up the room. Room inhabitants can't see the actual lights, so they need not be expensive, just safe and reliable.
Consider indirect lighting along cabinet bases and/or island bases as another way to add ambient light at minimal expense.
Soft, hidden accent lighting in cabinets with glass insets can also add attractive layers of light at low cost.
Wall sconces can add additional light wherever needed in an unevenly lit space, and can also double as decorative fixtures. While one could spend a fortune on expensive designer sconces, there are plenty of gorgeous options at reasonable prices.
Don't go overboard on pendants. We've seen too many kitchens with too many pendants, or pendants that were just … too … large. Don't overdo it. Two or three nice pendants of medium size are all that's needed in most situations.
Also don't go overboard on recessed lighting. Recessed lights can be expensive when trying to light large areas, since each light covers a relatively small area (so you need a lot of them). Some recessed light fixtures also let warm air up and out of the room, which is inefficient. Instead of lighting an entire room with recessed cans, use them sparingly. Bounce light off of walls near featured art or furnishings. Light a small area not easily or attractively lit by other means.
Paint the walls lighter colors. Dark rooms require more light to light up the room. Keep the walls light so you don't need your lights to be overly bright!
When to Splurge
Let's be honest, even the most savings-oriented among us needs to splurge once in a while! If you go through an entire kitchen remodel and at the end, there's no "wow" factor, what was the point?
So here are a few thoughts on how to splurge wisely:
Splurge on one or two, big big items. That might be a refrigerator, a cooktop, the counter material you use, or the kitchen cabinets you've always wanted. Even when you splurge, you can still make smart choices on the details
Splurge on small things that can make a difference. Examples include cabinet hardware, fancy small appliances, or a few stunning decorative pendants over the island.
Avoid In-Progress Job Changes!
Job changes during construction are expensive, and a primary reason why experts advise planning on 10-20% overages for major kitchen remodels.
The good news is, that's a lot of money to be saved!
Thoughtful upfront planning and budgeting, and a willingness to stay engaged during the process, go a long way towards reducing preventable changes.
Nobody can completely avoid in-progress changes. And some changes are good, even when they add expense. But when changes occur and work is delayed simply because a homeowner didn't think through fixture placements, or wall colors, or which faucet to buy, nobody wins. Plan ahead, and stay engaged to save money.