During the course of your remodel, you'll make countless decisions, both large and small. Every one of those decisions is an opportunity to save money! And when you add it all up, those savings can amount to thousands of dollars.
This guide will help you identify cost-saving opportunities at every step of the renovation process.
Main sections of this guide:
Get Free Quotes From Local Bathroom Pros
Smart planning results in fewer delays, fewer budget-breaking purchases, and fewer unforeseen bumps in the road.
Begin the process by taking the time to consider:
User Needs: Who uses the bathroom? Is the bathroom satisfying everyone's needs? What needs to change? What can make things better?
Wish List: What are your "wants," and which of those "wants" are most important?
For assistance, check out our comprehensive Bathroom Remodel Planning Guide – it will help you think through what you need and what you want from your bathroom remodel.
Bathroom remodel planning is a process – it takes time to identify and choose between all the products, styles, colors, surfaces and features you like most. It also takes organization to keep track of it all. That's why budget planning worksheets are so helpful. A planning worksheet allows you to keep track of multiple options as you work through your process.
Then, once you've identified the products you like best, you can then view them all in a single worksheet, and start to make choices about the best ways to allocate your budget.
Download the Bathroom Remodel Planning Worksheet
Not surprisingly, consumers with a savings-oriented mindset tend to save more during a remodel. Those who focus primarily on "what I want my new bathroom to look like" will invariably spend more.
Of course, everyone wants their remodel to look great! The key is to spend less and still get the results you want. That takes a certain mindset as you work through the many choices you will face.
Approaching each decision with an eye towards assessing value, comparing options, and finding creative ways to spend less while getting more, should be the operating style of any smart remodeler!
Let's start with the big picture: basic strategies for saving money.
Mind your Bathroom's "Footprint"
The single best way to save money on your remodel is to retain your bathroom's footprint. Said another way – don't make changes to the existing infrastructure of your bathroom.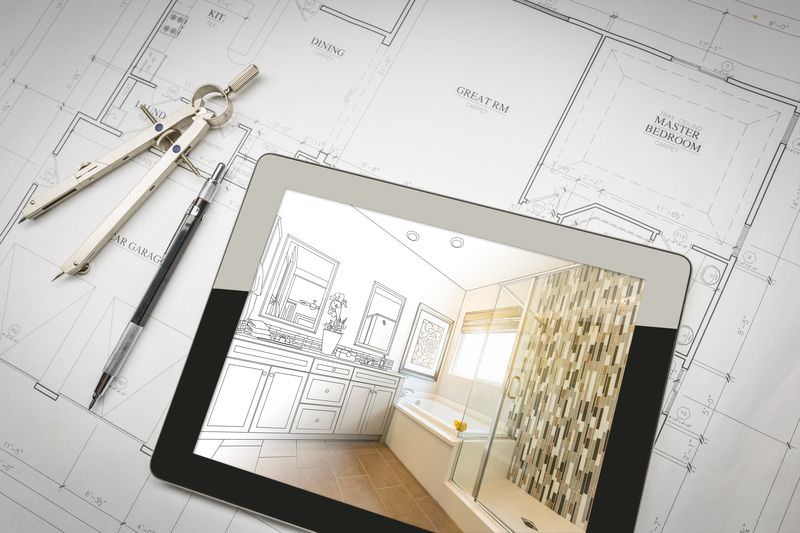 The "footprint" – as discussed in our Bathroom Remodel Planning Guide – is your bathroom's basic layout and structure. It includes:
the foundation,
walls – especially load-bearing walls,
sinks,
plumbing,
fixtures like toilets, shower, and bath,
doors,
electrical wiring.
Changing the footprint – for example, moving a toilet or switching from a tub to a shower – may be required to achieve your dream bathroom. Just know that changing or modifying any of these elements will add substantial cost, so only take this step if you're sure the added expense is worth it to you.
If your main goal is upgrading the look and feel of the room, there are ways to change the appearance of the room without changing its footprint. If the bathroom feels too small, think about changes like: painting the walls a lighter color, changing a shower curtain to a glass door, and adding a skylight for more natural light. Some of those changes would add expense, but it would be less expense than moving walls!
Staged Remodel
A staged remodel refers to spacing out the work over time. This splits your costs over multiple timeframes, so expenses don't all arrive in one concentrated bunch.
A staged remodel also offers the ability to learn from each step in the process. This can be especially helpful for first time remodelers, since any learning from early stages can be applied to later stages.
For experienced DIY'ers who are accustomed to completing projects as time and budget allows, a staged remodel might feel like "second nature." However, we do not advise attempting a major bathroom remodel on your own unless you really know your way around current laws and local ordinances, and have expertise in everything from load-bearing walls to plumbing and electrical.
One great option for DIY'ers who want to do some of the work themselves: bring in a handyman, specialty builder or contractor for the more advanced components of the job, and do the remaining work yourself in separate stages.
If you think a staged remodel might be right for you, make sure to be clear about it with potential contractors. Some contractors will be reluctant to take on jobs that happen over time. They prefer to get the work done as quickly as possible, and move on to the next project. If you find a contractor who is flexible, they may be able to fit your work in between their other jobs as time allows. This could be a "win-win" for both parties.
Timely Decisions & Deliveries
Two common causes of remodeling delays and cost overages are:
homeowners making too many last-minute decisions on everything from product choices, to materials, to paint colors;
failing to plan ahead on delivery dates for products and materials purchased by the homeowner.
Consider what would happen if the product and style you want is out of stock when it's needed? Or you can't find any a light fixture you like, having left your shopping to the last minute? Or what if you must pay more in order to get your materials by a certain date, because the lead time you allowed wasn't long enough?
Homeowners also feel more pressure when forced to make important decisions on the spot. Don't let this happen to you.
Bottom line: do as much upfront planning and shopping as you can, so that when the time comes, the items you want are either on hand, or ready to be delivered at a moment's notice. Good contractors will help you with this, but it's always wise to be thinking about it yourself, and keeping track of deadlines.
Hire Professionals, Save Money
Yes, that's right. It may seem counterintuitive, but hiring professionals early in your remodel process might actually save you money.
Who you hire, and how you hire them, depends on your needs.
For larger jobs … discussing your plans with building and/or design professionals (and maybe hiring one of them) will help ensure that your design, budget, and timeline are realistic – which in turn helps you avoid cost overruns. Many of the problems on remodels happen because of lack of knowledge. Pros can help you with that.
Additionally, when looking for maximum savings – and if the size of your job justifies a contractor –some contractors offer discounts during slow seasons, especially around the start of the new year. Conversely, it's best to avoid peak times like the height of the summer, and the pre-holiday rush between September and December. During peak times, contractors are more booked up, costs are higher, and deliveries will be slower.
If your remodel is modest but you'd still like some professional help … look into hiring a bathroom designer for a few hours, and then rely on an experienced handyman to do the construction. Bathroom designers can bring a wealth of knowledge and inspiration to a job, for a relatively small fee.
Shop Efficiently
Where and how you shop for your bathroom components can save you hundreds, if not thousands, of dollars!
For example, if you find a bathroom tile that you like, check websites like Craigslist, eBay, or Nextdoor to see if anyone is selling the same or similar item for less. Also: visit local tile shops. Many times you will find two brands offering very similar designs and colors at considerably different prices.
When shopping online, make sure you factor in the cost of shipping. Some sites will offer free shipping, but you have to spend a certain amount to receive that perk. You may also have the ability to pick up your purchases in store, which can save you money.
If you are purchasing multiple items from one place, ask for volume discounts, and find out if the store honors price match guarantees.
Another tip: visit antique stores, flea markets, resellers, and auctions. You can find amazing items that can be used as is, or refinished to match your overall look and feel, and still save you money. You can even find salvage cast iron tubs, lighting fixtures, sinks, and vanities – unique pieces that might fit your needs at a lower cost.
With a little imagination, you can enjoy the added bonus of having something in your bathroom that no one else has.
Next, we offer some specifics on all the things you'll need to refurbish, replace or add in your new bathroom:
There are only a few main parts to a shower:
walls, often tile,
floor, also often tile;
faucets and shower head;
curtain or doors;
other fittings, like caddies, soap holders, etc.
Let's take them one at a time:
Shower Walls
Basically, you have two choices: refurbish/refinish existing shower walls, or replace them. To save money, refurbish if you can. If you can't refurbish, you can still make smart, cost-saving choices from among your replacement options.
Refurbish Existing Walls – Tile
If your shower walls are tile, and the tiles are in reasonably good shape, and you like the color, then focus on bringing those existing tiles back to life. A good, thorough cleaning always helps, and that includes the grout. There are numerous grout cleaners on the market, just do a little searching online.
You may also need to patch the grout, since it deteriorates over time. Again, you'll find options online.
Once the grout is restored to its former glory, have a look at it: Does the grout color work well with the tile? Darker grouts cannot be altered much, but lighter-colored grouts can be darkened or colored, often to excellent effect! For example, if you have medium-to-dark colored tiles and pale grout, the grout lines may seem too pronounced. That's easily addressed with a grout coloring product that you can apply yourself, and there are quite a few colors to choose from.
Refurbish Existing Walls – Other Surfaces
If your shower walls are not tiled, and your bathroom has not been updated in a while, the surface is likely to be some sort of acrylic or fiberglass. Patching treatments are available online.
On the off-chance that the shower walls are stucco or plaster, you're better off replacing or covering those materials, since they are prone to mold and mildew attacks.
Replace Existing Walls
If the existing shower walls are beyond redemption, your choices are not constrained to tile or fiberglass anymore! And even within those categories, options have expanded. Here are the basic choices, from least to most expensive…
Fiberglass and Acrylic Panels
Fiberglass and acrylic panels come in large sheets, may include shower pans, and do include seals for corners. Installation is relatively straightforward. This material is not as long-lasting as tiles, but it comes at a fraction of the price.
Ceramic and Porcelain Tiles
Ceramic and porcelain tiles remain a great choice – as they have since … forever! Tiles found in mid-century homes are usually made from these materials. However, contemporary ceramic and porcelain tiles now also come in larger sizes, which means less grouting. Ceramic and porcelain tiles are long-lasting, relatively easy to clean, and come in an endless variety of styles, colors and finishes.
Glass Tiles
Glass tiles are much newer on the scene than the other shower wall options. Because they are made of glass, they tend to be a little "shimmery" which adds a nice translucent appearance to the shower. These tiles are slightly easier to clean than most other surfaces, but are also more delicate, so a little care is required during installation. Glass tiles are typically more expensive than ceramic or porcelain tiles.
→ Note: Because glass is slippery when wet, we would advise against using glass tiles for flooring of any kind.
Stone Tiles
Stone tiles come in as many varieties and colors as nature offers, though some kinds of stone are better suited to the shower environment than others. Popular choices include marble, granite, onyx, travertine and sandstone. Because stone is a natural material, stone tiles perform best when sealed. If not sealed, they are prone to staining and occasional rust.
Stone tiling is generally the most expensive choice, so in the context of saving money, you'll need to borrow from another line in the budget if you choose this option!
Shower Floors
The options for shower floors are the same as for walls, with one major caveat: Since safety is a prime concern, you will want a floor that is NOT slippery. That implies the use of fiberglass, acrylic, ceramic or stone tiles. Mix and match floor materials and wall materials to your heart's content!
Shower Curtains and Doors
When saving money is the primary goal, use a decorative shower curtain instead of a glass enclosure. Not only are shower curtains much cheaper, they can enhance the overall color scheme for the space, add personality, and be easily changed as the bathroom evolves over time.
Have a look at these shower curtain alternatives …
Shower Heads and Handles
Shower heads and handles range from simple and inexpensive, to luxurious and expensive. Let you tastes and your budget be your guide. Happily, you will find some great, low-cost options out there.
Here are a few options to think about…
The Lowest-Cost Option
When remodeling a bathroom, many consumers will buy a complete hardware set from one brand, consisting of: shower head(s), hot/cold water handle(s), and a tub spout if it's a shower/tub combo – to ensure that everything matches.
However, for the very budget conscious, you can pick up a classic shower head from almost any local hardware store, discount retailer, or our own BHG Shop for as little as $10-$20:
Most of these items will provide good water flow and dispersion, and last a long time. (Water dispersion is important so that you don't have a sharp stream of H2O blasting you first thing in the morning.)
If you do opt for a shower head like the ones above, you could keep your existing handles and spouts in place … and the job's done. Worst case, match new handles to the great new shower head you just found!
Lower-Cost Brands and Retailers
For those wanting a complete matching set of hardware, you'll find a wide range of brands and materials at varying levels of quality and sturdiness.
Less expensive fixtures tend to be made with a greater number of plastic parts, and you won't always know what's inside the hardware. But, you can assume that cheaper options imply less expensive materials. That said, plastic doesn't necessarily equate to poor quality…it may simply not last as long as some more substantial, mainly-metal fixtures.
You'll have to shop around to get a feel for the brand and style options that suit you best, but it's not that hard to find low cost fixtures.
DIY Installation
Most shower heads can be easily installed yourself, as long as the pipes leading through and behind the wall are in good shape and firmly fixed in place. This is a great option for saving money for the DIY crowd.
Multi-Head Shower Systems
Part of saving money is making sure that you don't unintentionally increase costs. If you want to install a multi-head shower system, you will also need to assess your water pressure, because different shower types require different amounts of water pressure to function properly.
You may also need a bigger water heater to make sure you don't run out of hot water too quickly. Alternatively, some homeowners opt to install on-demand water heaters to ensure that they don't run out of hot water.
On-Demand Tankless Water Heaters
Purchasing an on-demand, tankless water heater may sound like a spendy choice, but tankless water heaters are more efficient than water tanks, since tankless models only heat water on an as-needed basis, whereas standard water heater tanks must keep water hot around the clock. For households in which nobody is around much of the day, the savings can be significant.
Contact a local tankless water heater installation firm to learn more
Like showers, bathtubs come in a variety of styles, materials and prices. Since tubs are essentially one unified piece, your best option is simply to shop around for the combination of material, size, style and price that fits your needs.
From least to most expensive, bathtub options are:
Basic – Even with this option you have choices. The larger the footprint of the tub, and the higher the walls, the more expensive the tub.
Bathtub/Shower Combination - A bathtub coupled with a shower, to keep everyone happy.
Deep Soaker Tub - This tub is deeper, but typically smaller than the standard tub. Soakers are a great option for a spa-like retreat in your bathroom, but not a budget choice.
Corner Soaker Tub - A corner tub will save space, but still give you the relaxing benefits of a soaker tub.
Freestanding Tub - A freestanding tub is a statement piece for the room. Common materials for freestanding tubs include acrylic, porcelain-coated cast iron, copper, fiberglass, stone resin, or wood.
Jetted Tub - A tub offers users a jacuzzi-like experience. However, jetted tubs have fallen out of favor in recent years given the purchase cost, the noise they produce, and the cost of upkeep.
If your desire is to refurbish a deteriorated tub, consider a custom-fitted tub wrap. Tub wraps fit seamlessly over existing tubs, and unlike showers (where it's hard to duplicate the appearance of tiles and grout with a liner), tub wraps are single pieces with no seems – just like the original bath – so they are much harder to detect.
DIY Tile Removal
Bathroom tile can exist as part of a bath, a shower, room walls, and/or flooring. If you decide that some or all of it needs replacing, and you have the ability, consider removing it yourself – possibly with the assistance of a local helper – can be much cheaper than having a contractor do this work.
New toilets easily cost a few hundred dollars or more. Here are some ways to save…
Toilet Seats
Often, it's not the entire toilet that needs replacing, it's just the seat that has become worn. If that's the case, changing out your toilet seat and lid can make your toilet appear new, at a fraction of the cost.
And consider using some of the money you save, to buy a self-closing seat lid, which adds a touch of elegance to your bathroom, for minimal incremental cost ...
New Toilet
If you do need (or want) an entirely new toilet, you can still find ways to save:
Round toilets are cheaper than elongated toilets, so consider the size of those using the bathroom, and also, the size and space of the room itself.
One-piece toilets are cheaper than two-piece toilets, and easier to install, which saves money. However, if repairs are needed, one-piece toilets may need to be replaced entirely. With a two-piece toilet, you may be able to replace just part of it. In other words, two-piece toilets can be easier and cheaper to repair.
Dual-flush toilets can save on water costs. Every time you flush, you're spending money on water. Dual-flushing and water-efficient toilets conserve water and reduce water bills.
Wall-hung toilets are another option, and newer on the scene. But, if cost saving is your goal, avoid this option. The tank is inside the wall, which makes both installation and repair more costly.
If you have an existing sink that is still in good condition, it may be possible to repair it.
If you need a new sink, they come in a multitude of mounting options, styles and costs, so the best approach is to understand what mounting option you need – top mount/self-rimming, undermount, vessel, wall mount, console or pedestal – and then explore cost and style options from there.
Like sinks, faucets come in a variety of materials, designs, and prices. They can be purchased online, at home improvement stores, or appliance outlets.
A faucet can be a focal point of the room or a simple, functional piece that blends with the overall decor. Only you can decide if this is an area you want to splurge on.
Tip: When you're shopping, make sure you know how many faucet holes your sink set-up requires: it can be 1, 2, 3 or 4.
Countertops are one of the more expensive items in any bathroom remodel, and thus represent an opportunity to save money!
There are many considerations when choosing countertops: material, space and shape, durability, style and color.
One of the best ways to save money on countertops is via material selection. However, keep in mind that even within a given material type, cost differences can be dramatic, so it pays to visit showrooms.
Here's a run-down of the most popular materials and costs, from cheaper to more expensive.
Ceramic and Porcelain Tile ($2-100 / Sq. Ft.)
Ceramic and porcelain tile comes in a wide range of options. To save as much as possible, visit local retailers and discounters to compare colors, styles and costs.
Ceramic is generally cheaper than porcelain, so go the ceramic route if possible.
→ Special Note: Avoid having tiles shipped. Because of the weight, tile shipping costs can be prohibitive.
Laminate ($20-$60 / Sq. Ft.)
The look of laminates has evolved radically over time. Laminates can give the appearance of granite, marble, wood and other surfaces. Most laminates are very affordable, and come in a variety of colors and patterns.
You can also buy prefabricated laminate countertops that are easy to place in your bathroom, and save on installation fees.
Crushed Glass ($50-130 / Sq. Ft.)
Crushed glass countertops are made from recycled crushed glass, embedded in either acrylic or concrete. This unique bathroom countertop option is continuing to gain popularity. The downside of crushed glass countertops is need for occasional sealing. These countertops can also be difficult to repair if cracked or damaged.
Solid Surface ($50-150 / Sq. Ft.)
Solid surface materials and brands – e.g., Corian – offer a clean, sleek and contemporary look. They come in a wide array of colors, and cost less than stone.
Concrete ($70-160 / Sq. Ft.)
Concrete has become a popular countertop material for bathrooms. Bathroom countertop concrete is often stained and highly polished. The surface can even be texturized, or embedded with tile, stone, or bits of polished glass. Concrete countertops must be fabricated and installed by professionals.
Quartz ($100-260 / Sq. Ft.)
Quartz countertops are an engineered stone product made primarily from ground-up quartz, molded into slabs. They come in a variety of styles, and the colors will appear more uniform than traditional stones. Quartz countertops are strong and stain-resistant, but they are among the most expensive.
Natural Stone ($50-300 / Sq. Ft.)
Natural stone countertops include granite, marble, slate, soapstone, limestone, travertine, and onyx. Natural stone gives a modern feel, but comes with a high price tag.
Once you know what kind of material you like most, look for opportunities to save:
Speak with local supply stores to see if they have your material – slabs or tiles – leftover from bigger jobs. Sometimes retailers will offer you discounted prices on remnant supplies. It doesn't take much material to construct a bathroom counter!
Also, ask your contractor about remnant materials that may be on hand.
Many countertop materials also come in prefabricated slabs, precut and finished in common sizes, colors and configurations. If your counter shape is relatively standard, this option might work.
Consider tiles instead of slabs. Many contemporary countertop materials come in both slabs and tiles … and tiles are a lot cheaper.
If you like natural stone, look for affordable grades, and again, be on the lookout for remnants.
Avoid fancy edge finishes on stone and prefabricated materials: bull-nose and beveled edges add to your cost.
Get as many estimates as you can, to compare prices and find the best deal. Make sure the estimates include any cutting and finishing work required, plus shipping and delivery costs, taxes, and installation.
If you have existing cabinets that simply need to be refreshed, consider refurbishing: painting or re-staining will easily save you hundreds of dollars or more.
If your cabinet boxes are in good shape, but the doors have seen better days, replace only the doors. This is a good job for a handyman.
If you do want to completely replace existing cabinets, or add more storage with additional cabinets, here are some cost-saving options to consider instead of going with all-new, custom cabinets:
Open, Standing Shelves
Standing shelves are ideal for saving money and adding storage space. For private bath items, add covered baskets on high shelves.
Wall-Mounted Shelves
Wall-mounted shelves can be placed behind the toilet, or on open walls, and used for storage, or as decor.
Stock/Pre-fabricated Cabinets
The most affordable option for new cabinetry is stock cabinetry. Stock cabinets are available in standard sizes and finishes, but are not customizable. You can still make some adjustments to these cabinets after you install them.
Semi-Custom, Ready-to-Assemble (RTA) Cabinets
With this style of cabinetry, you will choose from existing designs, materials, finishes and configurations. The more options you choose, the more expense is added. Semi-custom cabinets are popular because they offer customizable features at a more affordable price point than fully custom options. They can also be installed by handy DIY-ers.
Custom Cabinets
Custom cabinets are made to order with your desired dimensions, materials, and finishes. They are the most expensive option for cabinetry, but they also will last longer and look exactly as you want. Installation needs to be completed by the cabinet maker or a contractor.
The material you choose for your cabinetry also impacts the price. Most cabinets are constructed of wood, laminate or thermofoil:
Laminates and Thermofoil
These options are more affordable, and come in a large variety of colors and designs. Laminate or thermofoil cabinets are easy to clean, but may experience degradation over time.
Wood
If you want wood cabinets, consider alder, maple, oak or pine which are usually less expensive than cherry, mahogany, and walnut. Exotic woods are the most expensive.
Additional ways to save money on bathroom cabinetry include:
Brand Selection - Some brands are more expensive, but not necessarily higher quality or a better fit for your space. Do your research!
Time of Year - If possible, shop for cabinets in late fall or early winter. Slow seasons mean that some suppliers offer discounts and sales.
Door Styles - Flat and slab doors are less expensive than doors with raised panels, wood insets or glass insets.
Drawers vs. Pullouts - Pullouts cost more than drawers. As an alternative to pullouts, add sliders to your cabinet shelves and you'll have essentially the same functionality that pullouts offer.
Hardware - Hardware includes cabinet knobs, handles, and pulls. Shop around. Compare prices and styles. You may find options you like for a fraction of the price of other, similar options.
Poor and unflattering light is a common problem in older bathrooms, so it's not surprising that lighting is one of the first things people want to change in a bathroom renovation.
Lighting is not the most fruitful area when it comes to saving money, but we do have a few tips:
Light Paint Colors

When a bathroom feels too dark, some homeowners conclude that a skylight or additional windows are the answer. And if the budget allows, adding more natural light is always a great option. But first, consider the room's current color scheme. Walls that are mid-tone or dark in color suck up a tremendous amount of light. You might be surprised at the extent to which simply painting the bathroom a lighter color will solve your problem.

Solar Tubes Vs. Skylights

If you are considering adding a skylight, look at solar tubes instead (also referred to as light tubes or sun tunnels) Solar tubes offer similar light features to skylights, but come at roughly half the cost, and are easier to install.

Shop Around for Light Fixtures

Bathroom light fixtures come in all shapes, sizes and costs, so shop around. The BHG Shop offers hundreds of thousands of bathroom light fixture options, plus filters to confine your search to sales and/or specific price points – all designed to help you save!

Also, when planning bathroom lighting, keep in mind that recessed ceiling lighting is one of the more expensive choices you can make … so be aware of that, if saving money is a primary consideration.

Inexpensive Mood Lighting

Indirect mood lighting, using LED strips, is an often overlooked option in bathrooms. LED strips can be added at the base of cabinets (if the kick panel is recessed), inside of open cabinets, or under shelving. The resulting glow from this kind of lighting can add interest and elegance to any bathroom environment.
The three best ways to save on bathroom flooring during a remodel are: refurbish rather than replace, do part of the job DIY if you can, and, if you go with new flooring, be a smart and patient shopper because materials, quality and costs vary widely.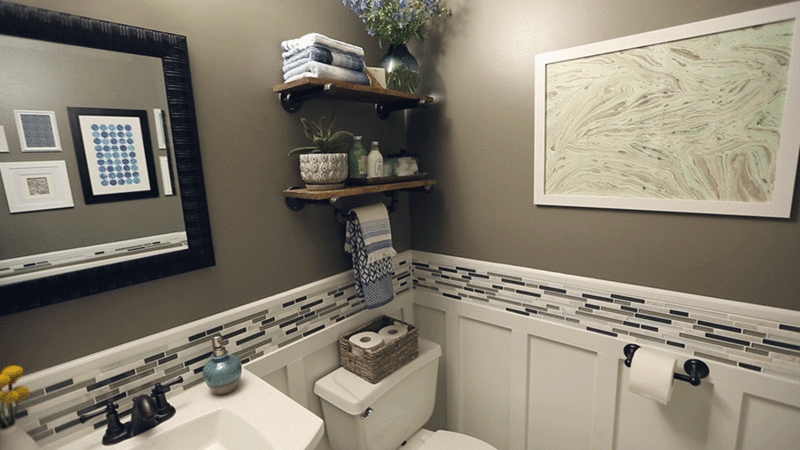 Refurbish vs. Replace
Sometimes it's easy to write off an old floor as dated or out of shape when all it really needs is refurbishment. Tile floors can be cleaned, and grout can be cleaned and stained for a more contemporary look. Wood floors can be refinished.
DIY
If you need to replace the floor, decide if you can do it yourself. Removing existing flooring isn't always a walk in the park, but if you can manage it, it'll save you hundreds of dollars.
If You Go With New Flooring, Shop Wisely
The styles, quality and cost of flooring vary widely, so this is an area where thoughtful research and smart shopping pay big dividends. Take the time to discover what material(s) you like, look for remnants, wait for sales, and compare brands.
Since the range of flooring quality and costs varies so widely, it's nearly impossible to provide a detailed summary costs by material type. For example, wood floor materials cost from $3-$20+ sq/ft; tile floors from $1-$8 sq/ft.
To get you going, here is a very general breakdown of the cost ranges by material:
Low-Cost Materials: laminate, linoleum, and vinyl.
Mid-Cost Materials: hardwood boards, engineered wood boards, ceramic tile and carpet.
High-Cost Range: stone (granite, marble, limestone, slate, and travertine).
Other shopping tips for flooring include:
Select from on-site inventory rather than ordering.
Buy and transport the flooring materials yourself (or have the retailer deliver). This will save you the expense of having your contractor get the materials.
Try to shop in late fall or early winter for the best prices, and remember you can always try to negotiate pricing.
Most bathroom wall surfaces consist of some combination of paint, wood paneling, and/or tile. Wallpaper can work, but isn't the most practical choice given the higher levels of moisture found in bathroom environments.
Painted walls is almost invariably the cheapest option. Wood paneling is in the middle, in part due to lower installation costs. And tile is generally the most expensive choice.
When redoing bathroom wall surfaces other than straightforward re-painting, here are a few cost saving ideas.
If new tile is being installed, consider tiling only around the tub and shower, using drywall and paint for the rest of the room.
If you want to extend the tile beyond your bath/shower boundaries, tile only certain patches of the wall for decorative effect, or keep wall tiling at waist-high levels.
If you already have tile on your existing walls, but don't wish to retain it, rather than tearing it out, build wood panels/wainscoting on top of the tile. That saves on demolition costs, and retains the option to recover those tiles at a later date.
DIY anything you can, from painting to demolition to full or partial installation.
Fans
Fans come in a variety of prices, but the most expensive options may not be right for your needs, so decide what works best for your situation, and don't pay for features you don't need.
For example, you can splurge on an ultra-quiet fan unit, but installing a mid-range fan can save money, and, offer added sound privacy.
Fans with a timer can run for a period of time after you bathe, then shut off.
Some fans even offer humidity sensors to power on, so you don't rely on kids or guests to keep moisture levels down. That feature costs more in the short term, but helps to maintain the quality of walls and surfaces over time.
What fun is a bathroom remodel without at least a couple splurge purchases? Here are some ways to get the most bang for your buck:
Splurge on one or two big, noticeable items: your bathroom countertop for example, or the soaking tub you've always dreamed of.
Splurge on small things that can really make a difference. Examples include sconces around the mirror, high end faucets, or plush new towels.
Job changes during construction are expensive, and a primary reason why experts advise having a cushion in your budget.
Nobody can completely avoid in-progress changes, but thoughtful upfront planning, careful budgeting, and a willingness to stay engaged in the process, go a long way towards reducing preventable changes.
And of course, some in-progress changes are good. But when work is delayed simply because a homeowner didn't think through fixture and faucet choices, wall colors, or where the electrical outlets should go, nobody wins.
Plan ahead and stay engaged to save money on your bathroom remodel. You will be happier with the end results if you do!