Of all the rooms in a house, kitchens are by far the most complex. Literally hundreds of factors come into play when planning a kitchen remodel: current room layout ("footprint"), current infrastructure (plumbing and electrical), cooking styles, family traffic patterns, storage needs, waste disposal & recycling, appliance costs and features, decorating preferences, lighting options, and social uses are just some of the primary considerations. Deeper into the process, you''ll also make choices on surface finishes, fixtures and fittings, small appliances and more.
Most homeowners remodel their kitchens just once or twice during their time of ownership, so it's important to get it right. Effective planning is essential to achieving your goals, and being happy with the results.
The purpose of this Kitchen Remodeling Planning Guide is to help you:
Understand your kitchen, and think about how it is used
Determine what you really want out of a new kitchen
Identify priorities (unless you have an unlimited budget!)
Avoid pitfalls that can result from a lack of planning
Main sections of the Kitchen Remodeling Planning Guide:
Get Free Quotes From Local Kitchen Pros
Knowing what you really want and need out of a kitchen remodel takes a little time, but the effort will save you time, money and frustration. Start by considering how your kitchen functions, and what you really want to achieve:
Your kitchen's walls, the placement of the island (if you have one), counter and cabinet dimensions, appliance alcoves and kitchen sink are all part of a kitchen's footprint.
Changing the footprint - for example, by removing walls or changing the location of a sink and water pipes - adds time and expense to your project, so be aware of that when considering what's essential and what's "nice to have."
Related to your kitchen's footprint is the infrastructure, specifically: windows and doors, flooring support, foundation, plumbing and electrical.
What kind of windows do you want - double hung? Casement? Bay or bow? Picture windows? And what about doors - do the current doors need an upgrade?
Will you need subflooring work and foundation work?
Is the wiring old and dated or up-to-date? Do you need or want new, better outlets? Switches? Dimmers?
Are you ready for solar power? Rainwater capture?
How is the plumbing? Old pipes may need to be repaired or replaced.
And finally, how is the drainage outside the kitchen? Do you need to fix a rainwater or standing water situation? Now's the time!
Widths - the width of doorways and passages - is an often-overlooked factor in kitchen remodeling: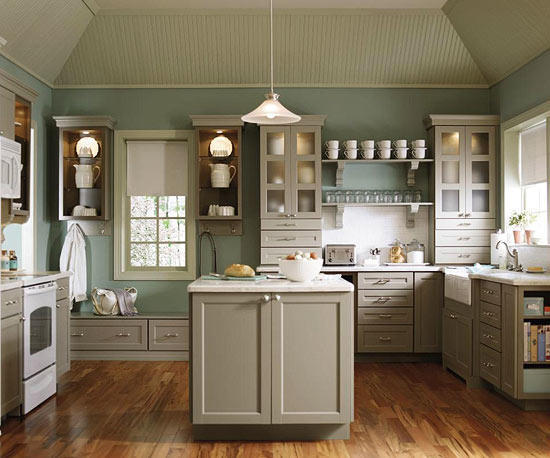 Do you have at least one doorway space large enough to fit that new refrigerator you have in mind?
Is there enough room to open the widest door of the new refrigerator you're considering?
Are your current appliance alcoves large enough to house any new appliances you have in mind (think depth, width and height)?
Are your counters deep enough?
Is the current distance between countertops and island tops too little, too much, or about right?
Are other passages and walkways wide enough?
You will need to keep these things in mind as you make choices and establish priorities. And, if you want even more detailed advice on width and clearance guidelines, visit our page on Kitchen Layout Guidelines and Requirements
Closely related to widths:
Are there foot-traffic "pinch points" that cause problems or frustrations in the kitchen - for example, around the fridge or oven?
Can you move easily between the fridge, the sink and the cooktop (often called the "kitchen work triangle")?
Can family members and guests move easily across and through the kitchen, especially when they are carrying food.
Is there a surface that doubles as an unsightly "dumping ground" (e.g., for mail, shopping lists, phone charging), simply because it's in the line of traffic?
Is there enough "sitting room" for those who enjoy hanging out in the kitchen, and is that space out of the way of kitchen traffic?
Keep these kinds of questions in mind throughout the process, especially when working with designers and contractors.
Many designers and homeowners now think in terms of "zones" when planning a kitchen remodel.
Common kitchen zones for planning purposes include:
Food Preparation - countertops with convenient access to sink, utensils, pans, small appliances, etc.
Cooking - cooktop, oven, microwave, toaster oven
Refrigerated Food Storage - refrigerator, freezer
Non-refrigerated Food Storage - cupboards and/or pantry
Beverage Storage - wine, beer, spirits, soft drinks, water
Food Storage Supplies - food bags, storage containers, beverage bottles
Cooking Hardware - cooking tools & utensils, pots & pans, bakeware, cutting boards, mixing bowls
Cleaning - sink, dishwasher, garbage, food waste and recycling
Desk Items - cookbooks, notepads, pens & pencils, phone storage and charging
Other kitchen zones, depending on your family's needs and habits include:
Dining - ranging from informal stools at an island, to a full dining table set-up in open plan settings
Study - in some families, the kids occasionally study where mom and dad can keep watch, or help
Work - increasingly, one or more family members work from home, sometimes from a location in the kitchen
Entertainment - as family life migrates towards the kitchen, more and more kitchens have expanded to include full dining areas, TV viewing spaces, Internet hook-ups, and sufficient space for entertaining
Pets - many families locate their pet's feeding area, and possibly even a sleeping area, in or near the kitchen
Thinking about your kitchen in this way might help you decide what's important, and not so important, in your remodel.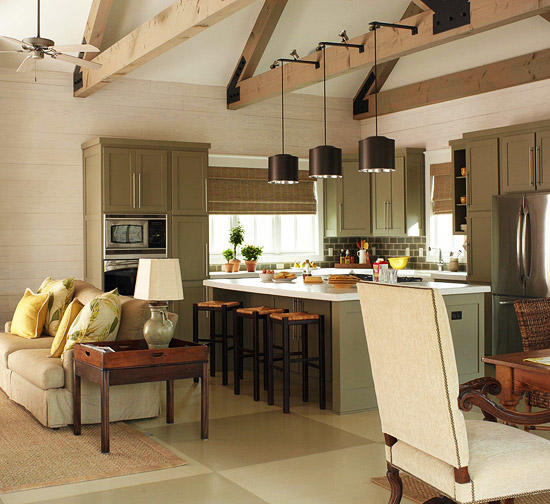 In some families, the kitchen is the realm of the cook, separate from the dining area, so the classic set-up of a separate dining room makes sense.
For other families, kitchens have become the center of activity. In those households, a "great room" or "open room" approach might work best.
In open plan settings, the walls between the kitchen, dining area - and in some cases even the living room - are removed in favor of one large cooking, dining and entertaining space.
Open kitchens (or "great rooms") can be the perfect solution for families who like to hang out near the cooking area. Be aware however, that taking down walls to open up space is changing the footprint, and therefore involves additional time and expense.
What is your cooking style?
Are you serious about food, or more casual? Does entertaining often center around food? Do you cook often, or seldom? Cooktop or microwave? Are large dinners common during the holidays? How many cooks are in the kitchen at the same time?
Answers to these questions are more important than you might think. There's no need for a six-burner cooktop if you're a family of two and don't entertain much. Alternatively, if you're a serious foodie, or entertain for large groups, perhaps a six-burner cooktop, a double oven, and warming drawer are all in your future.
Usability considerations for most kitchens include: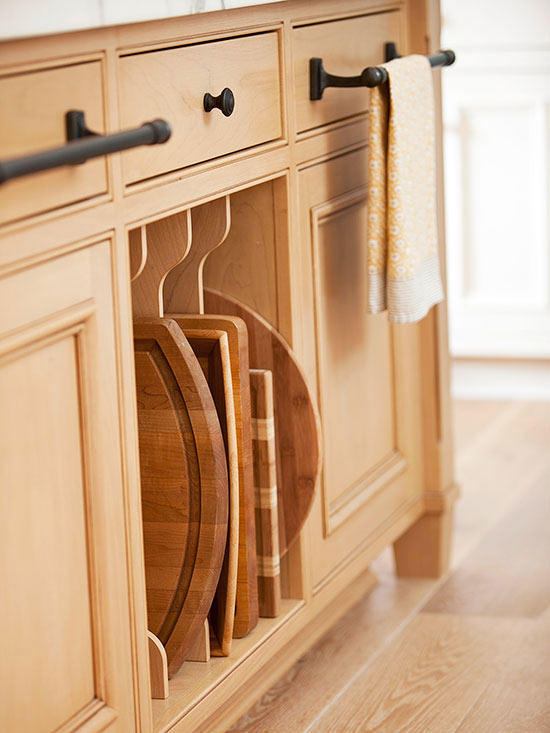 Are the distances between your fridge, counter, sink, and cooktop (the kitchen triangle) right for you? Or, are they too narrow or too wide?
Are your non-refrigerated foods conveniently placed, or must you walk 10+ feet just to grab a can of soup or some flour?
Are your cooking utensils, tools and cutting boards conveniently placed, and easy to find and access when you need them?
Is your kitchen's lighting - in the cooking space, and elsewhere in the kitchen - bright enough, and easily adjustable to meet your needs?
Does your sink accommodate your food preparation needs?
Is your kitchen faucet easy to use, even when you're cooking and your hands are greasy?
Does your refrigerator/freezer have enough storage space? Is the freezer best placed above, below or beside the refrigerator (top freezer, bottom freezer or side-by-side)?
How many burners do you use at one time on your cooktop? Two, four, six? Would you benefit from a flat griddle-like cooking surface on your cooktop? A wok?
Is there too much clutter in your kitchen? How might that be addressed with a remodel? For example, could you benefit from a phone charging station? A bookcase for cookbooks. A stationary drawer? A hidden pantry?
Planning and choosing a countertop requires effort, if for no other reason than the number of choices that exist. Primary considerations for choosing the perfect countertop include: available space, color/style, material, and durability.
Do you currently have enough counter space, or is everything a little too crowded? Should your counter space be enlarged? Can some items currently on the countertop be elevated or built into a cabinet (e.g., microwaves)?
What countertop materials do you like most? Marble? Granite? Quartz? Laminate? Solid surface? Concrete? Glass? Wood? Tile? Eco-friendly? Lava? Resin? Stainless steel? Porcelain?
How durable must your countertop be? Some materials that look great don't always hold up well, or need more upkeep than others.
Different countertop surfaces also have different cleaning characteristics. Tile with grout is much harder to clean, so if you like tile, consider large porcelain tiles to minimize grout lines. Granite needs occasional sealing. Concrete often requires regular polishing. Corian, laminates, quartz and stainless steel generally don't require sealing and are easiest to clean.
Our recommendation: Visit a showroom, early in the process! At a showroom, you will be able to start sorting through style options, costs, and the unique characteristics of each surface. Until you see all the choices for yourself, it can be hard to know what you really think. Additionally, sales people can provide you with facts and information about the best choices within your budget range.
As outlined in our Kitchen Remodel Cost Guide, cabinets are typically the most expensive component of a kitchen remodel. So it's worth considering how you might save some money with your cabinet choices.
Homeowners have a wide array of views on what kitchen cabinets should look like, but you can still apply some basic principles to how cabinets will best serve your needs and desires.
Cabinet Functionality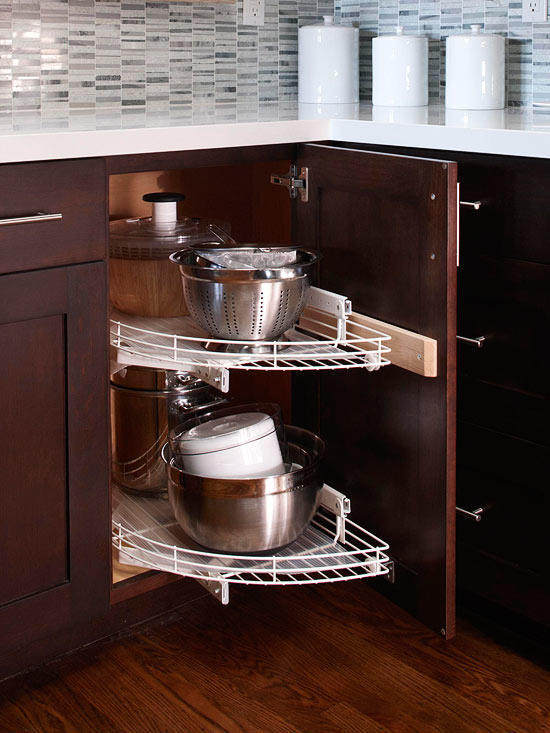 Try this: stand in your kitchen and imagine where - in a perfect world - all your pots, pans, utensils, cooking tools, spices, and other food ingredients should live. Do you want your pots and pans to live under the cooktop, or somewhere else? Should wooden spoons and spatulas be in sight, in drawer, or somewhere else? And so on.
Then, think about the best ways to store and access all those items.
Cabinets may be less expensive than pull-out drawers, but large drawers placed near or under a cooktop - especially wide or deep drawers - can be a great way to store and access commonly used pots and pans right where they are needed most. That concept is important throughout the kitchen…
Think about placing items closest to where they are used. For example, pots and pans near the cooktop; spices near the food prep area or cooking area; dishes and silverware near the dining or serving area; cleaning supplies under the sink; etc.
Inside of drawers, consider organizers and inserts that run the gamut from horizontal spice racks to traditional uses like silverware and utensil storage.
When planning cabinets at waist level or lower, consider adding pull-out drawers to make access easier.
And what about those irritating corner spaces? It's easy to add a swing-out or "lazy Susan" storage unit to maximize the usefulness of under-counter storage spaces.
For more ideas about how to organize kitchen cabinets, click here.
Cabinet Style
There are nearly as many cabinet styles as there are home styles. They include: Casual, Contemporary, Country, Craftsman, French Country, Mission, Modern, Retro, Rustic, Shaker, Traditional, Tuscan, and more.
Materials include wood, veneer, laminate, fiberboard, thermofoil and glass. Levels of toughness and durability vary by surface type. Natural wood requires more care and polishing, and can fade or stain over time. Painted wood surfaces can scratch and chip, and stain over time. Laminates clean easily. Glass shows the dirt, and can scratch, but is generally easy to clean.
You will also need to choose knobs, pulls and handles for your new cabinets.
Ultimately, the kitchen cabinet choices you make are a function of your own personal tastes and budget. As with our recommendation on countertops, the best way to get an idea of styles, materials and colors is to visit local showrooms or retail outlets.
Which brings us to the final choice you must make … sourcing …
Cabinet Sourcing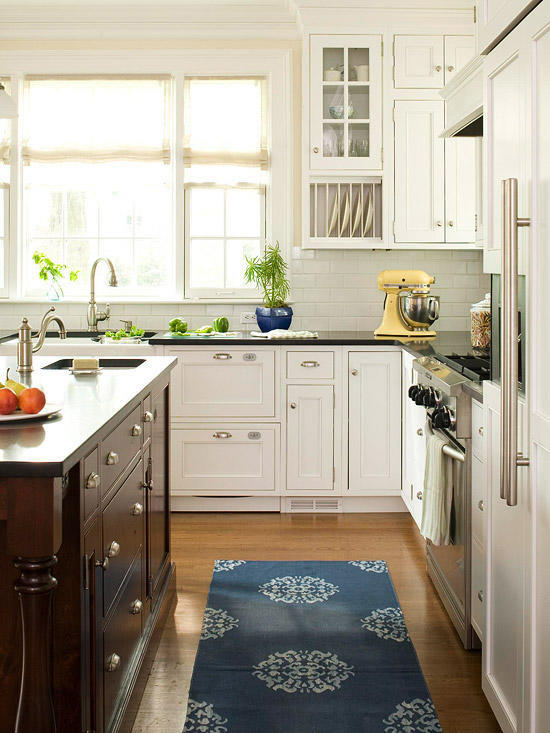 Perhaps the least expensive option is to purchase "off the rack" cabinets at a retail outlet or online. The challenge with this approach is finding cabinets in a color, style and material combination that you really like. Some outlets offer installation services, some do not. If they do not, or if you opt not to use them, reliable local service providers can help. General contractors are not typically keen on installing these kinds of cabinets, but you can always ask.
Another approach is to find local cabinet companies that make, and sometimes install, the cabinets. Some of these providers offer limited selections; others offer large selections. Again, the best way to see what's out there is to contact a few, and meet with them.
The most expensive approach is usually to work through your kitchen contractor. Contractors of course prefer this, because they use cabinet makers they know and trust, and can charge a mark-up. However, while working through your contractor may be more expensive, you can have your cabinets built any way you like: any style, color, material, and configuration. The only limitations are your imagination and your budget.
When it's clean-up time, the configuration of your sink matters. What kind of sink best suits your needs? Deep or shallow? One basin or two? Undermount or top mount? Do you need a drainboard? Should your faucet be high? Do you want different controls for hot and cold water? Should your faucet be attached to a hose? These options are easily researched online, or at local showrooms.
Also, if you have an island, should it house a second sink? And a word of caution here: if your island sink is more likely to be used by the family for mail storage and shopping lists, forget the island sink!
Regarding food waste, do you want a garbage disposal, or a green food waste bin?
How many garbage bins do you need for trash? What about recycling bins?
And, where will you keep your cleaning supplies: soaps and powders, scrubbers, brooms, mops, etc.?
Appliances are the second highest expense in most kitchen remodels, so this is another area where you might look for cost savings, especially since price ranges vary dramatically.
For example, refrigerator-freezers run from about $500 for basic no-frills models, to $8,000 and more for high end options, with most fridges falling in the $1,000-$3,000 range.
To get a better handle on your specific needs and options, try this:
First, make a list of the major appliances you need to buy/replace.
Second, read our appliance buying guides to learn more about the most important considerations and options for each appliance type. The big categories are:
Third, visit a few retail showrooms to get a better feel for appliance options, your personal preferences, and price tags.
When visiting showrooms, think not only about which models and options you like most, but also, important design and practical considerations like surface finishes, colors, ease of cleaning, durability, power consumption, energy efficiency, and height-width-depth size restrictions based on your kitchen's footprint and remodel plans.
It's also wise to think about "needs versus wants" given the at-times very wide cost ranges you will encounter. And speaking of cost savings, be aware that mass market brands offer many of the same features as the very high-end brands, only at lower costs…so think about how important that high-end brand really is to you. One good strategy is to shop premium features you want, from a brand that's not necessarily at the highest end of the market.
It's not your mother's kitchen anymore - a single fixture on the kitchen ceiling doesn't get it done! Great lighting using today's technology can make or break a modern kitchen's appearance, and can even affect a cook's ability to create a great meal.
Great lighting should:
Set a mood for the room
Ensure that the cook can see all the food during preparation
Ensure that the cook can see all the food when cooking (a common issue if your cooktop is on an island)
Show off great cabinets
Ensure that there are no "dark spots" in the kitchen
Add a touch of class to any kitchen
And don't forget natural light. During the daylight hours, well-designed window placement can help a kitchen feel warm, friendly and inviting, so pay attention to where the windows reside with respect to the sun's position from morning until dusk, and at night too...
In the evening, if you have pleasant nighttime views from your kitchen area, make sure that your window placement allows everyone to fully enjoy those views! Architects have plenty of options when it comes to creating lots of window space, if your budget allows.
Another good way to think about kitchen lighting is to consider how the pros look at it:
Accent lighting: highlights kitchen elements that look best with small-scale spot lighting. For example, art pieces and inside glass cabinets
Ambient lighting: which can fill parts or all of a room to create a softer, less harsh effect
Decorative lighting: like designer pendants and wall sconces, add flare and personality
Task lighting: lights up counters, cooking surfaces and storage areas so you can see what you are doing
What kind of kitchen light fixtures are available? Broadly speaking, they fall into the following categories:
Cabinet lighting: over-cabinet
Cabinet lighting: under-cabinet
Ceiling fixtures
Hanging pendant lights (great if you have an island)
Recessed ceiling lights
Lighting choices can be overwhelming, even more so since many fixtures are available in different types including LED, fluorescent, halogen and xenon.
When selecting lighting types - in addition to your own personal observations - pay attention to "color temperature" and CRI ratings. These determine how "warm" or "cold" your lighting will feel, and how bright. It's safe to say that most consumers don't love very "cold" lighting, which runs more blue (cold) than yellow (warm).
As with so many product categories in a remodel, you best bet is to find a local lighting store that you like and trust. There, you will find a wide variety of fixtures, styles and types of lighting. After looking around and making notes, you can speak with a sales rep to get your questions answered.
If there is one aspect of lighting design that is too-often overlooked, it's switch placement and functionality. Make sure that your architect - and designer if you choose to have one - clue you in on switch placement and function. Homeowners know better than anyone else where in a room they go to turn lights off and on. So work with your architect to make sure that controls are placed at wall locations that are convenient to how you live. Additionally, switches can include dimmers and other features that you may not have considered when planning your dream kitchen, so again, ensure that your architect takes you through the plan, and don't be shy about asking questions, or expressing preferences.
One of the most important features of any kitchen is the floor. Flooring helps set a kitchen's style and tone. Additionally, flooring materials come with different comfort and cleaning implications. Flooring options include:
Bamboo
Concrete
Cork
Hardwood
Laminate
Linoleum
Rubber
Stone
Tile
Vinyl
Here are some themes to think about, depending on your lifestyle and needs:
Flooring Materials
Different materials have different characteristics. For example, natural wood can be very warm and welcoming, and work with a variety of styles from classic to contemporary. Tile and concrete are very stylish but sometimes harder to clean and maintain. Linoleum and vinyl are often fun and colorful, but not as elegant as some other flooring choices.
Want some fresh ideas for new kitchen flooring? Click here.
Flooring Durability
If you cook often, party a lot, have kids, or have pets, you'll probably want a material that's durable, stain resistant, and water resistant. Bamboo, cork, laminates, linoleum, tile, vinyl and some kinds of wood all fit the bill.
Clean-up
Busy households with kids, pets, cooking and entertaining demand a floor surface that's easy to clean. Almost any floor can take a certain amount of spillage, but if food and liquids hit the floor often, surfaces like wood or tile (because of the cracks and tile grout) may not be ideal for your needs.
Health
Hard flooring surfaces like stone, tile and concrete can cause pain and discomfort in joints, back areas and elsewhere, especially if you work in the kitchen for extended periods of time. More forgiving surfaces include cork, linoleum, and vinyl. Rubber floors are among the easiest on your joints, and come in an increasingly appealing array of options.
In high traffic areas like in front of the cooktop, it can also be a good idea to lay down a rubberized floor mat or stain-free carpet. These kinds of floor mats do double-duty: cushioning and floor protection.
Costs
As with almost everything in a kitchen remodel, you will find a wide array of flooring styles, materials, and prices. Find a good showroom, take your time looking around, and ask questions. Sometimes, flooring companies have specials. You may even find a large price difference between two options that look almost the same. This is particularly common with wood floors, stone and tile. So shop wisely!
You will be making hundreds of choices over the course of your remodel: styles, materials, colors, brands, models, and more. But some choices are best made, or at least started, upfront during the planning process…
Make a list of everything in your kitchen you like, and everything you don't. It should cover anything that matters to you. Examples: fridge size, trash and recycling methods, cookware storage problems, counter space, room lighting, traffic flows, unwanted junk piles and pet station locations.
This will help you sort out what's important as you plan your remodel. It will also help you when speaking with contractors.
Once you've done your Pro's & Con's list, make another list: Wants & Needs. You may want three $400 pendants suspended over your island, but need six burners instead of the four you currently have on your cooktop.
So, take the time to think about your wants versus needs. Knowing the difference will help you make smarter choices throughout the process. Don't worry about missing some things at first. The most important thing is simply to get it started.
You may know exactly what style you want to follow for your remodel. Or, you may need a little inspiration. If so, look no further than BHG's Kitchen Ideas Gallery. There, you'll find plenty of photos to get your design juices flowing.
The old adage that remodels take twice as long as expected won't necessarily apply to everyone, and good planning helps a lot, but you should assume that things take longer than expected. Financing delays, contractor delays, lost material shipments, permitting and approvals that stall work progress, and incorrect order shipments are just some of the reasons.
So if you are planning your project with a specific end-date in mind, like the holidays or summer vacation, make sure that you allow plenty of extra time to account for unavoidable delays.
To live in or live out…that is the question.
Moving out during a remodel - especially a major remodel - means you won't have to endure:
The dust that gets into everything
The absence of privacy
The endless, loud noise, and
The constant disruption
The choice to move out may depend on whether you have a cost-effective alternative, like a generous relative you can stay with…possibly for months.
If you do move out, don't go too far from home, since you'll still want to monitor the contractor's progress on a regular basis. Also, make sure that the house is secure when no one is around. Residential construction sites can be a common target for thieves.
One benefit of staying at home is that there's always someone around to look after the house. And, you can be on hand when construction questions require your immediate input.
Also, if you stay, remember that in all likelihood your kitchen will be out of commission. You might not even have a refrigerator hook up. So make a plan for food storage, and figure out a way too cook on your BBQ or a hotplate. Otherwise, it's restaurant fare or take out, every night.
Finally, there might be a middle-ground option, in which you move out only during the tear-down phase which is usually the dustiest, dirtiest, loudest part of the process. Your contractor might have some advice tailored to your specific situation.
Footprints, Widths and Space
As already noted above, changing your kitchen's footprint involves a substantial increase in cost. If gaining more square footage is not essential to your needs, look for ways to make the most of what space you have. Pantry, shelving and storage options are far more advanced than they used to be. Vertical pull-out pantries are an example of this.
Also, find creative ways to turn dead or unused space into storage space. For example, add shallow shelves to blank walls.
And finally, consider hiring a kitchen designer. At approximately $75-150/hour, a designer may cost you $2,000-3,000, but the value of that choice - if it makes an existing space work much better - might be worth it.
→ Read more on how to choose kitchen contractors for your project
Quality Choices
You will be purchasing plenty of goods and services for your project. Quality will matter, as will style and value. For every purchase, you will need to make a value choice.
You might find drawer pulls that are two-to-four times as expensive as other pulls that look almost-but-not-quite-as-good. Or you may find a model of refrigerator-freezer that offers nearly all the same bells and whistles as a different higher end brand, for two-thirds of the price. It happens in almost every category you'll be looking at: countertops, flooring, cabinets, and smaller items too.
If you go with the highest quality choice in every case, you'll quickly blow your budget. So our best advice is to save where you think that the incremental value between two product choices does not justify a higher price. Then, splurge when there's a choice that you just can't live without.
Save where you can; splurge when you "must." It's an essential survival skill during any kitchen remodel.
Color Choices
Who doesn't love cool colors? We do!
But sometimes, a color that's cool right now, fades quickly in popularity, and doesn't come around for another 30 years. If it's just paint, it can be redone in a few years. But think twice before deciding to purchase that very red refrigerator, or those cobalt blue floor tiles. Those are the kinds of decisions homeowners live to regret.
Remodeling & Designing Trends
While we can't help you choose your kitchen's style, we can offer this advice: watch out for going all-in on the latest trends.
Kitchen style categories may not change - "Country Kitchens" have been around forever - but styles within categories change a lot over time. It's obvious that a "Modern" kitchen today won't look like a Modern kitchen did in 1960. But that's true of all kitchen styles. Colors, materials and surfaces go in and out of fashion. Technologies change. Living styles evolve.
So when looking at that never-seen-before backsplash material at your local showroom, consider not only how it will look in your kitchen tomorrow, but also in 5 or 10 years. Is it practical? Will it wear well? Might it be overly trendy and go out of style quickly?
It's impossible to know with certainty how we'll feel about any given style 10 years from now, but sometimes, we can develop a sense of whether or not we might grow tired of certain colors or materials, or recognize that something "cool" might not have staying power.
Here is our editorial staff's take on the topic: Kitchen Trends That Are Here to Stay
In the end, it's about your own personal style and preferences, and what works for you. What we do know is this: when style, form and function come together, you're more likely to be happy with the results.
Shopping Tips
Keep in mind that appliance and flooring stores sometimes run very good sales, so keep an eye out, even if you're not quite ready to purchase yet. Some stores will allow you to order well in advance of your required delivery date, to lock in prices. Also, some outlets may offer a discount if you plan to buy all your major appliances through them. It's worth asking.
If you want to make all your own shopping choices from large appliances to lighting and fixtures, that's a lot of shopping. One good way to avoid shopping fatigue is to "cluster" shopping trips so you don't end up filling every weekend with one-off excursions. For example, plan one Saturday to visit an appliance retailer, a countertop showroom and a flooring outlet. On another day, visit a cabinet shop and check out paint colors. Then go back when you're ready for more. This approach can help you get an early understanding of options and costs.
And, when visiting stores, remember that samples are your friend: paint chips, counter surfaces, cabinet finishes, tile, flooring and more. Many outlets have samples you can take home. There is no substitute for seeing what a material looks like in your own home at various times throughout the day.
Don't be the homeowner who says, "What was I thinking!" when it's all done. There's no such thing as the perfect remodel, but knowing what homeowners end up regretting is a good way to avoid problems with your own project.
Common kitchen remodel mistakes:
Failing to hire a general contractor (GC) - the DIY approach
If your remodel is really a facelift with no serious structural work, and you're a real DIY'er, then sure…give it a try. But remember that kitchens are more complicated than any other room in the house. Plumbing, wiring, outlets, cabinetry and appliances all must work seamlessly together.
Many regions of the U.S. require the involvement of a GC in major remodels. If you don't use a GC, and you are abiding by local laws and ordinances, at least seek the advice of a few qualified experts.
But really, hire a good GC. It's worth it! ! Read more on how to choose kitchen contractors for your project
Not thinking enough about workflow, use patterns and needs
When homeowners don't think through how they use the kitchen, they can end up with spaces that are inconvenient to navigate when cooking, and appliances that are not really right for their needs. That has got to be very frustrating.
Not paying enough attention to detail
It is easy to think that because you now have a GC on board, or an architect planning everything for you, that all will be fine. But what if you may not like the wall light fixtures that the architect chose. Or maybe nobody thought about how the insides of the cabinets and drawers should be organized. Or you wanted a polished silver, lever-style door handle to match the cabinet pulls you had your eye on, but the builder ordered a satin nickel round door handle.
The less involved you are, the less likely it is that you'll get the results you wanted, simple as that.
Lack of involvement with the contractors
Homeowners who've been through the remodeling process understand how many choices, from large to small, that contractors must make every day. Many of those choices are reasonable, just not what the homeowner would have done. Some problems result from lack of communication, or miscommunication.
In all cases, the more closely you can stay in touch with your contractor, the greater the chances that you'll get what you want, and head off potential problems before they become larger issues.
Failure to protect other parts of the house
During remodeling construction, dust gets everywhere. Don't make the mistake of thinking that a few plastic sheets here and there will prevent that. Make sure the contractor securely blocks off the remodeling part of the house from the rest of the house. Failure to do this will leave you with plaster and wood dust everywhere you can imagine, which is bad for breathing and especially difficult to clean away effectively.
Going over budget
Staying on budget is a lot harder than many think. Making one single choice for one special item is not the problem; it's making that same kind of choice repeatedly.
If you increase an expense in one part of the budget, offset that increase with a reduction in another part of the budget. Otherwise your costs will just keep spiraling upward.
Shopping too late for appliances
It's a lot easier to fit cabinets and even counters around appliances, than the other way around. So choose your major appliances fairly early in the process, taking guidance on timing from your GC.
Not enough storage
Not having enough storage space at the end of a kitchen remodel is one of the most common frustrations we know of. There's an old adage in kitchen remodeling: don't add space, add storage. So make sure you've given plenty of thought to how you can best use the space you've got for maximum storage capability.
Not planning for HVAC
All too often, homeowners realize too late in the process that nobody fully planned out the kitchen's new heating and air conditioning ducts. Laying in new duct work when floor spaces are open is far easier than doing it after a new floor has just been laid down.
Make sure that your contractor has planned for all kitchen HVAC needs before work starts.
Too few outlets
In this day and age when everything is digital, having enough outlets in the kitchen for major appliances, minor appliances, entertainment systems and phone charging is a must. Period.
Not solving existing problems
There is so much to think about when planning a kitchen remodel that it's easy for one issue to get lost along the way. Example: the kitchen junk pile problem was never solved, and the pile returned shortly after the remodel was completed, because there's still no place to put the daily junk. Aggravating.
One of the easiest ways to guard against that is simply keeping your Wants & Needs List current.
When it's finally time to get your kitchen remodel going, the best you can do is plan like crazy, and communicate with those who can help you. Good luck!