Microwave uses truly span the spectrum of everyday cooking. Here are just a few great uses for microwaves:
Heating water for tea
Warming coffee
Poaching eggs
Cooking potatoes when you don't have 45 minutes to bake
Steaming veggies
Peeling garlic
Warming leftovers for dinner
Popcorn
Softening ice cream or brown sugar
Quick defrosting
Primary considerations for microwave ovens include:
Placement options
Oven size
Watts
Features
Placement options: Common microwave styles and placement options include: countertop, over-the-range, built-in and drawer-style.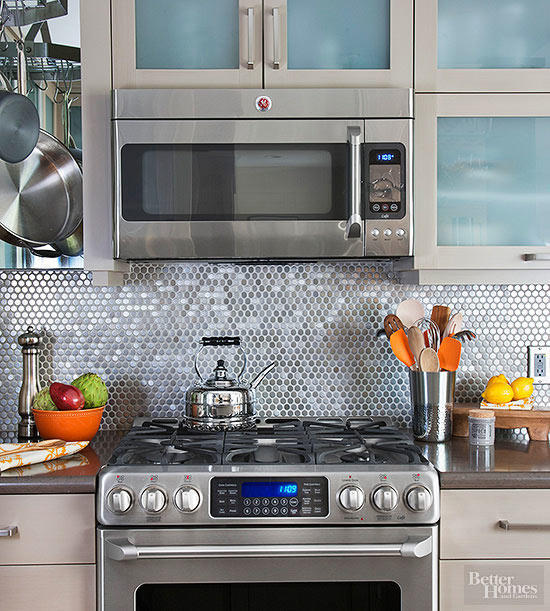 Over-the-range (standard and low-profile) combines the microwave with a range hood, thus saving valuable kitchen space.
Built-in microwaves are just that, units actually built into the cabinet array.
Drawer-style is built to slide out of a drawer. These are usually installed below a countertop or wall oven.
Read more here on how to integrate a microwave into your kitchen.
Size: Because microwaves – even those sitting on counters – occupy limited, often precisely defined spaces, the outside dimensions are very important. Measure carefully, and allow space on the top and sides as recommended by the manufacturer.
Also, make sure that the internal cooking space is large enough, both in width and height, to accommodate the largest dishes and food items that you might heat in the microwave.
Watts: Microwave ovens are one of the most electricity-hungry appliances in a home. Most microwaves are rated between 600-1,200 watts.
Make sure that your electrical circuits can handle the draw without blowing a fuse, especially if you're remodeling an older kitchen in a home with older wiring.
Your contractor and electrician should be all over this, but it's always good to double-check.
Features: Common microwave features include:
Child lock
Automatic defrost
"Broiler" capability
Convection capability
Cooking sensors to determine when certain dishes are done
Non-stick interior surfaces
Shortcut keys for common tasks
Sensor cooking
Time cook
True power reduction for more even cooking
Turntables
Removable racks
Ventilation levels
Get Free Quotes From Local Appliance Pros
As we recommend in all our buying guides, there's no substitute for seeing first-hand what your choices are, so we strongly recommend visiting a retailer or two during the planning stage. This will help you better understand your choices, and balance available options with budget and space considerations.