Bathrooms may be among the smallest rooms in the house, but that doesn't mean a bathroom remodel is simple: bathrooms are the second most complex room in the house to remodel after kitchens.
A variety of unique factors come into play when remodeling a bathroom. It's important to consider the primary function of the bathroom (e.g., master or guest bathroom), who uses the bathroom (including their ages), special needs like stabilizer bars in the bath/shower, and how to maximize storage space.
You'll also make important choices on paint color, lighting, flooring, countertops, sink(s), bath/shower, toilet, fittings and fixtures.
Also, don't forget your wish list: some bathrooms now feature coffee makers, TV, charging stations, towel warmers and even small fireplaces.
Thinking about what you really want and need from your bathroom remodel takes a little effort. However, considering that the time between remodels is often 10-20 years or longer, it just makes sense to plan your project as effectively as possible. The effort will help you save money, and increase the odds that you'll be happy when the work is done.
Main sections of the Bathroom Remodeling Planning Guide:
Get Free Quotes From Local Bathroom Pros
Start by considering bathroom's basic setup, and what you want to achieve:
As a reminder, a room's "footprint" is essentially its core structure: the foundation, walls, plumbing, and electrical wiring.
Changing the footprint – such as moving a toilet or switching from a tub to a standing shower – will add time and expense to your project, so think carefully about whether or not major changes are needed.
When considering your vision, make sure to think beyond the current walls that make up the bathroom's shape, and whether you want to change it. For example, if you'd like to add a spa or dressing space, you might be able to borrow square footage from an adjacent space, like a bedroom or closet.
Your choice of toilet, sink, or shower/tub may also be affected by existing infrastructure. Some newer toilets, tubs and showers may require you to cut out parts of a wall or floor to change or upgrade the plumbing, or fortify the foundation.
Aging and Outdated Infrastructure
One of the most daunting aspects of a bathroom remodel is discovering what is hiding behind existing walls. Will there be mold and mildew when you remove the shower? Especially in older homes, it's a possibility. So include this in your thinking, and mention it to contractors if you think there might be a concern.
Pipes, valves and drains are another infrastructure component commonly replaced during bathroom remodels.
Heating and cooling vents should also be checked, as they are prone to shifting and deterioration over time.
And don't forget your electrical infrastructure – often overlooked during remodel planning. Old wires often need to be replaced. Outlets may not be up to code. You may want to install new switches or dimmers to improve lighting options. If wall outlets are no longer in convenient spots based on current use patterns, they may need to be moved. It really pays to think about all of your electrical needs early in the process.
Finally, you can save money by doing some infrastructure work yourself. However, keep in mind that bathroom remodels often require builders, plumbers, electricians, and sometimes architects. Filing with local authorities may also be required. So it's important, early in the process, to get input from contractors on any and all questions you may have about costs and options related to infrastructure changes.
Your bathroom renovation choices depend on which bathroom you are remodeling. The layout and fixtures you choose for a master bath will be very different from what you want for a children's restroom.
Master Bathroom
The master bathroom is your sanctuary at the end of the day. More so than any other bathroom in your home, master bathroom design is about atmosphere and function. It is also a high priority space for homebuyers if you ever plan to sell down the line.
If you share the master bathroom with a partner, there are added considerations. Do you want a separate toilet room for added privacy? Can you fit a double vanity in the bathroom, so you will always have your own sink? Should you widen the pathways to allow two people to walk into the bathroom comfortably?
Full Bathroom for Multi-Purpose
For a full bathroom, the focus is functionality. This is a bathroom that anyone could use – friends, children, stay-over in-laws – so it must be practical for the variety of people in your life.
So, by all means add personal style to the tilework, fixtures, lighting and décor you choose, but also think about durability and ease of use.
Fixtures should be sturdy and very easy to use – no over-the-top designer faucets that people can't figure out how to use.
Keep the design simple and easy to clean, and make sure surfaces like the countertops are durable.
Drawers and handles should be simple to use and sturdy.
Make sure door locks are easy to use, and that users cannot get locked in (some locks can be unlocked from the outside in case someone gets stuck).
If you have the space, shower/bathtub combinations allow stayover guests the option to bathe in whichever way is must comfortable for them.
Make sure all users will have the privacy they need.
And as always, keep accessibility requirements in mind.
Children's Bathroom
This type of bathroom of bathroom might be a dedicated child's bath, or a multi-purpose space with special accommodations for children.
Either way, you will need durable, low-maintenance materials that are easy to clean.
Consider lowering the vanity countertop height so children can reach the faucet comfortably. Alternatively, include a lift-out step in a bottom vanity drawer.
Safety is especially important. If there's a tub, the height should be on the shallow side so it's easy to get in and out. If the children are young, safety latches and guards on cabinets and drawers always make sense.
You can also invest in faucets with anti-scald valves to prevent hot-water burns.
When choosing flooring, keep in mind which surfaces are non-slip. You can always test if a tile gets slippery when wet before buying it.
Finally, think about how you can get the most storage space for all your children's bathroom objects. Will built-in vanity cabinets hide clutter better than open-shelf storage?
Accessibility considerations for most bathrooms include:
Should the doorway be wider?
Is the sink height optimal for your bathroom? And is the faucet easy to reach and use?
Is there proper ventilation around the toilet and shower?
Is the distance between the toilet and sink right for you? Or does it feel to narrow and cramped?
What toilet height should you choose? A taller toilet can be more accessible for people with mobility issues, but a standard size will be better for children.
Where are the bath/shower grab bars and towel holders? Should you include a shower seat? Is there ample storage in the shower area?
Are the floors slip-resistant enough for you?
Is there sufficient natural or artificial light?
Depending on the nature of your current bathroom, including your vision and budget, you may have a choice between a standing shower, a shower/tub combination, a separate tub.
but is soaking in a tub a must for you after a long day? Do you take enough baths that a tub makes sense? If you have the space and you love baths, you can also consider a tub with jacuzzi features.
Showers
Showers are generally regarded as easier and more convenient to use for people of most ages.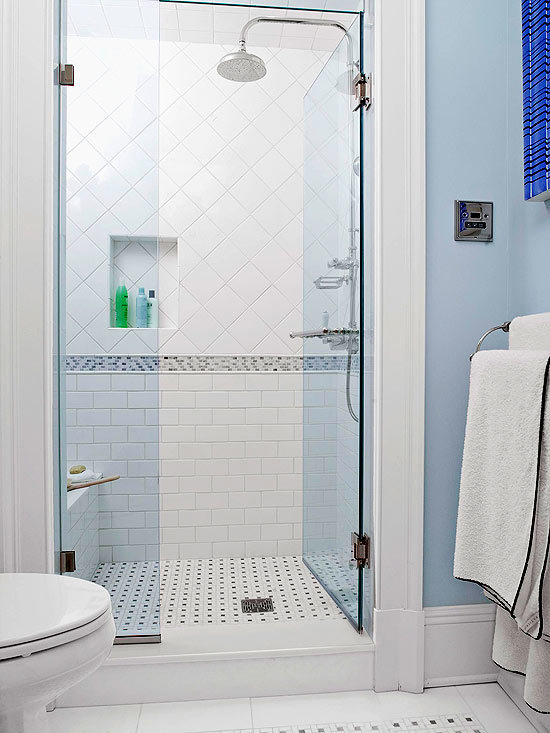 If you know you want a shower, you can still choose between a standing shower or tub-shower combo. A tub- shower combo offers bathing options, which can be particularly important in multi-purpose bathrooms … but a standing shower can feel more elegant. Review shower types, shapes, and sizes to find which one will work best for your available space. A trip to local show rooms is great for this purpose.
If you're going with a standing shower, is your bathroom large enough to accommodate a standing shower with multiple shower heads? Will a corner shower fit better in your available space?
A shower bench is another feature to consider. Shower benches are great for relaxation, more comfortable for some older users, and may provide opportunities for additional storage.
You'll also need to choose between using a shower curtain, or a glass door. If you opt for a glass door, sliding or hinged? Hinged/pivot doors can add a touch of sophistication. And, think about whether you prefer frosted or clear door glass. Clear glass can make rooms seem larger, while frosted doors offer more privacy.
Bathroom shower materials include tile, stone, and acrylic & fiberglass (often the cheapest option). Each material offers multiple colors and finishes. Again, it pays to visit showrooms to see the latest options and costs.
And what about the fixtures? Do you want a removeable shower head with a hose, or do you prefer the experience of a fixed head, or perhaps a rain shower? If your budget allows, you can also install body sprays for an all over clean experience.
Keep in mind that if you want to add a multi-head shower, you may need a bigger water heater to make sure you don't run out of hot water too quickly. Some homeowners opt to install on-demand water heaters which can be more efficient, and mean that you never run out of hot water when you need it.
You will also need to assess your water pressure, because different shower types require different amounts of water pressure to function properly.
The shower mixer – housed behind the wall – is how the shower mixes the hot and cold water together. You can choose a standard manual mixer (controlled with hot/cold shower hardware), a thermostatic mixer that you preset to control the temperature, or an electric shower mixer which contains a built-in heating unit to heat the water.
To enhance the mood in your shower, you can add a shower tower, mist or steam generator, and LED lighting to your shower.
For those on a tighter budget, prefabricated showers might the best option. A prefabricated shower is a single-piece design, commonly made from molded fiberglass, plastic, laminate, or another synthetic material. Prefabricated showers include all the basics and are the easiest to install yourself. The downside is the lack of options for the size and design of the shower.
Accessibility features for showers include extra grab bars, built in seats, and low step thresholds.
Showers are also prone to mold and mildew growth, so make sure the shower is well ventilated, and that the fan and venting systems will accommodate the ways in which the shower is used. Your architect or builder can help with this.
Bathtub
The bathtub is more than just a place to get clean. It can be a relaxing treat at the end of a long day, or a place for peace and meditation.
Baths can be freestanding, drop-in, or corner tubs.
Is having a whirlpool tub important to you? You can also add underwater LED lights and speakers in or around the tub for calming music.
Bathtubs have as many options as showers. They are made from many different materials, including acrylic and fiberglass, copper, cast-iron, enameled steel, stone, and even wood, in a variety of styles.
A toilet might seem like an easier choice compared to showers and tubs, but choosing the right toilet for your needs requires a little research.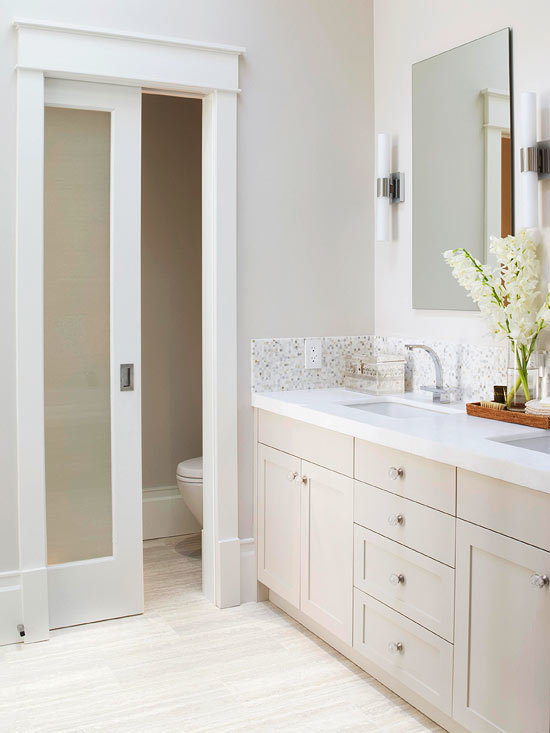 Define your list of priorities first. Does your toilet need to be as easy to clean as possible? Is comfort more important than style? Deciding on your priorities will help you narrow down your possibilities.
Start by deciding where your toilet is going to reside in the room. Your toilet location may depend on your bathroom infrastructure. Another factor to consider is the overall layout of the room.
Depending on your bathroom layout, you can consider a separate water closet (room-within-a-room) for the toilet – a growing trend. You can also consider decorative screens or glass to add light while still offering privacy. A simple design can make the small toilet room space feel clean and larger than it is. You can also add details such as a magazine rack on the wall or a dedicated vanity.
Your bathroom may not be large enough to create a dedicated toilet room, but you can still avoid making the toilet a "feature." Consider rearranging the layout of the room so the toilet is not the first thing you see. For example, try placing it behind a hutch-like cabinet wall. Basically: don't let the toilet be the first thing you see when you open the door.
Once you have decided on your toilet location, you can assess what type and height of toilet will fit. The standard height for a toilet is 14 to 15 inches, but you can increase the height for added comfort and accessibility.
What about the style of toilet? Do you like the look of a wall-hung toilet? They require a thicker wall to mount the toilet on and house the tank, but they add drama to the space and are easier to clean. A one-piece toilet is also easier to clean, but a two-piece toilet is often the most affordable option.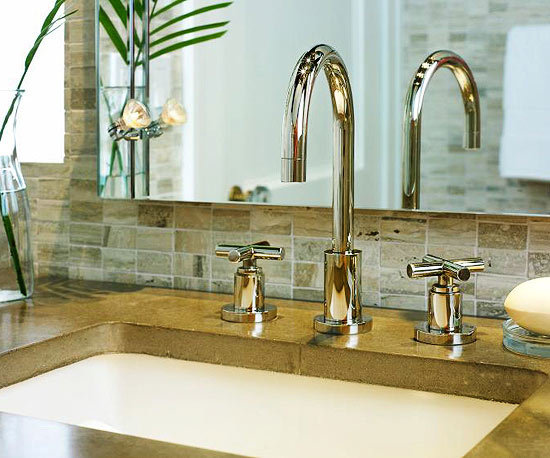 Because the toilet is one of the key components in any bathroom, avoid settling for a "basic flusher." Toilets today have advanced flushing technology. You can conserve water and reduce water bills with dual-flushing toilets.
And we can't forget about the toilet shape. Elongated toilet bowls are often considered more comfortable, whereas a round bowl can save space in a small bathroom. Also, slow-close lids are relatively inexpensive, and eliminate that lid-slamming noise!
Are you interested in bidets? They can look similar to toilets, but are actually used for personal hygiene and can be helpful for anyone who has mobility problems.
Visit a showroom and talk with a salesperson who can discuss all the details of toilets and help choose the right one for your needs.
You are likely to encounter a seemingly endless variety of sink and faucet styles, shapes, and finishes to choose from.
Sink styles include:
Self-Rimming Sink
This type of sink sits on top of a countertop, with the rim of the sink above the counter. It's easy to install, and is a common choice when replacing old sinks in an existing countertops.
Undermount Sink
Undermount sinks exist as part of a countertop, but are installed below the counter, so the finish of the counter must be cut to fit the dimensions of the sink (or, the sink must fit the dimensions of an existing opening in the countertop). Undermounts are very popular, and offer a clean, sleek appearance.
Vessel Sink
With the bowl sitting above the counter, vessel sinks give you more room for drawers and storage below the sink. Keep in mind that vessel sinks offer less work surface, and can be tougher to keep clean.
Corner Sink
Corner sinks solve the issue of a tight space or traffic-flow problems.
Vanity with Sink
A stand-alone vanity with sink is common in smaller bathrooms. These setups are relatively easy to install, since the vanity can be placed anywhere as long as there's plumbing available. You simply need sufficient clearance to open cabinet doors.
Pedestal Sink
The silhouette of a pedestal sink offers a classic look, and can also fit comfortably in small bathrooms. The downside: this type of sink offers little in terms of storage and counter space.
Wall-Mounted Sink
These sinks extend out from the wall with no underlying support. This creates an open space below, but also eliminates any option for cabinet storage.
Once you have chosen your sink design, you have to plan the right height for your sink. Typical countertops are 32 to 34 inches off the floor, but depending on your style of sink, it can add to or take away from the countertop height. For example, an above-counter vessel sink, will need to be on a lower countertop so you can wash your hands or brush your teeth comfortably.
You will also have a wide variety of options for the faucets and handles in your bathroom. Today's faucets can include features like integrated ceramic disks within the fixture that help grind away buildup that causes leaks. They can also be integrated or mounted on the wall. The styles and options are too many to list here. Visit an appliance retailer to get a sense for the styles and finishes you like most.
That said, we have one tip: Choose the same style and finish for the sink hardware that you are using in the bath/shower … or at least, ensure that they work nicely together.
Countertops must have enough surface space for your bathroom needs while also being durable. Water, soap, and cosmetics can have a corrosive effect on hard surfaces over time.
In addition to durability, primary considerations for countertops include: space and shape, material, style and color.
Bathroom countertop options include granite and marble, which attract buyers at resale and give a modern look. Affordable grades of granite are readily available, but keep in mind that granite will need occasional sealing.
Alternatively, Quartzite materials are incredibly durable, and low-maintenance.
Tile with grout is harder to clean, so if you like tile, consider large porcelain tiles to minimize grout lines.
Once again, we strongly recommend visiting a showroom early in the process! At a showroom, you will be able to start sorting through style options, costs, and the unique characteristics of each surface. It's hard to imagine a new countertop in your bathroom without seeing examples in person. Additionally, sales people can provide you with facts and information about the best choices within your budget range.
Bathroom cabinets are one of the most expensive components of a bathroom remodel. Cabinets must provide ample storage space, while enhancing the overall design of the room.
Custom, built-in bathroom cabinets are typically combined with countertops, but can also exist as standalone storage elements – either built-in or free-standing.
Free-standing cabinet furniture – like vanities or other small cabinets – can be optimal for smaller bathrooms. Standalone cabinets are commonly used for housing towels, linens, and spare amenities. Corner cabinets can fit into an underutilized spot in the bathroom and add extra storage.
If the bathroom is shared by two or more people, you can choose to have symmetrical cabinets so each person has equal space.
Once you choose the location of the cabinets, you'll want to decide on the style, material, and color. While you can shop for bathroom cabinets and vanities online or in local stores, visiting a showroom will help you get a better sense of your options, and narrow down choices based on your own personal style and taste.
Another option is medicine cabinets, which can be hung on the wall over your sink, or built into the wall. Modern medicine cabinets come in a variety of designs that make them very viable choices in many bathroom settings. They can also be custom made.
Many bathrooms also feature open shelving. This can be a great solution when space is at a premium, or the shape of the bathroom is irregular.
Deciding how you light your bathroom will depend on your layout and design choices for the other components in the room. You will need to make sure you have ample light around the key features including the sink, toilet, and shower/bath areas.
The types of lighting in the bathroom include:
Task
Lighting that helps you complete your bathroom "tasks"
Atmosphere
Lighting that gives extra light and ambiance in the room
Decorative
Lighting that adds to your design and decor of the room
Accent
Lighting that frames a piece of wall art or window sill
Incandescent bulbs are the most common type of bulbs used in bathrooms because they produce a more natural, complexion-flattering light ideal for grooming. But incandescent bulbs also produce extra unwanted heat. Another option is compact fluorescent lighting which gives off a warm hue without producing excess heat.
Make sure your light controls are placed in convenient locations, especially for any late night trips to the bathroom. Take note of where you commonly reach for the bathroom switches next time you head to the restroom in the early morning or late evening hours. Natural light can be overlooked in common bathroom remodels.
Natural light adds to the ambiance of a bathroom especially for your relaxing evenings in the tub or your "me time" as you get ready in the morning. Skylights and enlarged windows add character to the room and open up the space. You can even have a window in your shower that will stand up to water by installing a preassembled glass block window.
A showroom or lighting store will allow you to see the fixtures lit before you buy to make sure the amount and quality of light is ample. The salesperson can also help give you information of the types of lighting fixtures including LED, fluorescent, halogen and xenon.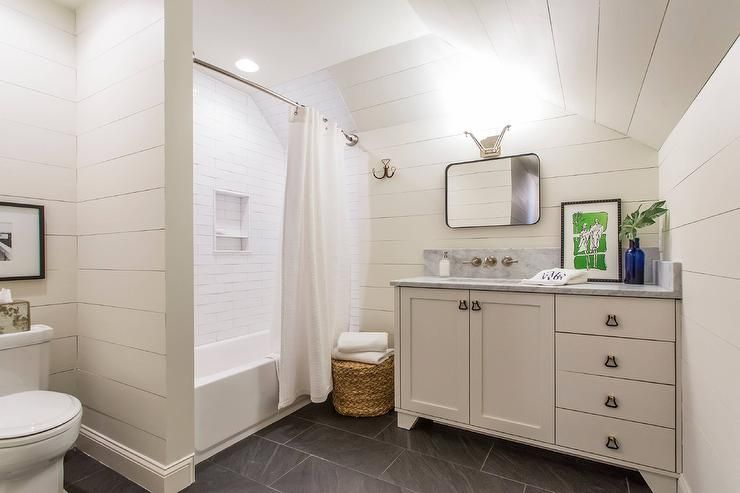 Flooring is one of the more expensive components of your bathroom remodel, so it's important to get it right.
Bathrooms are one of the busiest rooms in the house, so the floor needs to handle a lot of traffic. There are many options for bathroom flooring: wood, laminate, tile, linoleum, vinyl, stone, concrete and carpet.
A few things to keep in mind:
Porcelain, glazed tiles, or vinyl will be easy to clean. Porous natural stones and wood will need to be vigilantly sealed or they'll absorb water and become stained over time.
While it may be an unusual choice for a bathroom, you can opt for carpet. Look for carpets that are water, mildew, and stain-resistant with backing that will not allow water to seep into the padding. There are carpet tiles on the market that make removing single panels for cleaning easier.
You might also opt for a heated floor. Radiant heat systems keep bathroom floors warm, and the warmth comes from the bottom up, as it should. Radiant heat can also be used for part but not all of a floor, for example, around the toilet and shower/bath. If it sounds good to you, check it out with your builder or local suppliers. Because bathroom square footage is limited, it's not as costly as you might imagine.
Since safety is always important, for a nonslip floor, consider materials with textured surfaces, matte finishes, sand glazes, or tiles with larger grout lines. Options include ceramic tiles or natural stones.
You can also get creative and combine large and small floor tiles or create a rug of tile by the entrance to the shower of surrounding the vanity.
Wallpaper won't stand up to humidity, but there are a number of other options to consider. Especially in bathrooms, tilework is not just for the floor. Wall tiles can look great when covering the lower half of some walls, and also work especially well in the bath/shower spaces.
You can also decide to paint the room. Focus of choosing a paint that will match the tone for your bathroom while protecting you against mold and mildew.
Another option: backsplashes in the bathroom can be a great way to express your personal style and add interest to a neutral space.
For your remodeled bathroom to operate efficiently, it's critical to install proper vents and drain lines.
An exhaust fan is a must. It is best to have a fan that vents to the outside as opposed to venting into an attic. An easy to open window will also help remove moisture and therefore reduce mold and mildew.
You can splurge on an ultra-quiet unit and make sure it has enough power for back-to-back showers. You can also choose one that has a timer so you can let it run for 15 after your shower to remove any lingering steam. Some fans even offer humidity sensors so that you won't have to rely on kids or guests to remember to turn it on.
Alternatively, choose a mid-range fan to save a few dollars. In some areas you may want to install a louder fan for sound privacy. In high traffic areas, such as a bathroom off the living room area, opt for a light with a built-in fan. Or you can wire the fan to a light switch, so it will turn on automatically.
If you live in an area where having your pipes freeze is a concern, we recommend arranging your bathroom so there are no plumbing fixtures on exterior walls. You can also bring any pipes up through the floor instead of the wall in a first floor bathroom.
The in's and out's of vents and pipes can be some of the most structurally complex components of the bathroom remodel so hiring a contractor might be an ideal solution.
Bathrooms are naturally wet spaces, so it is important to have measures in place to discourage the growth of mold, mildew and rot.
Consider applying a moisture barrier behind the finished wall.
For the floor, tile is the best material for keeping water from seeping through to floor boards. Other flooring materials will need to be sealed regularly.
Select waterproof paint and install a vent in the ceiling of the bathroom to remove moisture.
You will be making hundreds of choices over the course of your remodel and even when you think you have considered every possible option, you will find something new that requires a decision. The solution? Plan ahead as much as you can...
Find inspiration from somewhere else that will work in the confines of your own space? Visit a showroom, search through magazines. Look for bathroom features you are drawn to in friends' and families' homes to see what appeals to you. Then consider what you like, and what you don't like, in your own bathroom.
Creating a "Pro's and Con's" list will help develop a vision for the project, and also help you understand how your bathroom should evolve through the renovation.
When speaking with contractors, they will ask what look and feel you want from your bathroom. Having your answers well prepared will provide clarity for contractors, and speed the process.
Once you've done your Pro's & Con's list, make another list: your Wants & Needs. Realistically, your wants and needs won't completely align. Maybe you want a claw foot tub, but you need ample cabinet and counter space to get ready in the morning.
Understand the difference between what you want and what you need, and you'll end up with a better functioning bathroom.
Your list doesn't have to include every small detail. Just start writing your thoughts down as they come to you. It will help when you're ready to speak with contractors.
What is your overall home decor style, and how can your bathroom add to that look and feel? If you feel a little stuck, see BHG's Bathroom Ideas Gallery for a new spark of inspiration.
When it comes to a remodel, you have to expect the unexpected. If you need your bathroom renovated by a specific end-date – say if you have in laws coming to stay or need it finished before the summer holidays – allow ample time for any hiccups.
The timing of a bathroom remodel can feel even more critical to keep on track because of how necessary the room is to your daily life. With effective planning before the project begins, you can ensure the process goes as smoothly as possible.
Remodeling is loud, messy, and inconvenient by nature. Not to mention the uncomfortable feeling of strangers in your most personal space, the bathroom.
Unlike any other room in the house, the decision to live in or out may be an easy one. If the bathroom you are remodeling is the only bathroom in the house, you may need to live out of the house for a few days or choose to live away for the duration of the project. You can also ask your contractor to set up a makeshift bathroom such as a temporary fiberglass shower that can drain into the utility tub floor drain.
We recommend that if you do choose to vacate your home, you still stay relatively close by. You will want to monitor the contractor's progress and secure your home when no one is around. Be advised that residential construction sites can be a common target for thieves.
If you have more than one bathroom, you may choose to stay. Just be prepared for the potential aggravations that come with any home renovation project:
Dust – Dust will get everywhere.
The absence of privacy – Workers will be in and out of your home on a regular basis.
Loud noises and disruptions – especially if you have young children, or work from home, this can be an issue.
And now the benefits of staying home:
Security – You will be able to watch over you home more easily.
Timing – It's easier to keep the timeline of the renovation on track if you are home. One example is when your contractor has questions that could delay the progress, you can offer your immediate input.
You might be able to stay away from your home during the day when construction is at its peak. Ask your contractor for input and advice tailored to your specific situation.
Here are a few ways of thinking about your bathroom remodel, that we think can prove helpful:
Scope
Decide what level of remodeling you are prepared for.
If you're happy with the layout of your bathroom, but feel it needs an updated look, then focus on materials, cabinetry, or plumbing fixtures. If you are after a basic remodel, plan to spend between $1,000 - $10,000.
Or perhaps a new layout is what you need to achieve for your bathroom needs. Maybe the door swings open and hits your toilet, or you never use the bathtub and want to upgrade to a large shower. Or maybe your partner is tired of sharing one sink with you.
Whatever the reasons behind your particular remodel, make sure you are prepared for all that will come with it.
When choosing your budget, factor in a cushion of at least 10 to 20% more for unforeseen costs that might arise.
A professional bathroom designer can envision unique ways to increase functionality and efficiency in a smaller space. It might be worth the added cost to have a professional create a cohesive flow for inside the bathroom and how it fits with the rest out the house.
Quality Choices
Because less material is required for a smaller bathroom, you may be able to use higher-quality finishes, since you are buying less overall. For every purchase that you make, you will have to find the balance between quality, style, and value.
Shopping around can help you assess what each alternative is really worth, and ensure you get the best price. In some cases, the most expensive product might not be the highest quality. Or maybe the most luxurious choice is just not the best fit for your needs. On the other hand, sometimes choosing the cheapest option might come back to haunt you, it if it's one of your top needs for the space.
Chances are you won't be able to go with the highest quality choice in every decision you make. So our best advice is to save on products when you find reasonable options, and splurge on those items that you can't get out of your mind.
Color Choices
A bathroom can be charming, warm, fun, or whatever you want it to be! I you are looking for a retreat, design the room to be relaxing and peaceful. If it's for the kids, make it bright and bold! Deciding what feeling you want for the space will help you choose your color scheme.
Also remember that you can bring your bathroom to life with accents of color: hand towels, a bath rug wall décor, flowers, or anything else that suits you.
Remodeling & Design Trends
We can't choose your style for you, but we can offer some advice. Bathroom trends evolve, and while it's worth investigating what people currently love in bathroom designs, it's also best to take each trend with a grain of salt. Find your own design truth!
What was considered "modern" and "trendy" in the 1960's is considered "outdated" by today's standards. When browsing through your local showroom, ask yourself; will I still like this design in 5 years? 10 years? If I want to sell my home one day, will this design impact my sale price? Is this overly trendy?
When choosing your style, it's best to decide what you really like, whether it is trendy or not. It's impossible to know with certainty how we'll feel about any given style 10 years from now, but simply choosing what is "cool" right now is the riskier option.
We all have our own personal style. Trust and embrace yours.
Shopping Tips
When shopping for bathroom furnishings, it can help to a look at a calendar. Are there holidays coming up that bring sales?
Some stores will allow you to order well in advance of your required delivery date to lock in prices. Even before you are ready to purchase anything, shop around and see what prices are advertised on an average day. This way you will know you are getting a better deal when a sale does come up.
For many, shopping is one of the most enjoyable parts of the remodel experience, but for others it can be exhausting. Avoid shopping fatigue by "cluster" shopping. Plan to visit flooring stores one weekend and a paint store the next. Or give yourself every other weekend off. Making decisions can be mentally tiring so give yourself breaks within your remodel schedule.
When you are out shopping, grab as many samples as you can. The lighting, atmosphere, and traffic in the stores can dramatically alter how a product looks or your emotional response to it. Seeing your options in your own space will give you a better perspective on what will work and how each piece will come together for a cohesive look.
Regret is a powerful emotion that you want to avoid. After months of remodeling, your end result should be exactly as you envisioned – or at least close!
Keep in mind these common bathroom remodel mistakes, so you don't make the same mistakes others have:
Overly-Ambitious DIY
If your bathroom remodel is relatively low maintenance, then DIY might make sense.
But, don't try to be an electrician, plumber, or contractor if you are not one. Making a mistake in the bathroom can really impact your home. Insufficient ventilation can increase your mold and mildew. Improper toilet installation can harm your floors.
A contractor can bring the best people to work on your job, and ensure that you are abiding by local laws and ordinances.
Not Enough Attention to Lighting
Poor or unflattering lighting is a common problem in bathrooms. Is the window in an awkward place? Is the overhead lighting by the mirror giving you the appearance of dark circles under your eyes? Is there enough light to see what you are doing in the early hours of the morning?
These are all lighting mistakes that can be avoided with proper planning ahead of time. If you need advice, consider hiring a designer for a brief consultation. You might be surprised how many good ideas can come from that.
Trying to Fit Too Much Into a Small Space
When it comes to the bathroom, you really have to work with what you have. Trying to fit a standalone tub in a room that is not equipped to handle one can result in an awkward traffic flow. Use your space wisely.
Not Paying Enough Attention to Detail
This is true with any remodel. With literally hundreds of small details to account for, it's easy to let a few slip past you. Unfortunately, the detail you forgot about might end up having a big impact on your end result. This is where a contractor can help keep you organized and on track.
Lack of Involvement with the Contractors
Communication is important in every aspect of a remodel. To keep things on schedule, a contractor may make small, everyday decisions without you. Keeping in communication with a contractor on a regular basis will give you more control, and allow you to foresee any potential problems before they arise.
Going Over Budget
Staying true to your budget may be harder than you think. Having a safety net will help you avoid budget overages. If you spend more on one area of the bathroom, try to cut down expenses elsewhere.
Time Your Shopping
The decor might seem like the most interesting part of the overall shopping experience, but it's worth it to make decisions on the big pieces of the bathroom first; the shower/bath, toilet, and sink. Everything else can fit around those items, and your idea of the ideal accents may change as the room takes form. Timing is everything. Wait for the big stuff to come together before finishing the room with the small stuff.
Also: keep in mind that special-order fixtures can take weeks to come in, so factor that into your planning timeline.
Not Enough Storage
There are a lot of items you keep in the bathroom, and many are ones you won't necessarily want on display at all times.
You will want ample storage for hygiene products, spare toilet paper, makeup, clean towels. These are all bathroom items that need a home within a small room. Plan ahead for where to store them.
Outlet Placements
Do you like to blow dry your hair? Then you need an appropriate outlet close to the mirror. Do you want to charge your phone while you're in the shower…where will that happen? And so on.
Not Solving Existing Problems
It's easy to get swooped in to wanting a fancy, beautiful bathroom. But if the location of the toilet is not working for you, the money has to go to moving it, instead of to a jetted tub. You don't want to look back at your wants and needs list after the remodel and realize your needs were not met.
One of the easiest ways to guard against that is simply keeping your Wants & Needs List current and with you, even if you choose to live out during the remodel.
A beautiful new bathroom is just a short time away. Let's get started. Good luck!