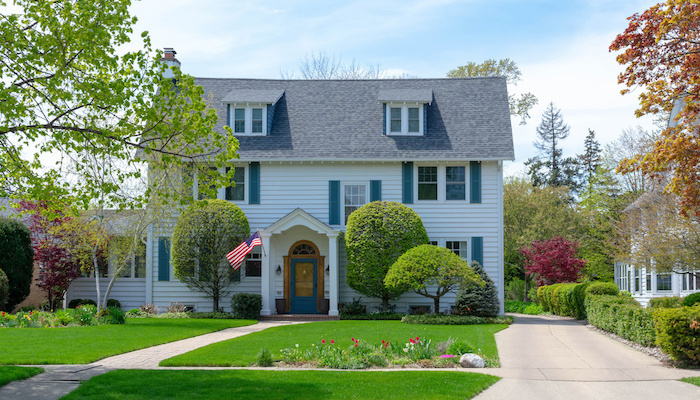 Each business or product we feature has been independently selected and reviewed by our editorial team. If you purchase a product or service using the links included, we may earn commission.
Home warranties offer coverage on home appliances and systems that breakdown from everyday wear and tear. What's covered by a home warranty plan is not covered by your homeowner's insurance. Warranties are protection plans that give you peace of mind and protection against high unexpected costs.
HomeGuard Home Warranty is a home warranty provider that services Arizona and California homeowners, real estate agents, and home sellers. We've reviewed the provider's terms and conditions, as well as the services, pricing, customer reviews, and competitors, to help you determine if HomeGuard is right for your needs.
In This Article:
We also compare HomeGuard to our preferred home warranty providers, American Home Shield and Choice Home Warranty. These companies provide comprehensive plans at affordable prices for homeowners across the country. To learn more about American Home Shield, get a quote today:
Get A Free Quote
Otherwise, keep reading for our full review of HomeGuard.
HomeGuard Home Warranty Overview
With more than 14 years of experience in the home warranty industry, HomeGuard Home Warranty has earned an A+ rating by the Better Business Bureau and has been accredited since 2008. The company provides home warranty protection plans on older homes and ensures that you're protected when unpredictable breakdowns occur.
HomeGuard Home Warranty is part of the HomeGuard Incorporated company, which specializes in inspections (from home inspections to termite inspections). The company covers Northern and Southern California. HomeGuard Home Warranty, more specifically, covers California and Arizona territories, offering home warranty plans to real estate agents and home sellers, buyers, and homeowners.
HomeGuard Home Warranty Plans for Homeowners
HomeGuard Home Warranty offers two plans, as well as a number of optional add-ons and upgrade packages. The options are outlined below:
| | | | |
| --- | --- | --- | --- |
| | Standard | Advantage | Optional Coverage |
| Heating system | ✔️ | ✔️ | |
| Electrical system | ✔️ | ✔️ | |
| Garage door opener | ✔️ | ✔️ | |
| Central vacuum | ✔️ | ✔️ | |
| Re-key coverage | ✔️ | ✔️ | |
| Doorbells | ✔️ | ✔️ | |
| Smoke detectors | ✔️ | ✔️ | |
| Pest control | ✔️ | ✔️ | |
| Air conditioning | | ✔️ | |
| Water heater | | ✔️ | |
| Carbon monoxide detectors | | ✔️ | |
| Swamp cooler pre-season tune-up | | ✔️ | |
| Crane rental | | ✔️ | |
| Local building permits | | ✔️ | |
| Repairs due to improper installation/lack of maintenance | | ✔️ | |
| Pool/spa | | | ✔️ |
| Well pump | | | ✔️ |
| Outdoor kitchen | | | ✔️ |
| Smart home features | | | ✔️ |
| Ornamental fountain | | | ✔️ |
| Solar hot water system | | | ✔️ |
The following changes and upgrades are also available:
Seller's Coverage: Seller's Coverage breaks down plan payments to a daily fee. For example, the Standard Plan for a single family home costs $0.92 per day, and the Advantage Plan for a single family home costs $1.33 per day.
Total Protection Plan: With the Total Protection Plan, HomeGuard Home Warranty increases the coverage caps by $250 per item. The enhanced slab leak and additional pipe leak coverage increases to $2,500. Additional coverage includes zone control coverage of up to $500, plumbing stoppage, toilet replacement, and more.
Many of these items are not typically covered by other providers, including ornamental fountains, smart home features, building permits, and more. Also, more home warranties will cover pre-existing conditions, but will not cover breakdowns or failures that occur from lack of proper maintenance.
What To Expect From HomeGuard Home Warranty
HomeGuard prioritizes customer service. You can make a claim online or call to talk to their customer service by calling 866-993-2302. When you have a plan with HomeGuard Home Warranty, here's what you'll be expected to do when a breakdown or failure occurs:
Check the contract to confirm that the repair or replacement is covered under your home service plan.
Make a service call request and file a claim with the company.
Wait as HomeGuard Home Warranty selects a certified technician to visit your home, promising to have your process claimed within 48 hours of request.
HomeGuard aims to bring their customers satisfying results. They handle a variety of services, which makes them unique compared to other home warranty providers.
Reviews Of HomeGuard Home Warranty Protection Plans
Thousands of California real estate agents recommend HomeGuard Home Warranty, but what do customers say? We've researched hundreds of reviews to find that customers are often disappointed by the quality of contractors. Though service is quick, quality service should always be the priority.
Here's what HomeGuard customer reviews say:
"They were extremely limited on who they could send out and the company that did come took 6 visits to try and fix one problem, kept coming back with the wrong part and wasted my time. Ended up just telling them I want another company to fix the issue." - Daniel I.
"My experience was very discouraging. Two months after purchasing my home, the garbage disposal malfunctioned. They repeatedly denied my claims and I am now taking them to Small Claims Court." -Diana G.
Regardless of what other customers say, it's important to read through a home warranty provider's contract before signing. Most home service agreements will outline what's covered, what's not, and what to expect. HomeGuard Home Warranty, for example, does not cover preexisting conditions, which some other warranty providers do cover.
Home Warranty Provider Comparison Table
How does HomeGuard Home Warranty compare to their competitors? We're researched the top home warranty companies, from American Home Shield to American's 1st Choice Home Club, and we've found that American Home Shield is the best option overall. We offer a comparison chart of the top home warranty companies, so you can decide which is right for you:
| | | | | |
| --- | --- | --- | --- | --- |
| | American Home Shield | HomeGuard Home Warranty | Choice Home Warranty | First American |
| Our Assessment | Best for Overall Coverage | Good Option in AZ and CA | Best for Older Homes | Most Comprehensive Claim Coverage |
| Years in business | 48 | 14 | 11 | 35 |
| Number of plans | 4 | 2 | 2 | 2 |
| Add-on / optional coverage | Yes | Yes | Yes | Yes |
| Service call fee | $75, $100, or $125 | $75 | $85 | $75-$100 |
| States covered | 49 | 2 | 48 + DC | 35 |
Our Verdict on HomeGuard Home Warranty
HomeGuard Home Warranty, unlike many other home warranty companies, offers coverage on rust, corrosion, improper installation, and code updates, as well as replacements on smoke detectors and carbon monoxide detectors. They also offer coverage on outdoor kitchens, ornamental fountains, and more. You won't find this sort of coverage from other home warranty companies.
Pros

Cons

HomeGuard offers five plan levels
Customer service is available 24/7
Claims are processed within 48 hours
Service call fee is $75, if a repair is performed
Bonus coverage

Only available in California and Arizona
Online 24/7 customer service is not available
Not a wide network of qualified contractors
Get Free Quotes on a Home Warranty
Since this provider is only available to homeowners in Arizona or California, it's not the right option for most Americans. Keep reading for our top-recommended home warranties.

Our Recommended Home Warranty Provider: American Home Shield
Though we believe HomeGuard Home Warranty offers many great benefits, we have found that they have many negatives as well, including their lack of nationwide coverage. We recommend American Home Shield as a better provider, which is ranked among the top home warranty providers in the country.
Get A Free Quote from American Home Shield
Unlike HomeGuard Home Warranty, American Home Shield is available in almost every single state, all except Alaska. They have also been in business for a long time—48 years of excellent service. Their plans are simple to understand: one for appliances, one for systems, one combo plan, and one build-it-yourself plan. Like HomeGuard Home Warranty, American Home Shield also offers multiple add-on options.
Here are a few reasons we recommend American Home Shield:
American Home Shield covers 49 states
Easy 24/7 customer service online and by phone to make claims
No home inspections are required.
Simple, instant online quotes are available so you don't have to guess how much plans cost in your area.
Flexible choose-your-own service fee helps keep your monthly or yearly premium affordable.

Runner Up: Choice Home Warranty
Another great alternative to HomeGuard Home Warranty is Choice Home Warranty, our pick for best older home coverage. Servicing the majority of the country, Choice Home Warranty provides two combo plans, as well as add-on coverage, and has built a network of more than 15,000 pre-screened, highly-trained contractors. They provide you peace of mind knowing you won't pay high-out-pocket expenses on covered repairs and replacements. Best of all, they ensure that you're cared for by an experienced local technician.
Get A Free Quote from Choice Home Warranty
Here are a few reasons we recommend Choice Home Warranty:
Choice Home Warranty covers 48 states, as well as Washington, DC.
24/7 customer service is available, with online access to your accounts, claims requests, etc.
First month is free for new customers.
No home inspections are required.
Flexible payment options available, with discounts on annual payments.
Regardless of which home warranty company you choose, make sure you read the terms and conditions of the company's home service agreement. You want to know exactly what's covered so if something happens (like your dishwasher starts making a weird noise, or your valve pipe bursts) that you're covered.
Photo Credit: Adobe Stock, © Kristen