Kitchen remodeling can be challenging, especially for the inexperienced. First time remodelers tend to underestimate the costs and time involved. Even experienced homeowners know that without a plan, it's very easy miss opportunities for cost savings, or end up with a final result that's not what you envisioned.
A general contractor once said, "It's too bad that homeowners don't – at the start of the process – know what they know at the end of the process!"
When it comes to kitchen remodeling, it's important to know what you want, and what to expect. Knowledge truly is power, and in remodeling, knowledge saves you time and money.
Main sections of the Kitchen Cost Guide:
Knowing what others in your area are paying for remodeling costs helps you establish a realistic budget, and define the scope of your project.
This handy tool from our partner HomeAdvisor displays a range of costs in your area. If you don't already see the information for your location, just click "Change" (next to the location), and enter your ZIP code:
Powered by

Of course, hundreds of factors go into determining the price of a kitchen remodel, from scope of the renovation, to the quality and function of appliances and materials chosen. This tool can't help you with all those details, but it get you started on the right path!
Style Versus Function
If your kitchen works pretty well and your goals are largely related to style and design (i.e., you just can't stand that kitchen anymore!), then perhaps you can refinish rather than replace the cabinets, trade out old countertops for new, paint the walls and so on. Those kinds of changes, while substantial and impactful, are primarily cosmetic, and less costly.
On the other hand, many older kitchens no longer fit the way we live and prepare food. Perhaps the space between the island and the counters is too narrow, or the island itself is too small, or you want an open kitchen for entertaining. In those cases, you are making functional changes to the layout of the kitchen space; perhaps even enlarging the kitchen. Those kinds of projects often involve structural work, and thus more labor.
Said another way, remodels that retain the kitchen's existing structure and layout can be considerably less expensive than those that include:
Tearing down walls and/or changing room shapes
Changing appliance locations
Moving sinks and other plumbing locations (like washer/dryer combinations)
So, plan and budget accordingly.
Remodeling Ideas & Inspiration
Sometimes the easiest way to discover what you want in your new kitchen, is to look at what others are doing. We can help:
Q&A - Budget Planning
You could spend weeks researching all the questions you need to ask yourself about kitchen remodeling.
OR, you could Download Our Kitchen Remodel Planning Worksheet PDF. Trust us, it'll save you tons of time.
Get Free Quotes From Local Kitchen Pros
Setting a budget for your kitchen renovation depends mainly on your financial situation. However, there are certain "rules of thumb" used by many pros in the remodeling industry.
The "5%-15% Rule"
Perhaps the most common budgeting guideline is the "5%-15% Rule."
The "5%-15% Rule" suggests that you should not spend less than 5%, nor more than 15%, of the value of your home on a kitchen renovation. Like all rules, this one has its limitations. But if you find you are considering a budget that represents 20% of your home's value, know that you've entered the stratosphere of kitchen remodel budgets!
Time Horizon
If you expect to stay in your home for five years or more, and the remodel is for personal reasons, you can budget it as a home improvement expense, taking the longer view.
If you expect to be gone within five years, then consider treating your remodel as a real estate investment, with the goal of spending only what you expect to recover when selling the house.
Cost Breakdowns
Some may be wondering, "what if I only want to remodel portions of my kitchen?" That implies a budget nearer the low end of the 5%-15% range: a portion of the kitchen equals a portion of the "5%-15% Rule."
If you are re-doing cabinets, but keeping the floors intact, then it helps to know the cost breakdown of a cabinets versus flooring in a typical remodel. A high-end kitchen remodel (at 15% the cost of the home's value) shouldn't be 15% if you only intend to tackle a portion of what a more complete remodel entails.
Data from around the U.S. varies, but generally, the breakdown of kitchen remodeling costs looks like this: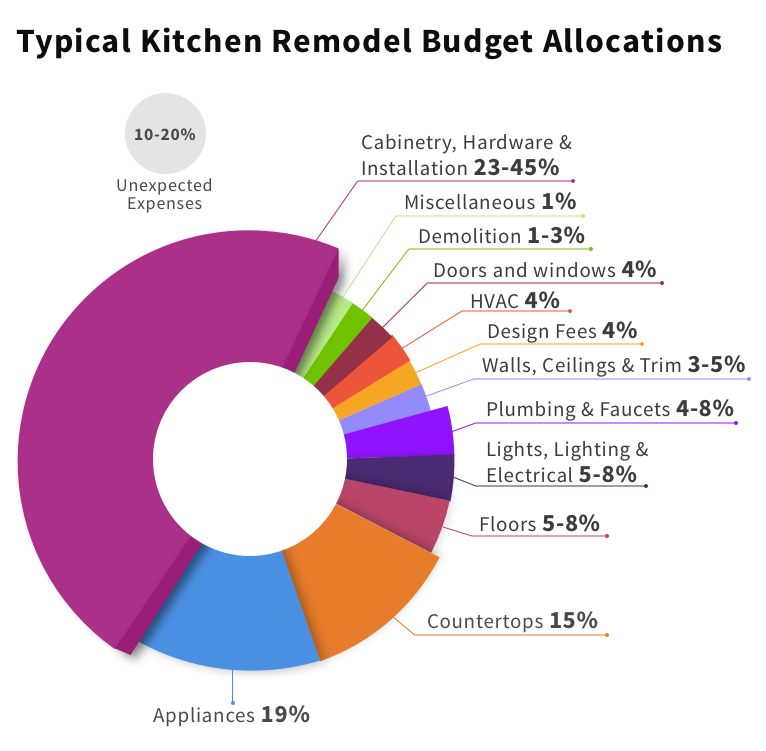 Typical Kitchen Remodel Budget Allocations

| Item (Ordered by % of Budget) | % Budget |
| --- | --- |
| Cabinetry, Hardware & Installation | 23-45% |
| Appliances | 10-20% |
| Countertops | 10-15% |
| Floors | 5-8% |
| Lights, Lighting & Electrical | 5-8% |
| Plumbing & Faucets | 4-8% |
| Walls, Ceilings & Trim | 3-5% |
| Design Fees | 4% |
| HVAC | 4% |
| Doors and windows | 4% |
| Demolition | 1-3% |
| Miscellaneous | 1% |
| Unexpected Expenses | 10%-20% |
A variety of other factors can affect the budget and execution of your remodeling project.
DIY Involvement
If you handy, doing some of the work yourself can make a noticeable impact on bottom line costs.
Time
Often a kitchen remodel can be divided into phases – to spread the costs out over time, allow homeowners to plan more carefully, and minimize disruption to the household.
For example, the following major kitchen remodeling tasks can typically be handled as individual projects over time:
cabinet replacement / refinishing
countertop & backsplash replacement
floor refinishing / replacement
light fixture replacement
painting
Scope Creep
We know. It can be hard: you go out to the stores and see all those cool countertops and appliances and storage ideas and boom! Your budget is blown. Don't be that homeowner…avoid scope creep! Set a budget and stick with it. Part of being a savvy homeowner is to spend within your means, and avoid temptations you may later regret.
Cost of Living
This one is often overlooked in the planning phase. Will you need to leave the house and stay at a hotel for any length of time? Will you need to eat out a lot if the kitchen is down? You'll want to identify and plan for these considerations in the budgeting phase.
Consider setting up a temporary kitchen during construction, so you can keep expenses down and still enjoy some home cooking. BBQ's can also help during these times.
Unplanned Costs
Unfortunately, unplanned costs are a reality in construction and remodeling. As frustrating as it is, you might as well plan for it. Experience tells us that 10-20% of the total budget is prudent. If you don't plan for it, at least know what you will do if it occurs.
Early budget planning consists mainly of:
1) Setting a total budget based on what you can afford, and what you want to achieve, and,
2) Developing a clear vision and set of goals for the project.
Your goals should be based on what you want to change, improve, add, and/or remove from your kitchen: how your kitchen is used, how you want it to be used, and how you want it to look. Your newly remodeled kitchen should reflect your personal tastes, habits and behavior.
Once you have a budget and ideas about your vision and goals, it's time to talk to pros to see if your thinking is reasonable, and also, begin to see who might best help you with your needs.
Most likely, you will want to speak with one or more of the following kinds of pros:
General Contractor
Kitchen Designer
Interior Designer or Decorator
Architect
Kitchen Remodeler
These are different professions with somewhat different skillsets, so it's important to understand the advantages and disadvantages of each.
Read our article, Who to Hire for Your Kitchen Remodel
When meeting with the pros, you should be getting feedback on your ideas, and also, be thinking who you would like to work with.
For those you think might be right for you, request estimates. You will likely learn a lot once you see how different pros would approach your job, and what each will charge.
There's no such a thing as a definitive list of kitchen remodeling myths, but here are a handful we hear often:
Remodeling is too expensive.
Remodeling is all about budget, planning and research. If you want to remodel, there is probably a budget and plan that can help you achieve your goals. A new coat of paint and a few new appliances can work wonders.
You don't need to think about how your kitchen is used.
Have you ever seen one of those kitchen islands complete with a cool little bar sink – that's filled with mail and pens, because it turns out the family never really needed a bar sink in the first place? It turns out that what they needed was a place to leave the mail and store their pens and papers.
Knowing what your kitchen is really used for – from the mundane to the sensational – helps you determine what appliances will work best, how wide traffic lanes should be, how storage is best organized, and what makes you feel good about being in the room!
You don't need a designer/architect/kitchen specialist.
If your project is small and simple, that might be true. However, good designers offer ideas and options you may not have considered, and they know about most the design and product options out there. They see hundreds of kitchens, go to trade shows, talk to other pros … and so are in a position to bring all that knowledge to you. More often than not, they pay for themselves with added value, discount pricing, product knowledge, and even budget tracking.
"A great design professional can give you tips on how to translate your space by downplaying outdated items and enhancing what you have with smaller alterations," according to Misty Soldwisch, of Better Homes and Gardens Real Estate Innovations.
The kitchen's appearance is more important than storage.
Space is often at a premium. But clutter can ruin the appearance of a beautiful kitchen. Clutter and disorganization also make cooking more of a pain. Cooking in a kitchen that's designed around how you cook is simply easier. Having what you want, where you want it, when you want it is a blessing for anyone who cooks!
Bigger kitchens are better.
Sure, we like big kitchens. But not big for big sake. We've cooked in kitchens where you need to walk twelve feet just to grab the spices, or get something out of the freezer, or find a container. Not fun, when you're cooking.
Remodels should reflect current trends.
How often do most kitchens get remodeled? Maybe once or twice during a homeowner's tenure! Trends come and go. What's really important is finding styles and materials that speak to the hearts and minds of the owners.
You can make decisions as you go along.
For some choices, yes. For many, no. When the builders are less than a week away from installing the lighting, but you haven't decided what kinds of fixtures you want yet, there will be problems: delays, overtime charges, etc. As much as possible, it pays to think through each stage, so important decisions are made in advance. Good contractors can be extremely helpful in this regard.