One of the most challenging aspects of planning a bathroom remodel is the budgeting – especially for first time remodelers. It's very easy to underestimate the costs of a bathroom renovation.
When planning a bathroom remodel, it's helpful to have a framework for establishing a realistic budget. It's also important to develop an understanding of your needs versus wants, so you can prioritize and make smart choices.
By planning and prioritizing, you will save money, and greatly increase the likelihood of achieving the results you want.
Main sections of the Bathroom Cost Guide:
Many factors that contribute to the overall price of a bathroom remodel, including: your locality, the size of your bathroom, the scope of the project, desired materials, and current infrastructure.
Knowing what others in your area are paying for their bathroom remodeling costs helps you establish a realistic budget, and more effectively manage costs.
This handy tool from our Partner HomeAdvisor displays a range of costs in your area:
Powered by

While the average bathroom remodel nationally is around $10,000, no individual bathroom remodel is "average" – each bathroom, and every homeowner, is different. That's why it's so important to think through your goals for the project.
Before setting a budget, assess the state of your bathroom, and prioritize your needs. Check out our Bathroom Remodel Planning Guide for more help with that.
If your bathroom is not functioning in a way that supports your lifestyle, now is your opportunity to make sure that it does.
Style Versus Function
Ask yourself, why am I remodeling the bathroom? For most homeowners, there are two reasons:
Improved Functionality


The focus here is on your bathroom's layout, and the specific performance of all the room's components. You want to ensure that your new bathroom supports the people who rely on it daily. That might mean replacing the shower, rearranging moveable components, or updating existing plumbing and electrical.
Updated Look and Feel
Style and design are the focus: cabinetry, fixtures, materials, colors and lighting. That may mean changing out the sink and faucets, updating the lighting, and choosing new paint colors. The key is finding a look and feel that suits your style, without breaking the bank.
Most bathroom remodels are a combination of style and functionality, with a greater emphasis on design and material upgrades: countertops, fixtures and fittings, paint and color schemes, towels, rugs and décor.
Structural Changes
Structural changes (changes to the room's "footprint") may be necessary to achieve your goals. Perhaps you don't like the location of the toilet, or the room needs to be larger.
When you are making changes that will impact the existing infrastructure, be sure to understand the budget implications. These types of changes will add substantially to your overall costs. However, in the end, you will enjoy a brand new bathroom when finished.
Style Changes
If you are comfortable with your bathroom's layout, and your goal is primarily to upgrade the room's look and feel, then the biggest cost elements are likely to be:
> countertop
> sink(s)
> fixtures and fittings (faucets, doorknobs, bath/shower hardware, cabinet knobs and pulls)
> cabinet upgrades
> and possibly, a new toilet.
Of course, it will cost more if you replace components like the countertop and sinks, but it might be worth it. Bathroom counters, sinks and fixtures certainly become dated over time.
For a less costly approach, consider painting or refinishing pieces that already exist in the space – especially cabinets. You can then focus more of your time and budget on new paint colors, towels, rugs, lighting, and other décor that can make a huge difference in a bathroom's appearance. These kinds of changes can truly transform a room.
Remodeling Ideas & Inspiration
When it comes to remodeling your bathroom, the options can seem endless. If you're looking for a little inspiration, we can help:
Get Free Quotes From Local Bathroom Pros
Considerations for how much to invest in your bathroom remodel include:
Home Value
It's important to know what is appropriate for your home's price range. The total amount you spend should correspond with your home's value.
Remodeling experts suggest spending about 5-10% of the total value of your home for a bathroom renovation budget.
Time Horizon
How long do you expect to live in the home? Is this remodel a home improvement measure to be enjoyed for many years to come, or a project to increase the resale value of your home?
If it's for resale – or if you expect to live in the home for less than five years – every dollar spent should be in anticipation of an equal or greater return on your investment. Local real estate agents can offer advice in this regard.
Scope
What is the scope of the project? Does it correspond to your desired budget range? If so, great; if not, you'll need to make choices about budget levels, or scope of the project.
Finances
How will you pay for the remodel? Will you need to take out a loan or dip into your savings?
Are you prepared to pay contractors partial payments in advance?
Professional Planning
Who will help you plan and oversee the work: An architect? A bathroom design or building specialist? A general contractor? A local handyman? The goals and scope of your project will determine the answer to this question, and your choices really matter.
Bathroom remodeling costs can be hard to get a handle on, because the range of product prices varies widely depending on region, size of the bathroom, and quality of your chosen materials.
However, while overall costs vary by region and individual tastes, allocations between remodeling elements remain somewhat more consistent when viewed on a percentage basis: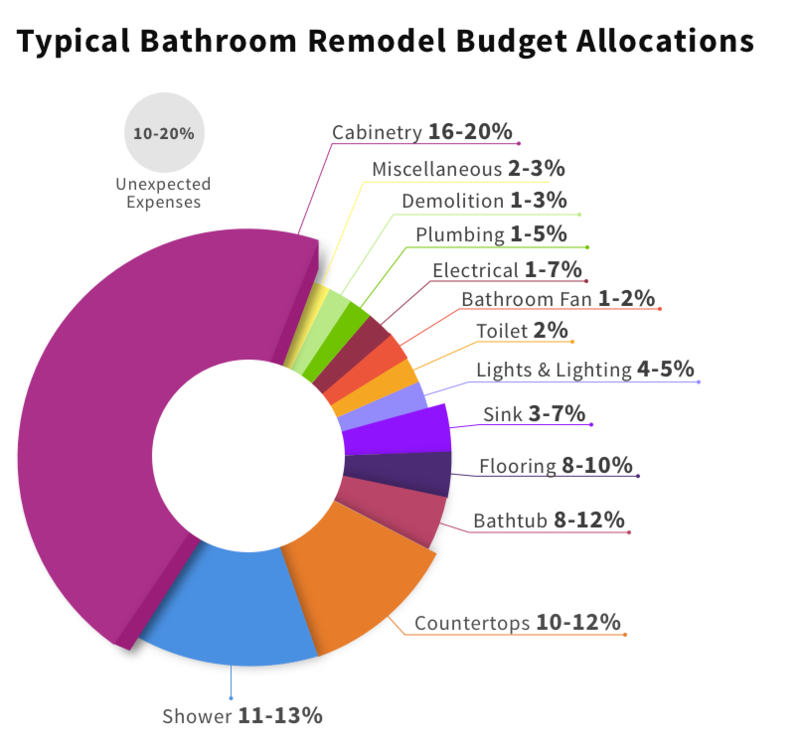 Typical Bathroom Remodel Budget Allocations

| Bathroom Item (Ordered by % of Budget) | % Budget | %Avg |
| --- | --- | --- |
| Cabinetry | 16-20% | 18% |
| Shower | 11-13% | 12% |
| Countertops | 10-12% | 11% |
| Bathtub | 8-12% | 10% |
| Flooring | 8-10% | 9% |
| Sink | 3-7% | 5% |
| Lights & Lighting | 4-5% | 4% |
| Toilet | 2% | 2% |
| Bathroom Fan | 1-2% | 1% |
| Electrical | 1-7% | 4% |
| Plumbing | 1-5% | 4% |
| Demolition | 1-3% | 2% |
| Miscellaneous | 2-3% | 3% |
| Unexpected Expenses | 10%-20% | 15% |
Products and Materials
Once you've got your vision and basic plan in mind, you'll want to turn your attention to identifying specific products and materials that work for you.
Until you go look at faucets, sinks, countertops, medicine cabinets, under counter cabinets, tubs, toilets, light fixtures, flooring materials and all the rest, you won't be able to put together a realistic budget…because you won't know what's available in your area, and what you like most. It's important to see things up close.
Also, price ranges in most of these categories can vary 300% or more from low to high.
Countertops, for example, run from $4/sf for ceramic tile to over $200/sf for limestone and onyx, with most materials in the $25/sf-$100/sf range. That's a big variation!
Even items like bathroom lighting fixtures come in a very wide array of styles and prices. To get a sense of that, check out the bathroom lighting fixtures in our Shop section
When you're doing research and out visiting showrooms, keep notes using our Bathroom Budget Planning Worksheet…
You could spend weeks researching all the questions you need to ask yourself about bathroom remodeling costs.
OR, you could Download Our Bathroom Remodel Planning Worksheet PDF, and keep it with you whenever you're researching online, or out investigating at local showrooms. Trust us, it'll save you tons of time.
Labor, Handyman and Contractor Costs
Who will perform the actual labor?
DIY
To save costs, ambitious DIY'ers might wish to tackle all or part of a remodel themselves,.
Some GC's and builders will accommodate homeowners who want to take on a portion of the work. Other contractors prefer to maintain control of all the work, for quality and/or legal reasons.
Handyman
If you are using a handyman, that cost is easily understood, and you can just add it to your budget.
Contractors
If you're using a contractor or specialty builder, they will oversee the work, and hire sub-contractors for construction.
However, many homeowners don't fully understand the concept of contractor costs. Contractors add a fee (known as a "markup") to cover their own costs and make a profit.
Markups can be as much as 50% over the cost of materials. That is more reasonable than it might first seem, once we consider that contractor costs include:
accounting, insurance and legal expenses,
budgeting and estimating,
job oversight and coordination,
labor costs,
local government approvals,
materials transport,
purchasing,
tools,
… and more.
Additionally, contractors bring deep expertise to a job, and know which sub-contractors to hire. This can save you money in countless ways, and help you avoid problems from poor workmanship to inferior product choices.
So, if the job is big enough to justify a bathroom builder or general contractor instead of a handyman, make sure you account for that when budgeting
Incremental costs always arise during renovation projects. If you are aware of the potential for these other costs early in the planning process, you will be in a better position to stay within your set budget.
Cost of Living During Construction
Are you planning to live in or out during your remodel? If the bathroom being remodeled is the only one in your home, you may need to stay in a hotel for at least a few days.
Also, if you need to be out of your home for a time, that also means eating out. Even if you remain in your home, you may eat out more often just to avoid the dust that accumulates during construction.
Be prepared to factor in any extra living costs from the disruptions caused by construction.
Scope Creep
It's one thing to set a budget. It's another to stay on budget. No matter how much planning you do upfront, scope creep can become an issue.
During the course of your project, new thoughts and ideas will emerge that you dismissed or never thought of during planning: replacing a window, adding glass brick around the shower, inserting a skylight, and so on. It happens to everyone. Be aware of this, know your budget limitations, and if you do expand the project, know where that money is coming from.
Shopping Frenzy
It is possible to have a little too much fun while shopping. Once you're out looking at cabinet pulls, light fixtures, flooring materials, and many other items you'll be purchasing, you will encounter countless opportunities to spend a little more than planned.
It adds up.
If you go over budget on one line item, try to offset that by decreasing a different line.
If you keep going over budget on product purchases, you may regret it later … especially if unexpected expenses arise – as they so often do!
Talking with professionals will help you figure out how to bring your vision to life within your available price range, and realize the potential of your bathroom.
Professionals you may wish to consult, depending on your budget and the scope of your project, include:
General Contractor
Bathroom Designer
Bathroom Remodeler
Architect
Interior Designer or Decorator
These professionals can support your journey in different ways.
When speaking with professionals, it is important to get estimates for the project. This will help you understand what people are charging for this type of work in your area, and also help you compare prices.
Also, don't just consider prices. "Fit" matters. Renovations can take weeks or months to complete, so this person will be with you for a while. It is important to find someone you trust, and would like to work with.
Also consider how each person would approach the project and how their ideas and feedback support your overall vision.
There are a few common myths when it comes to the cost of remodeling a bathroom. They include:
Remodeling is too expensive.
Remodeling can be as modest as a new paint job, new fixtures and new lighting. With an understanding of what you really want to achieve, proper planning and smart budgeting, you can achieve a lot without breaking the bank.
You don't need a contractor/plumber/architect.
Especially when it comes to bathrooms, there is a lot of room for error. Bathrooms require electrical, plumbing and HVAC knowledge. For example, insufficient ventilation can lead to a mold problem; improper plumbing can damage the flooring. If the scope of the job warrants it, hire a pro.
My bathroom is too small to remodel.
No bathroom is too small to remodel. There are different tricks you can use to make your space feel larger like adding in more natural light through windows or switching from a tub to a standing shower.
Remodels should reflect current trends.
Trends come and go, but a bathroom remodel should last for years. You are the one experiencing the space every day, so it is much more important to choose features that you really like, versus what is "trendy" at this moment in time.
You can make decisions as you go
For a smooth, timely remodel, upfront planning is crucial. Any professional you work with during your remodel will appreciate not having to wait for you to make decisions. You may also feel more pressure if you have to make important decisions on the spot. As the old saying goes: Failure to plan is planning to fail!