Health
Looking to Downsize? Here are 10 Tips and Tricks

+

Moving into a smaller space can have a surprising number of upsides.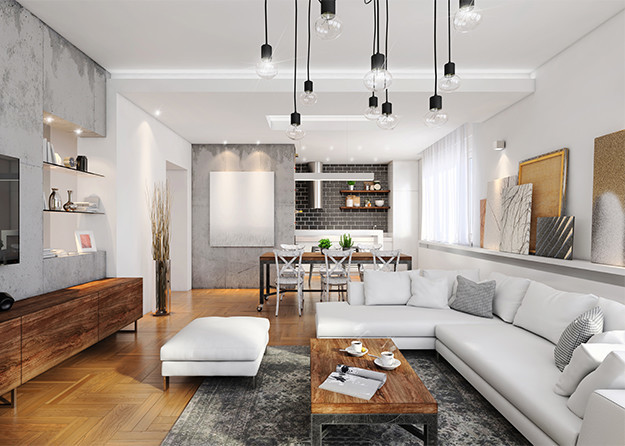 Downsizing is like regular moving, but a lot more…special. In a regular move, it's not unusual to discard or donate old clothes, holiday cards from years past, or accent pieces that don't match your new aesthetic. In a downsize, you're casting off much more of your physical life—whole rooms' worth of stuff. Given the circumstances, it can easily start to feel overwhelming. But, if managed strategically, downsizing can be an amazing chance to inventory your life and keep only the things you absolutely love, making room for new experiences, friends, and more. Consider these expert tips if you're thinking about downsizing and you'll thank yourself for being so prepared.
1. It's all about your attitude.
As with so much in life, the way you approach your upcoming move will have a huge impact on the way you experience it. Yes, it will be stressful at times, and you may encounter various difficulties, but if you choose to stay as positive as possible throughout the experience, you will power through the challenging moments with more grace than if you come from a negative place.
2. Plan early.
Change, is, by definition, an unsettling process. It's less jarring when you can be proactive about the way you go through a transition. "In the ideal scenario, you would know a couple of years out that you're planning to make a change," says Mary Jane Snyder, senior move manager and owner of Simply Downsizing, a move management company in the Los Angeles area. While not all of life's circumstances are within your control, if you know you'd like to move to a smaller space eventually, try to narrow down a rough timeline of when "eventually" might actually mean, so you're not slammed with a sudden upheaval. You will feel empowered and more in control of your life.
Giving yourself more time can also help you make more informed decisions. You can check out new neighborhoods, states, and even countries. "I recommend to my clients that perhaps they should do a trial run before [they] actually purchase a smaller house by taking a test drive," says Cathy Romano, a real estate agent based in Austin, who suggests to her clients that they first rent an apartment or house similar in size to the one they envision for their next move.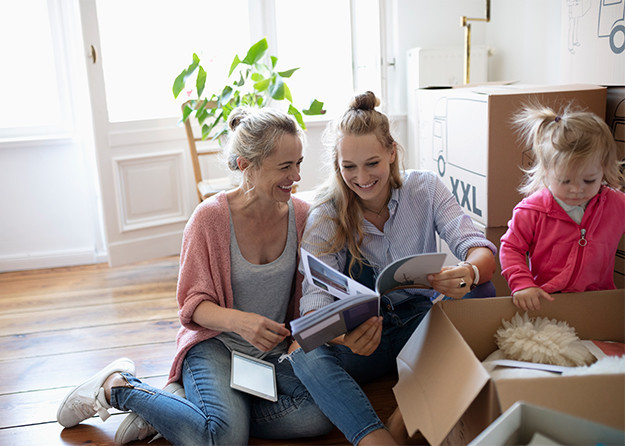 3. Start getting rid of stuff.
You've got stuff. Probably a lot of it. We all do. One of the most stressful aspects of moving is what to do with the physical things you accumulate over the course of many years. Even with regular purging, clothes, for example, have a way of piling up. Unless you're an extreme minimalist, you're going to have to toss or donate some things before you move.
To ease the process, Snyder advises that you begin going through your belongings as soon as you have a plan. "My biggest advice is downsize early and downsize often," Snyder says. You can kick off the project by checking on those objects that you've stored and haven't thought about in a long time; think: "formal dresses, yearbooks, the china that belonged to Grandma," Snyder says. If you're allowing your adult children to use your home for storage, Romano suggests giving them back their things. You certainly won't miss them since they're not even yours!
4. Live with less—ahead of time.
You can also prepare for your upcoming downsize by living with less, says Jo Gipson, a real estate agent based in Atlanta. Ask yourself if you really need to bring your three sets of dishes with you, or if you can manage with one or two. That may mean you don't need as big a kitchen as you think. If you adjust in advance, you won't feel as shocked by the changes. Shedding more stuff early on will also free you up to expand your options for a future home (and going through belongings over time means you can bring regular, smaller boxes to your local donation center, rather than needing a truck to carry them all at once). Once you have trimmed your life down to the essentials, you'll have a better idea of the space you will need in your new home to accommodate those items.
5. Count the number of rooms you actually use.
Downsizing is not a one-size-fits-all scenario. Not everyone can go from a big house with a yard to a one-bedroom apartment. To figure out how much space you'll really need in order to feel comfortable, take a good, hard look at the way you live now. "There are probably rooms in your current home that you're always in and rooms that you rarely use," says Bill Herbst, a real estate agent based in New York. "Aside from Thanksgiving, how often are you in that formal dining room? Count up the number of 'always rooms' and let that serve as a guide to what you need."
6. Evaluate what you want and need from your life.
When considering your new home, you will want to make a list of must-haves when it comes to every aspect, whether it's your dwelling, your neighborhood, or your lifestyle. It's a mix of imagining new possibilities while being honest and realistic about yourself and how you live. "The home should accommodate your usage," says Kristen Jock, a real estate agent based in New York City. "Will you have frequent guests and require a guest bedroom? Or would you prefer for people not to drop in for a stay? Be honest about what you want and how much space you'd really like to have to clean."
Think about where you want your home too. "Ask yourself if you wish to stay in your community or move to an urban setting. Many people left the big city for the suburbs when the kids came along. What are your hobbies, interests and health considerations?" says Ann Deane, a real estate agent based in Manhattan. For example, if you want a smaller space but love to garden, you may be happier in a townhome than an apartment in a high rise. (Though you can grow herbs indoors!) Or if you love to try new restaurants, a home with a smaller kitchen closer to downtown may be the right move for you.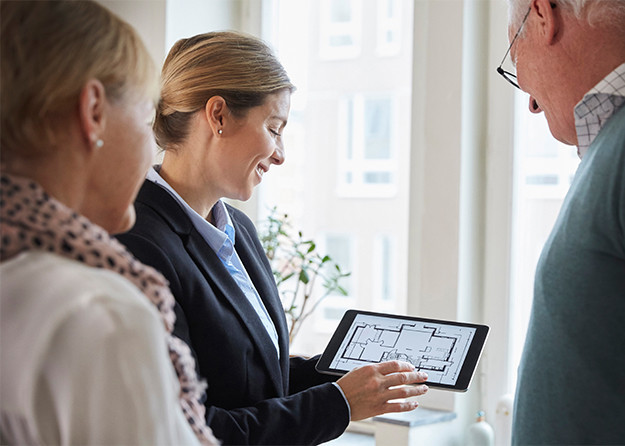 7. The floor plan matters more than square footage.
Downsizers often trip up on the loss of space when they're looking at prospective new homes. Certainly, it would be human to feel it as a loss. Try not to compare your new home to your old one because they are serving you in totally different ways.
If you've done your self-examination and know how much space you really use on a daily basis, you can make better choices. You may end up in a smaller home square-footage wise, but one with a more open layout and a bigger master bedroom. In that case, you will feel that your everyday space has become more expansive.
8. Get creative with storage.
A smaller home often means fewer places to put things away. Judy Sahagian, a real estate agent based in New York, stresses the importance of furniture that can multi-task, whether it's a Murphy bed you can put away during the day or a bed with drawers so you have extra storage space. "Everything should have a space and a use," Sahagian says. "If it doesn't add to the living experience, it is just clutter. More to clean, as my grandmother used to say."
9. Ask for help.
"Moving is a physically, emotionally, and mentally exhausting event for many people, whether you're young or you're old," Snyder says. It's not often something you want to do by yourself. If you can't lean on your community for assistance, professionals such as Snyder can manage the process. You can also ask your real estate agent. "I've found movers, an online auction company to help sell furniture," says Jenny Jaffe, a real estate agent based in New York's Westchester County. "Leaning on your agent is really helpful."
10. Feel excited about this new chapter.
Coming full circle: Keep your spirits up with a good attitude. There's so much to look forward to about a downsize. With less space, you will have much less maintaining to do. In exchange for having less to clean and less to fix, you'll have more time and more money to spend on other parts of your life. Not a bad deal! Overwhelmingly, the experts interviewed for this article agree that those who downsize find themselves on an exciting and happy adventure, unburdened by physical possessions and home maintenance obligations. It's your chance to start fresh. "I would keep reminding yourself when you're feeling stressed to think of it as, this is my next phase," Jaffe says. "This is an opportunity to have a new change in life."