5 Fast Makeup Tips to Go from Office-Casual to Evening-Ready
Transition your look from day to night in just a few minutes.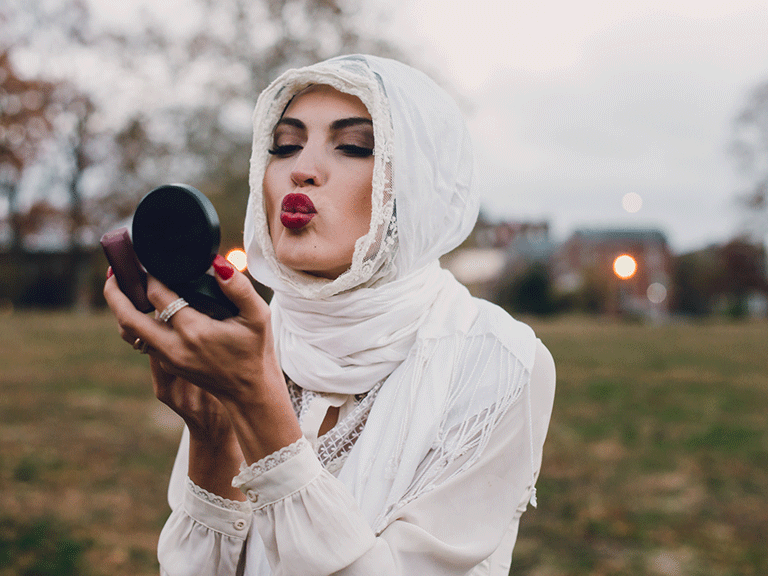 You killed it at your 9-to-5, but the day isn't over. There's dinner to be eaten and friends and family to catch up with. And while your daytime look worked at the office, it might not be quite right for date night.
All you need are a few extra items in your makeup bag to pull off a quick transformation. These simple fixes from five top makeup artists will take you from business-casual to cocktail-chic in minutes.
Use a highlighting powder. "After you apply any foundation, blush, and bronzer, dust a highlighting powder onto your cheekbones for a dewy effect and a sexy glow. Brush it from the top of your cheekbone up through the end of your eye. If you have a lighter skin tone, opt for a more pearlescent shade, and if you have a medium to dark skin tone, go for more of a peach or gold glow." —Jackie Romero, makeup artist in Los Angeles, California
Create a smoky eye. "Use a dark brown or charcoal eyeliner pencil, and line completely around the eyes, top and bottom. With a cotton swab, smudge the liner to create a simple smoky eye. I like to do this before putting on eye shadow or mascara because it adds more depth and intensity to the lash line." —Mindy Green, makeup artist and owner of MG Beauty, in the Washington, D.C., and Baltimore metro area
Add a sparkle. "For eye shadow, a light brown contours the eyes well by day, but for night, I would step up my game and use a metallic shadow that's a few shades darker and has more of a shimmer to it." —Caitlin Picou, makeup artist and owner of Kismet in Covington, Louisiana
Double up on mascara. "Use a thickening mascara in the morning at home and then a lengthening one before you go out at night to retouch." —Louis Philippe, makeup artist at Matii Salon in New York, New York
Try a bolder lip color. "If you generally rock a lighter pink tone during the day, opt for something deeper and darker for nighttime. My personal favorites are deeper berries, cherry, crimson, and burgundy shades. A matte look (rather than a glossy look) is in style." —Meghana Prasad, makeup artist in Chicago, Illinois