Beauty

Tried and True Ingredients for Sensitive Skin
Beauty routines for sensitive skin require extra care. Allow these ingredients to help.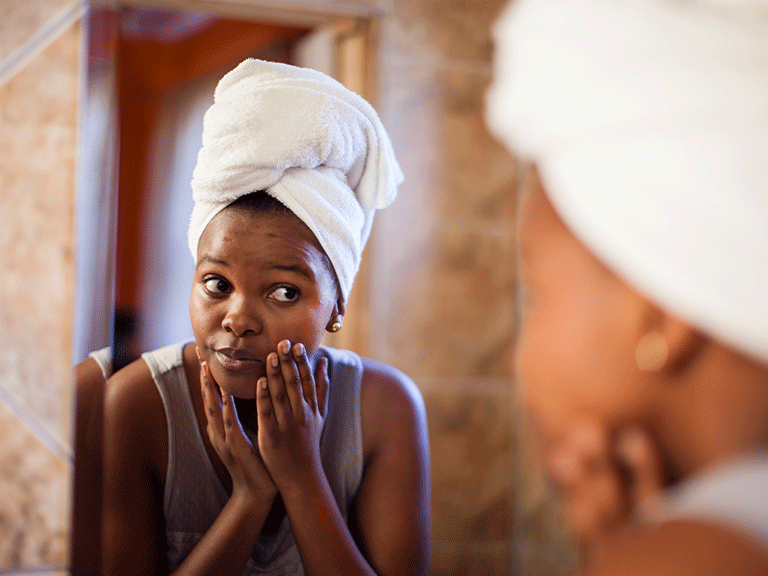 When you have sensitive skin, you don't have the luxury of pulling just any skincare product off the shelf. Instead, there are guidelines you should follow to minimize irritation—like fragrance-free everything, for starters. And while treating sensitive skin can be a game of avoidance, you should also be strategic about the ingredients that are in your skincare formulas. Some ingredients are better than others, especially when it comes to caring for and soothing skin. Here are four you want in your products:
Squalane
Don't confuse squalane for squalene (though no one would blame you if you did). Squalene, a lipid naturally found in the body, hydrates and prevents dryness in skin. Squalane is a saturated form of squalene. It's less likely to oxidize and break down, which makes it a staple in moisturizers. There are other perks to hydrating with squalane: It's naturally odorless, doesn't feel oily, has antibacterial properties, and is safe for sensitive skin types.
Oatmeal
If you (or your children) have ever had chicken pox, you know the magic of an oatmeal bath. That's because colloidal oatmeal has a chemical composition that makes it ideal for everything from cleansing to moisturizing to reducing inflammation. One study found that its potential to cause irritation and allergies is extremely low. Of 2,291 subjects who repeatedly received test patches of colloidal oatmeal, only one developed a persistent, low-level reaction—and even that was doubtful, according to study authors.
Ceramides
Another ingredient natural to the human body, ceramides are in charge of maintaining skin barrier function (which in turn keeps skin healthy and hydrated). Most skin issues, like sensitive skin, also show a decrease in the amount of ceramides in the skin barrier. By replenishing those ceramides through topical formulas—and presumably reinforcing good skin barrier function—you may be able to minimize the symptoms of sensitive skin.
Niacinamides
Niacinamides (aka vitamin B3) are a regular in skincare formulas. Like ceramides, niacinamides can enhance the function of your skin's protective moisture barrier, which can in turn increase skin's moisture levels and soothe sensitive skin.