Health

What to Expect the First Time You Try Acupuncture
Scared of needles? You can still give acupuncture a try.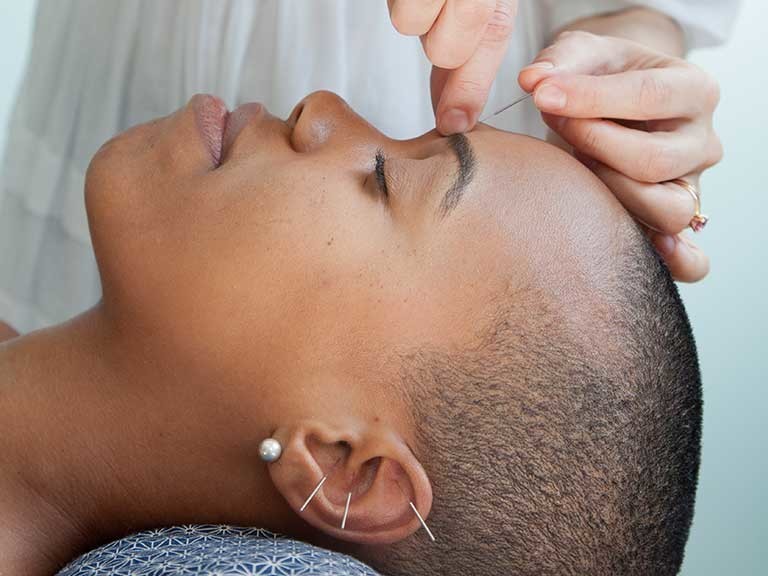 You're thinking of trying acupuncture. You're not alone—the ancient practice purportedly has many health benefits, including treating pain. But even if you're not a needle-phobe, acupuncture can seem a little daunting. With the right prep and mind-set—like knowing what to expect—acupuncture may not only be beneficial, but a relaxing experience, too.
A mainstay of traditional Chinese medicine, acupuncture—which entails having very fine needles inserted into the skin at various points of the body—is now solidly in the mainstream. And there are even treatment guidelines for knee osteoarthritis and lower back pain that recommend the use of acupuncture in certain populations. You should speak to your doctor about whether this would be a good option for you.
The process of finding a good acupuncture practitioner is similar to that of finding a new doctor. If your M.D. says acupuncture might help your condition, they may be able to refer you to a good practitioner. You can also ask your friends and family for recommendations. Then, check out the practitioner's credentials. If they're not trained as a physician, a good acupuncture therapist should have passed an exam from the National Certification Commission for Acupuncture and Oriental Medicine.
Finally, consult the practitioner to get details, like how it may help your condition, the cost, and your treatment plan. Some health insurance plans cover acupuncture, so check if yours does and if your provider accepts it. A common treatment plan consists of one to two acupuncture sessions per week at first, though your plan will depend on what, exactly, your body needs.
The style of acupuncture practitioners can vary, too, since many blend Eastern and Western medicines to a certain degree. Your first visit may last about an hour, since your practitioner will likely ask you questions about your lifestyle and concerns, as well as examine areas of your body (like your face, your tongue, and anywhere you feel pain). Make sure not to come on a completely empty stomach or right after a heavy meal.
For the actual procedure, you may need to get undressed (in which case, your practitioner may give you a gown, robe, or sheet). If the needle insertion points are nowhere near the area you're treating, it's because acupuncture points are found all over the body.
Then, your practitioner will typically insert five to 20 needles in various spots. You might feel a subtle ache when they're inserted, but the needles are so thin that you also might not even notice them. The practitioner may move or slowly spin the needle—or send electrical pulses down them—depending on the treatment plan. You'll have to lie still for about 20 minutes once the needles are inserted, so it's helpful to bring a podcast or book on tape to listen to during this time. (Though no one will blame you if you nap.)
Afterward, you may feel blissed out or even reenergized (and, also possible, you might not feel any difference). While there's optimism about acupuncture, it may not work for everyone. If you don't notice an improvement after a few treatments, it might not be right for you. But if you're looking for alternative way to treat pain, it's worth a shot.