Provided by The Home Depot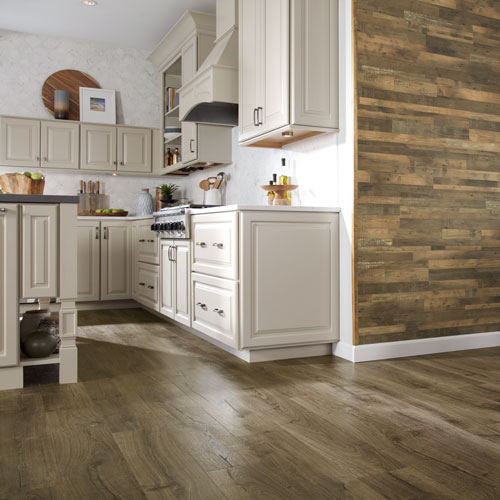 From classic solid hardwood to exotic bamboo, durable flooring options are abundant. Before your next big home makeover, decide which surface is best for your lifestyle.
1. Try Vinyl: For affordable flooring as resilient as solid hardwood that's easy to install, is the way to go. Vinyl comes in wood-look planks or natural stone tile to fit any room in your house. This surface looks great in high-traffic living areas at risk of scuffs and scratches. Try extra-wide planks for a luxurious look that feels warm and welcoming.
2. Life-Proof Laminate: You don't need to have pets or kids to see the benefit in spill-proof floors. Laminate flooring is the best option for kitchens that need forgiveness for everyday life. With options including spill-proof, scratch-resistant, noise-reducing, and high-traffic flooring, laminate wood floors are durable beyond measure. Next time you have an accident in the kitchen, your floors will be your last worry. Pergo Laminate Flooring covers all of life's messy moments.
3. Looped In: Loop, or Berber, carpet is the right choice for hallways and living rooms that see a lot of foot traffic. Its dense, short threads hold up well to foot traffic and clean easier than thick, plush carpet options. Although the durability of Berber is above other carpet types, it can use a comfort assist. Layering this carpet with a cozy area rug will make lounging areas more inviting.
4. Porcelain Dreams: In the tile family, porcelain is the way to go for a durable surface you can trust. The hard tile is dense, making it tough to cut and install yourself, but it is worth the effort. Because the color of porcelain tile is consistent all the way through, chips and cracks are nearly invisible. One tile trend to look out for? Porcelain tile with a marble finish.
5. Can't Believe It's Cork: Contrary to popular belief, you don't have to sacrifice comfort for durable flooring. Cork flooring has many benefits and stands the test of time just as much as its hardwood counterparts. Due to its cushiony surface, cork is easy on your tired feet and less likely to shatter your precious china. Cork also absorbs temperatures, keeping your floor cool in the summer and comfortable in the dead of winter. Made from natural and recycled elements, cork flooring is the environment's gift to homeowners.
6. Stone Age: Stone flooring is popular in warm climates for its cool-to-the-touch surface. Its natural look is stunning against neutral furniture and adds unparalleled character to your home. However, not all stone flooring is right for long-lasting purposes. To get the most out of your purchase, stick to nonporous stone such as granite or slate. These dense, natural options make a statement in hard-working kitchens, mudrooms, and bathrooms.
7. Solid Hardwood: Hardwood floors are classic for a reason. You can bet on having these floors for a long time when maintained properly. Although they are susceptible to water damage and scratches, solid hardwood flooring is easy to clean, provides a stunning base to any style, and can be refinished multiple times as trends change. It is no wonder why leading real estate experts say solid hardwood flooring is the leading commodity in the market. Due to its longevity, hardwood flooring is worth the extra cost to hire a professional for installation.