When it comes to refreshing the look of a room, few things make a bigger impact than replacing worn flooring. But new flooring can also be a major expense. The good news: With easy-to-install options from Home Outlet, taking a flooring project into your own hands can save you lots of cash.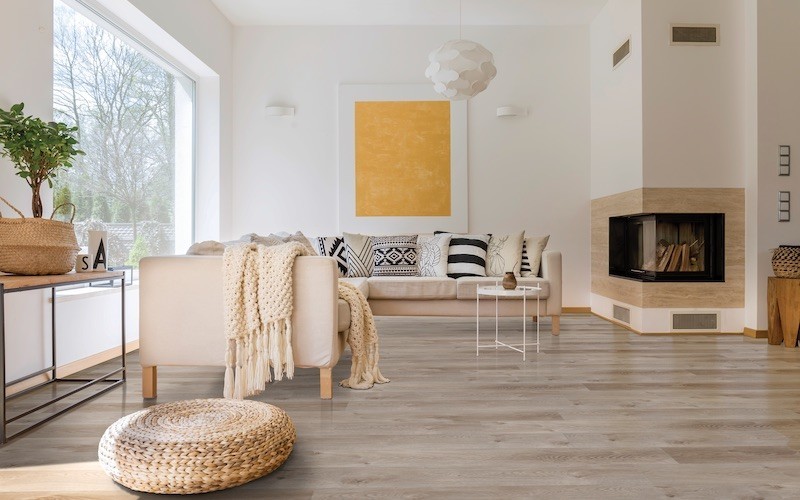 Here are some tips and tricks from professionals to help get you started.
1. Ask Yourself Three Questions
Rachel Street, general contractor and host of a Philadelphia-based remodeling TV show, says to ask yourself these three key questions before beginning the project: Where will I install the floor? What is my budget? And what look am I looking for? Taking time to answer those questions will definitely help narrow down your options.
For example, for areas that need more durability, like a mudroom or a basement, vinyl is a durable, inexpensive option while hardwood flooring is a timeless, although sometimes expensive choice for main living areas. But keep in mind, certain flooring can be installed throughout your home, like Home Outlet's Mardi Gras Hickory Laminate Flooring which has the scratch-resistance, low-maintenance and affordability of laminate and the elegant appearance of hardwood.
2. If You're a Novice, Consider Peel-and-Stick Flooring
Peel-and-Stick flooring "is the best flooring option for those with little or no home improvement experience," says Teris Pantazes, co-founder of Settle Rite Home Services, a Baltimore-based company that helps people improve their homes before they put them on the market. "If your subfloor is solid, it's as easy as cutting the flooring to size and pressing it into place," he says. "With little effort, you can achieve impressive results." Home Outlet's Traditions Stone Beige Self Stick Vinyl, for example, has the look of slate at a fraction of the cost. All you have to do is peel off the back of the tile and stick it on a flat, dry surface.
3. Consider a Floating Floor
A floating floor doesn't need to be nailed or glued to the existing subfloor, which makes it another easy option for non-professionals to install. "Very few tools are required, especially when you choose an interlock system," says David Dynega, owner of Detail Renovations, a construction and design company in Great Neck, New York. Products like Home Outlet's Mosaic White Pebble Tiles and the highly durable Waterproof Vinyl Planks click together while Cedar Mill Vinyl Planks have self-stick edge tabs that adhere to each other. "Just be sure," says Dynega, "to leave at least a quarter-inch gap around the perimeter because the flooring might expand and contract with changes in humidity levels inside your home."
4. Dry Fit Everything
Sarabeth Asaff, a design pro with the remodeling website fixr.com, says to dry fit everything, or place your new flooring without fully installing it. "Look at the pattern, the color and the fit," Asaff says. "If you have variation in color, blend by taking pieces from several boxes at a time to make sure you get even color variation. Make your cuts during the dry fit and test them out, then install." This way, you can see what the flooring will look like when it's done and catch any issues before they arise.
5. Don't Settle
Innovations have made flooring both tougher and easier to install than ever before, and available in a dazzling range of patterns, colors and finishes. You can find laminate and vinyl that mimics the look of hardwood, stone, ceramic or porcelain while requiring less upkeep and costing less. In many cases, installation is simple and straightforward enough that even a DIYer will be able to get the job done in a day. Believe that you can do it, and don't give up!
Check with your local Home Outlet store for advice from a specialist on what will work best for you—whether that's flooring that can withstand the traffic of a household filled with kids and pets, or help with soundproofing or evening out an existing subfloor. Either way, there's plenty of choices that are budget-friendly and with easy installation for a first-time DIYer.
Product availability may vary by location. Please see website for details.