wedding
The Naked Cake is one of the hottest wedding cake trends of the season. You may ask, what is a Naked Cake? It's a cake without frosting on the sides. This cake is incredibly stylish and chic and you're about to see why. I've rounded up 10 Naked Cakes that prove you don't need a pound of buttercream for your cake to make a statement.
Let's start off with the basics, shall we? For beginning bakers (or a quick refresher course!), check out this helpful how-to video that  Crate&Barrel put together.
Make any day of the week a special occasion with this Two Tiered Naked Cake by Design Love Fest.
Consider serving this scrumptious Amaretto Soaked Peach Layer Cake by Yummy Mummy Kitchen next time you and the girls get together.
The Blondielocks' Peony Topped Naked Cake (vanilla cake recipe by Sweetapolita) combines whimsy and whirl for a delightful girly-girl dessert.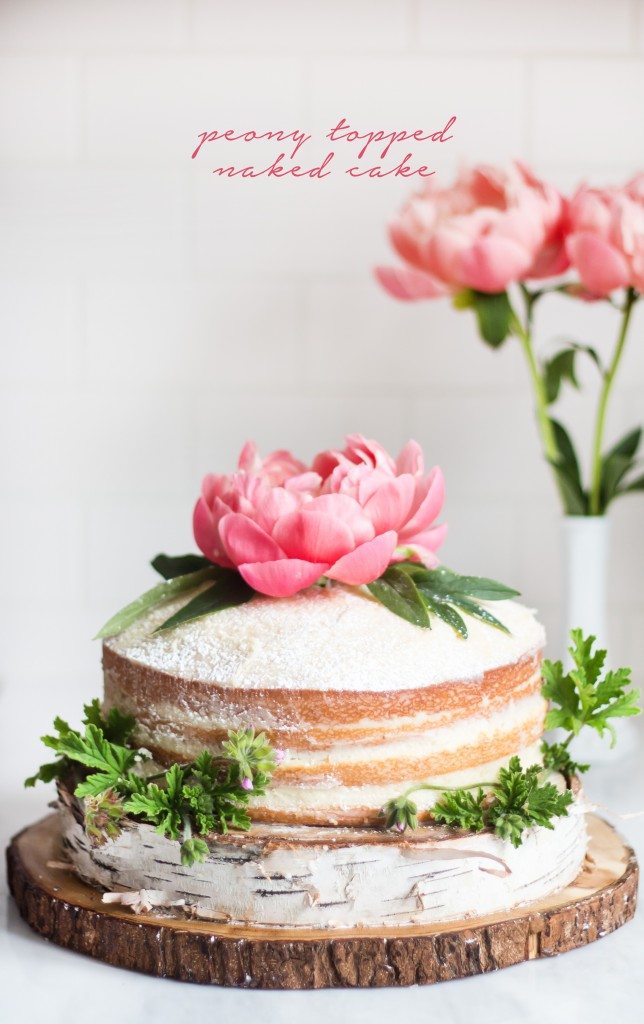 You can never go wrong with chocolate! This Chocolate Raspberry Cake by My Baking Addiction introduces a classic treat in a creative way.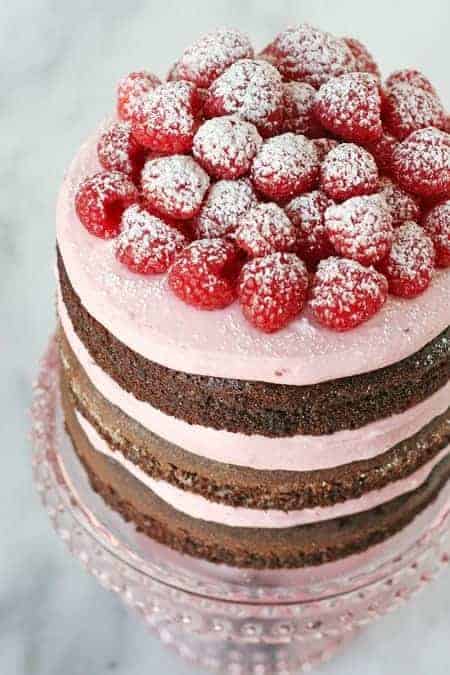 I don't even know what to say about this tea-time White Chocolate Spiced Cake with Rosewater Cream Cheese and Pistachios except to take a step back and look at it. Honestly, I don't think I have ever seen anything so beautiful! Props to Constellation Inspiration for a job well done.
Lemon lovers this one's for you! Doesn't Be What We Love's Yellow Layer Cake with Lemon-Lavender Cream Cheese Frosting look impeccable? Yumm.
Master the art of edible flowers with Buttered Side Up's Triple Lemon Naked Layer Cake recipe.
This Naked Cake by 100 Layer Cake is the perfect dessert to top off your end of summer garden party.
Many thank-you's to Call Me Cupcake for this wow-worthy Chocolate Cake with Mascarpone Frosting recipe!
Whether it's for a holiday, birthday celebration or special occasion, Naked Cakes are fun to make –(and eat)!
Categories: All Desserts, Cakes, Chocolate Desserts, Delish Dish, Fruit Desserts | Tags: berry, Brunch, cake, chocolate, cream cheese, Dessert, flowers, frosting, lavender frosting, layer cake, lemon, Lemon-Lavender, Naked Cake, no frosting, Party, peaches, peony, pistachio, raspberry, rosewater, sweet, vanilla, wedding, wedding cake, White Chocolate
No Comments
---
Happy Friday! Today's round-up is inspired by my weekend plans. I'm heading home to celebrate my grandparents' sixtieth wedding anniversary! That's right, 6-0. My love for food and good recipes really began with my family's trips to Grandma Daisy and Grandpa Lenny's house. My grandma is an incredible cook and my grandpa is an incredible taste-tester.
Every time my sisters and I slept over at Grandma's she always made a delicious breakfast. In honor of National Donut Day, I thought I'd share these yummy Chocolate Glazed Baked Donuts recipe from Roxana's Home Baking. They're soft, fluffy and cake-like! Can't beat it!
My Grandma is always trying new side dishes and because of my Grandpa's diabetes she's looking for healthier alternatives.  They'd both love Lil' Luna's Parmesan Crusted Zucchini!
I'm sure I've mentioned this on the blog before, but I am a HUGE grilled cheese fan. Majorly. And my Grandma knows that, so every time I go over she's giving me recipe clips for new grilled cheese recipes. This time I get to send her a new recipe with Foodie Crush's Buffalo Chicken Grilled Cheese!
Grandma and Grandpa's house is always the gathering place when the whole family is in town. One of our Christmas traditions is to eat ham sandwiches while we're unwrapping presents on Christmas night. I'm thinking this delicious Slow Cooker Italian Beef Sandwiches recipe could become a new tradition! Thanks Taste and Tell for the idea!
And I can't forget about all of her incredible cookie recipes and this adorable heart-shaped Linzer Cookies from Cooking Classy seem perfectly fitting for the occasion.
Happy Anniversary Grandma and Grandpa!
Bloggers, would you like your recipes to be included in our Friday Finds? Apply to be a BHG Insider here: BHG.com/BHGinsiders. And don't forget to tweet at @BHG with your favorite recipes.
Warmly,
Grace Wenzel, Social Media Editorial Assistant
---