sweet
The Naked Cake is one of the hottest wedding cake trends of the season. You may ask, what is a Naked Cake? It's a cake without frosting on the sides. This cake is incredibly stylish and chic and you're about to see why. I've rounded up 10 Naked Cakes that prove you don't need a pound of buttercream for your cake to make a statement.
Let's start off with the basics, shall we? For beginning bakers (or a quick refresher course!), check out this helpful how-to video that  Crate&Barrel put together.
Make any day of the week a special occasion with this Two Tiered Naked Cake by Design Love Fest.
Consider serving this scrumptious Amaretto Soaked Peach Layer Cake by Yummy Mummy Kitchen next time you and the girls get together.
The Blondielocks' Peony Topped Naked Cake (vanilla cake recipe by Sweetapolita) combines whimsy and whirl for a delightful girly-girl dessert.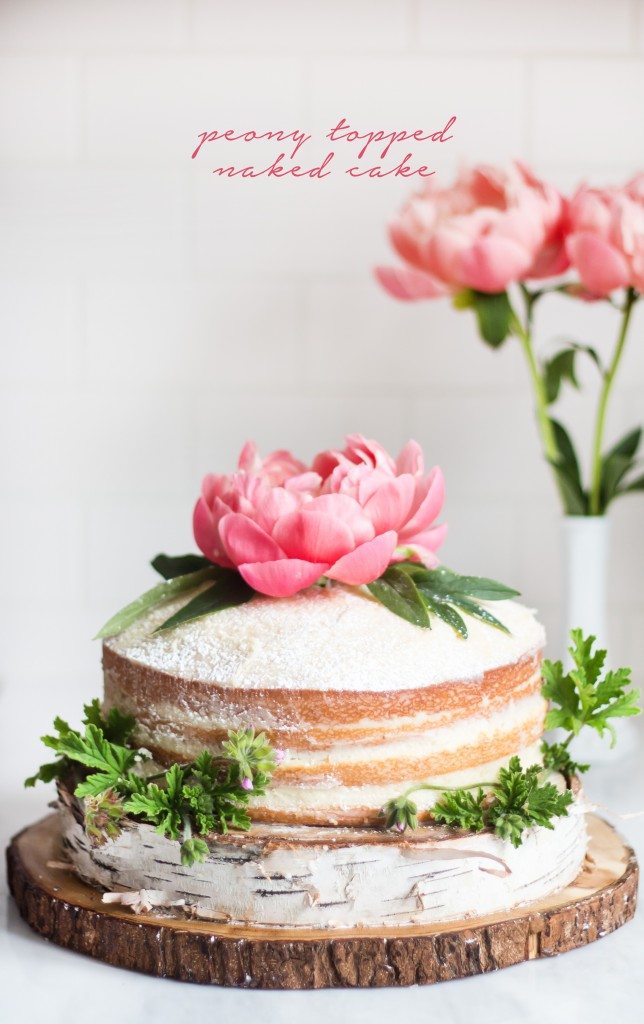 You can never go wrong with chocolate! This Chocolate Raspberry Cake by My Baking Addiction introduces a classic treat in a creative way.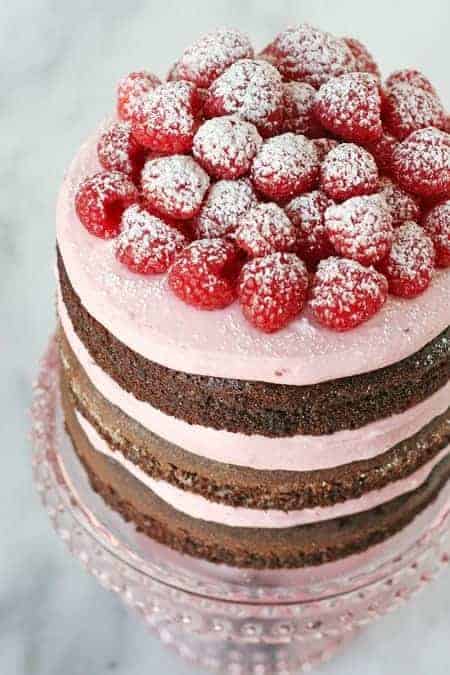 I don't even know what to say about this tea-time White Chocolate Spiced Cake with Rosewater Cream Cheese and Pistachios except to take a step back and look at it. Honestly, I don't think I have ever seen anything so beautiful! Props to Constellation Inspiration for a job well done.
Lemon lovers this one's for you! Doesn't Be What We Love's Yellow Layer Cake with Lemon-Lavender Cream Cheese Frosting look impeccable? Yumm.
Master the art of edible flowers with Buttered Side Up's Triple Lemon Naked Layer Cake recipe.
This Naked Cake by 100 Layer Cake is the perfect dessert to top off your end of summer garden party.
Many thank-you's to Call Me Cupcake for this wow-worthy Chocolate Cake with Mascarpone Frosting recipe!
Whether it's for a holiday, birthday celebration or special occasion, Naked Cakes are fun to make –(and eat)!
Categories: All Desserts, Cakes, Chocolate Desserts, Delish Dish, Fruit Desserts | Tags: berry, Brunch, cake, chocolate, cream cheese, Dessert, flowers, frosting, lavender frosting, layer cake, lemon, Lemon-Lavender, Naked Cake, no frosting, Party, peaches, peony, pistachio, raspberry, rosewater, sweet, vanilla, wedding, wedding cake, White Chocolate
No Comments
---
Happy Halloween, Delish Dish! I don't know what your home looks like, but every year after Halloween it seems like we have leftover candy corn. How does it happen? There is always an extra bowl somehow! I found some really sweet recipes to embrace the candy corn flavors of the season!
Your Homebased Mom combines the sugary-goodness with a salty popcorn partner! Get the full recipe for Candy Corn Kettle Corn today!
Yum! One of Kara's Party Ideas is this creamy Candy Corn Milkshake recipe! How cute!
Looking for a grown-up way to celebrate Halloween? Try Tammilee Tips's Candy Corn Cocktail!
Use that extra candy corn with a great Candy Corn and White Chocolate Softbatch Cookies from Averie Cooks! These will be gone faster than a witch on a broom!
Layers of candy corn colored sugar cookie makes these Candy Corn Sugar Cookie Bars from Dessert Now Dinner Later! I absolutely love the colors!
Happy Halloween, friends! Hope you have a spook-tacular day!
Scarily,
Grace
---
Hi guys! It's Jennifer here again, hope you all had a wonderful 4th last week!
I spent the day out in the sun playing some beach volleyball and headed over to a friends BBQ in the evening. I made a festive berry crisp dessert to celebrate the occasion. I found this easy recipe with just blueberries but decided to incorporate some raspberries into the mix too. Berries at the farmers market have been so pretty lately – peak of the season I suppose! I'm no pastry chef but I have a feeling you could use any type of fruit as long as you incorporate the same yield.
Ingredients
3 tablespoons all-purpose flour
2 tablespoons granulated sugar
3 cups fresh blueberries
3 cups of raspberries
1/4 cup lemon juice
1 cup packed brown sugar
3/4 cup all-purpose flour
3/4 cup quick-cooking rolled oats
1 1/4 teaspoons ground cinnamon
1/2 cup cold butter
Vanilla ice cream, for serving
Recipe
1. Preheat oven to 375º F.
2. In a large bowl, stir together the 3 tablespoons flour and the granulated sugar. Add blueberries, raspberries and lemon juice and gently combine. Spread berry mixture evenly in an ungreased 3-quart rectangular baking dish. Set aside.
3. For topping, in a medium bowl, combine brown sugar, the 3/4 cup flour, the oats, and cinnamon. Using a pastry blender, cut in butter until mixture resembles coarse crumbs. Sprinkle topping evenly over berry mixture. (If you don't have a pastry blender you can use two knives or your hands, but try to keep your hands cool!)
4. Bake, uncovered, about 30 minutes or until topping is golden brown and edges are bubbly. Cool on a wire rack about 45 minutes. Serve warm with vanilla ice cream.
I love the combination of warm and cold desserts – what did you have for your 4th?
– Jennifer
Follow me on on Twitter and Instagram, @jchongstudio
---
Jennifer Chong is a designer and photographer with a big heart (and stomach) for all things food! She is also the author of a lifestyle blog focused on travel, food and design – blog.jchongstudio.com. When she isn't working, she can be found playing beach volleyball, continent hopping (four so far!) or searching for some delightful treats to devour! You can also follow Jennifer on Facebook, Twitter, Instagram and Pinterest for more!
Categories: All Desserts, Cobblers and Crisps, Delish Dish, Easy Desserts, Fruit, Fruit Desserts | Tags: blueberries, blueberry, crisp, Dessert, Desserts, easy dessert, Ice Cream, raspberry, summer, sweet
1 Comment
---