We couldn't choose just one! That's why we took the best of both jambalaya and gumbo worlds and brought them together to create one strong comprising of southern style eats.
Yumm! Gimme Some Oven's Jambalaya takes comfort food to a whole new level.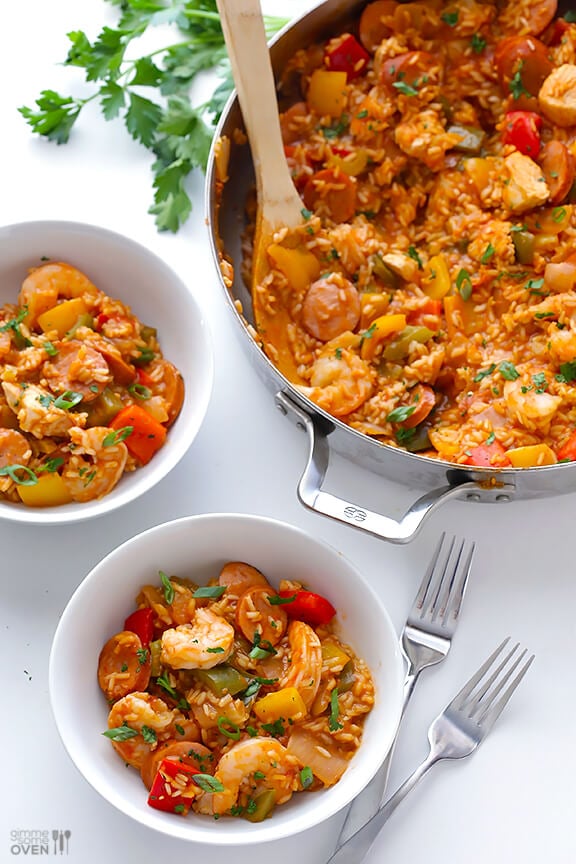 With spicy sausage, chicken, and shrimp, The Cozy Apron's "Gumbo-laya" Stew is difficult to pass up.
One of the perks about making jambalaya is its flexibility. The southern style dish pairs well with almost any carbohydrate you have available in your pantry—whether it be quinoa, lentils, rice, bread, or pasta. If you've got extra boxes of pasta laying around, then consider using up the groceries you already have with Creole Contessa's Cajun Jambalaya Pasta recipe.
This Vegetarian Gumbo from Spicy Southern Kitchen is so loaded with flavor (not to mention it's extremely filling) that you won't even miss the meat!
Cooking great food doesn't have to mean dirtying every pan in your kitchen. For a five-star meal with little to no mess, check out Food Faith Fitness's One-Pot Gluten Free Jambalaya recipe.
How delightful does Local Kitchen's Chicken & Sausage Gumbo look? Simply scrumptious!
With seafood and spice, Baker by Nature's Shrimp & Chorizo Cajun Jambalaya recipe has the famous New Orleans dish down to a 'T'.
M'mm M'mm Good. Running with Tweezers' Seafood Gumbo is every fish enthusiast's dream.
What better to come home to after a long day at the office than a warm bowl of Add A Pinch's Gumbo?
Happy "gumbo-laya" making!
xxmadison