national ice cream day
Hooray! Sunday is National Ice Cream Day! Every year, the third Sunday in July is celebrated with rich, creamy frozen desserts. I can't think of a better way to satisfy my sweet tooth. Kick back and get excited because it's going to be the BEST DAY EVER.
Treat Yo' Self. Take a scoop (or two, or three!) of Hint of Vanilla's sinfully delicious Chocolate Custard Ice Cream.
Take a cue from the classics. Baskin Robbins Mint Chocolate Chip Copycat Recipe by Something Swanky is an inexpensive take on a family-favorite recipe.
Keep it refreshing. Consider using freshly picked summer berries like Scoop Adventures did in its Black Raspberry Chip Ice Cream.
Sometimes simple is better than complicated. No-Churn Pistachio Ice Cream by The Sweet Escape is just that. It's Quick. It's Easy. And you DON'T need an expensive ice cream maker.
Remember to have fun! Cotton Candy Ice Cream by Home and Plate pleases the kids and looks pretty on the plate.
Impress the guests!  Dessert for Two's posh Chocolate Waffle Ice Cream Sandwiches recipe is certain to leave even the pickiest eaters wide-eyed.
Basic doesn't have to mean boring. Zoom Yummy's perfected Easy Homemade Vanilla Ice Cream recipe shines brightest when paired with a special dessert sauce.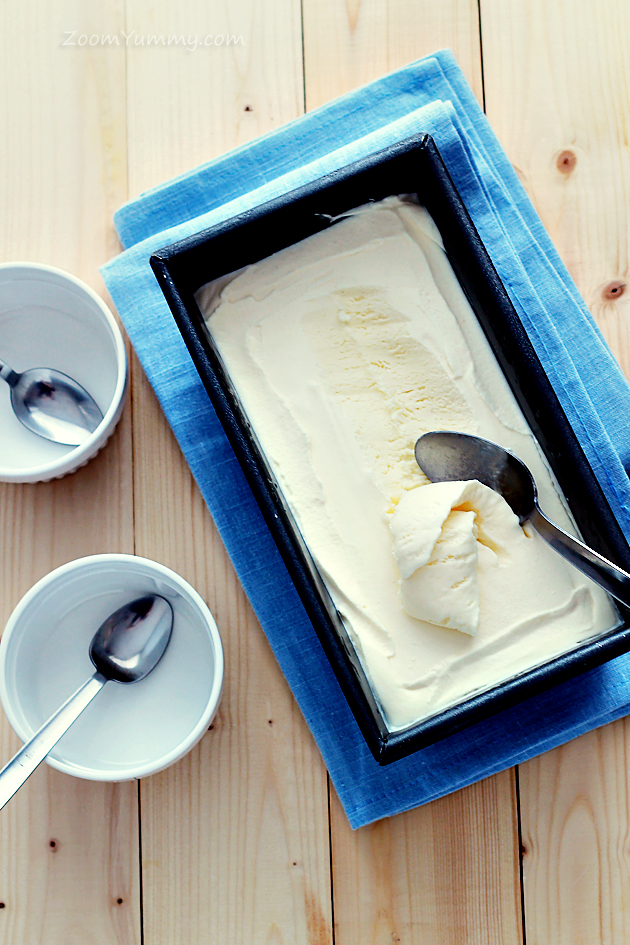 Beat the afternoon slump! Espresso works as a great pick-me-up. That's why Mocha Fudge Ice Cream by Things We Make is every girl's go-to afternoon munchy.
Be bold! Drizzle and Dip's bright, punchy Red Velvet Cake Ice Cream commands attention.
Life's better together. Why not mix and match your favorite flavors into one glorious dish? Many thank-you's to Minimalist Baker for the inspirational Raspberry Ripple Coconut Ice Cream recipe!
Happy National Ice Cream Day…The BEST DAY EVER!
Bloggers, would you like your recipes to be included in our Friday Finds? Apply to be a BHG Insider here: BHG.com/BHGinsiders. And don't forget to tweet at @BHG with your favorite recipes.
Categories: All Desserts, Chocolate Desserts, Delish Dish | Tags: black raspberry, Chocolate Chips, Chocolate Ice Cream, Chocolate recipes, Coconut, cotton candy, espresso, fudge, homemade ice cream, Ice Cream, ice cream sandwiches, mint, mocha, national ice cream day, pistachio, raspberries, raspberry, Red Velvet, refreshing, Sweets, vanilla, waffle cone, Waffles
No Comments
---
Hello, hello! Glad to be back here bringing Delish Dish my favorite Friday Finds! Every time I tell someone what I do at BHG, I joke that I get to look at pretty pictures of food all day. And then I realize I'm not joking at all! Every week the blogosphere amazes me with their creativity. So in honor of National Ice Cream Day tomorrow (yes it is a real thing), I found some super creative ice cream sandwich treats for you to try!
Dessert for Two brings together one of the best flavor combos with these incredible Spiced Chocolate Strawberry Ice Cream Sandwiches!
Hold the phone. Did Club Narwhal say Dulce de Leche Ice Cream Waffle Sandwiches? I'll take 20 please.
I admit, I can do a lot of damage to a box of chocolate ice cream sandwiches. But can we quick talk about how The Girl Who Ate Everything managed to make them even better in her Ice Cream Sandwich Cake? Holy buckets.
If you're a regular reader, you know how much I love pie. And when I saw these Blueberry Pie Ice Cream Sandwiches from The Kitchen McCabe I immediately started singing "My Favorite Things" from Sound of Music. You mean you don't know the verse about Blueberry Pie Ice Cream Sandwiches? That's just me? Okay, fine.
Since I was taught to eat more than my fair share of cookie dough, when I saw that Mel's Kitchen Cafe whipped up some Chocolate Chip Cookie Dough Ice Cream Sandwiches I freaked out. You heard that right, the cookie part of the sandwich is egg-free cookie dough!
Have a great time celebrating National Ice Cream Day! Let me know what you're enjoying in the comments.
Bloggers, would you like your recipes to be included in our Friday Finds? Apply to be a BHG Insider here: BHG.com/BHGinsiders. And don't forget to tweet at @BHG with your favorite recipes!
Warmly,
Grace Wenzel
Social Media Editorial Assistant
---