lavender frosting
The Naked Cake is one of the hottest wedding cake trends of the season. You may ask, what is a Naked Cake? It's a cake without frosting on the sides. This cake is incredibly stylish and chic and you're about to see why. I've rounded up 10 Naked Cakes that prove you don't need a pound of buttercream for your cake to make a statement.
Let's start off with the basics, shall we? For beginning bakers (or a quick refresher course!), check out this helpful how-to video that  Crate&Barrel put together.
Make any day of the week a special occasion with this Two Tiered Naked Cake by Design Love Fest.
Consider serving this scrumptious Amaretto Soaked Peach Layer Cake by Yummy Mummy Kitchen next time you and the girls get together.
The Blondielocks' Peony Topped Naked Cake (vanilla cake recipe by Sweetapolita) combines whimsy and whirl for a delightful girly-girl dessert.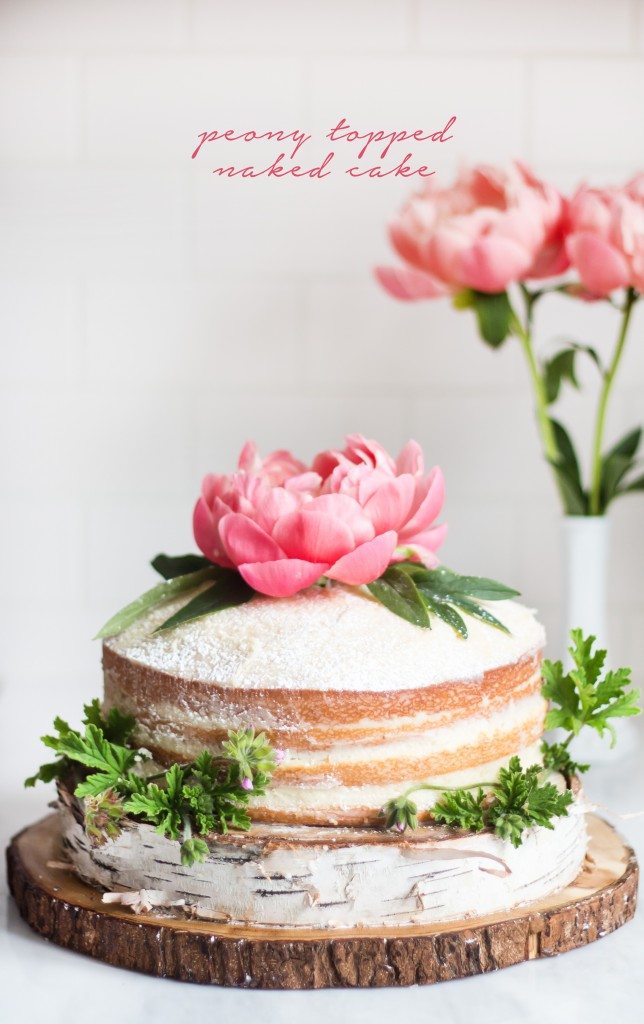 You can never go wrong with chocolate! This Chocolate Raspberry Cake by My Baking Addiction introduces a classic treat in a creative way.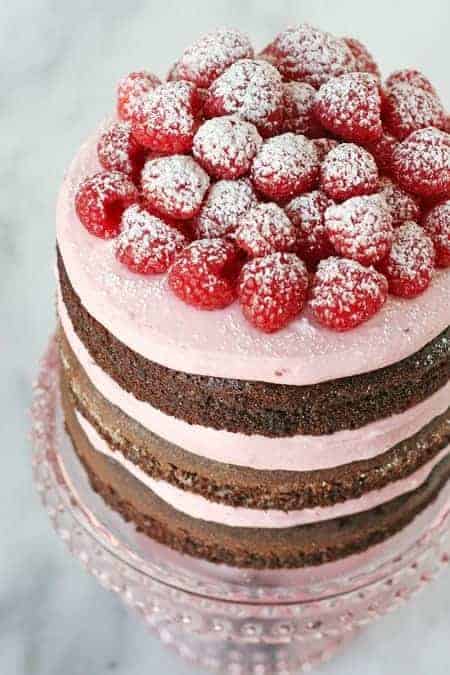 I don't even know what to say about this tea-time White Chocolate Spiced Cake with Rosewater Cream Cheese and Pistachios except to take a step back and look at it. Honestly, I don't think I have ever seen anything so beautiful! Props to Constellation Inspiration for a job well done.
Lemon lovers this one's for you! Doesn't Be What We Love's Yellow Layer Cake with Lemon-Lavender Cream Cheese Frosting look impeccable? Yumm.
Master the art of edible flowers with Buttered Side Up's Triple Lemon Naked Layer Cake recipe.
This Naked Cake by 100 Layer Cake is the perfect dessert to top off your end of summer garden party.
Many thank-you's to Call Me Cupcake for this wow-worthy Chocolate Cake with Mascarpone Frosting recipe!
Whether it's for a holiday, birthday celebration or special occasion, Naked Cakes are fun to make –(and eat)!
Categories: All Desserts, Cakes, Chocolate Desserts, Delish Dish, Fruit Desserts | Tags: berry, Brunch, cake, chocolate, cream cheese, Dessert, flowers, frosting, lavender frosting, layer cake, lemon, Lemon-Lavender, Naked Cake, no frosting, Party, peaches, peony, pistachio, raspberry, rosewater, sweet, vanilla, wedding, wedding cake, White Chocolate
No Comments
---
It finally happened, I succumbed to working with dried lavender. I'm not a lavender fan by any stretch, in any form. But I don't have to be to work with it.
In fact, often times, if I don't like something I'll keep working with it until I can find a way to make it work to my liking. It isn't always successful, but in the case of these Lavender-Honey Cupcakes—it was.
For the first run, I stayed true to the recipe. With that, the lavender flavor was just slightly stronger than I preferred. So in the second run, I omitted the lavender in the batter and instead used this honey lavender. Perfection. The flavor was lighter, and for my own cupcakes, I added vanilla beans to the frosting to balance out the dried lavender sprinkling with a more mellow flavoring.
As for the rest of the testing crew, aka, neighbors and friends, they preferred the original recipe for its full-strength lavender flavor. Like I said, I don't have to like it, so long as those I'm serving it to are happily satisfied, that's what matters. Get the recipe for Lavendar-Honey Cupcakes.
---