Hi! My name is Kate, and I'm the "i" over at i heart eating. My site is all about easy recipes that anyone can enjoy. I'm excited to be here at Delish Dish today, and I'm especially excited to be sharing a recipe for one of my favorite things – cookies!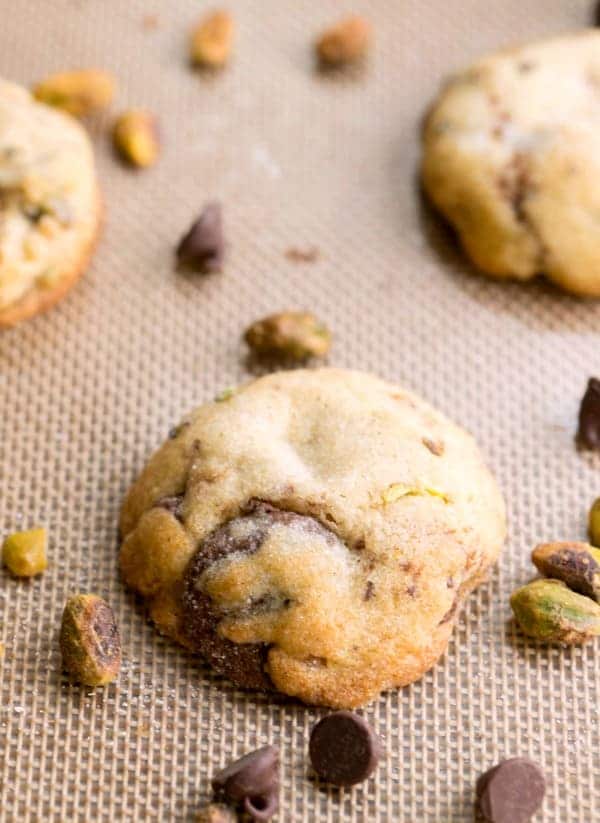 Like so many others, I made a resolution to eat healthier in the new year. I still enjoy an occasional indulgence, though, and these cookies are perfect for those times.
The recipe for Jumbo Pistachio and Milk Chocolate Chunk Cookies in the Better Homes & Gardens' achives totally called my name. You can never go wrong with anything that has chocolate or pistachios in it. But when you combine chocolate and pistachios in one delicious little cookie package, it's pretty much dessert heaven! I only made a few minor changes to the recipe. I used semisweet chocolate disks instead of chopped milk chocolate, increased the amount of vanilla to 1 tablespoon, and rolled the cookie dough in a little granulated sugar for some extra sweetness and texture before baking them.
The results were soft, buttery cookies full of rich, melty chocolate and crunchy pistachios. So, if you're like me, and you love a good cookie, give these a try!