If you're watching your waistline this summer, then let me introduce you to the beautiful, scrumptious world of lettuce wraps. It's pretty simple, instead of using bread for a sandwich (or wrap), forgo the carbs and use lettuce. These special wraps can be made into any crazy combination your heart (or should I say stomach) desires. The fun part is experimenting with different recipes. Lettuce wraps are perfect for light lunch or an easy appetizer.
If you are looking for something with a kick…Then try these oven-fried Buffalo Chicken Lettuce Wraps by Sugar Dish Me. The breaded chicken mixed with quinoa, avocado, blue cheese and tomatoes are certain to keep your tummy happy long past dinner time.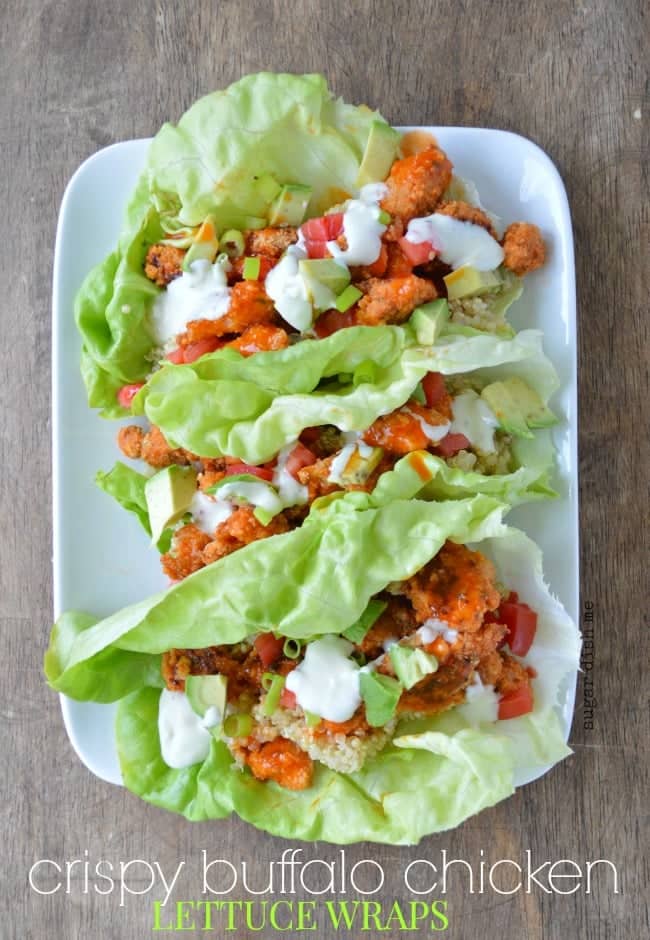 If you are a die-hard bacon lover…Then make your BLT "protein style" with these BLT Lettuce Wraps by Jackie's Happy Plate. Stuff crisp romaine leaves with applewood smoked bacon, a little mayonnaise and a few fresh tomatoes from your garden.
If all you really want to do is go to P.F. Chang's and order the chicken lettuce wraps, but can't spend the money right now…Then this Copycat P.F. Chang's Chicken Lettuce Wraps recipe by Bobbi's Kozy Kitchen is for you. Instead of worrying about a parking spot, you can enjoy this family-favorite in the comfort of your own home. Plus it's ready in under 30 minutes!
If you are looking for a vegetarian option…Then these Vegetarian Lentil Sloppy Joe Lettuce Wraps by Foxes Love Lemons are a wonderful alternative. The rich (and hardy!) lentils are so satisfying, you won't even miss the meat.
If you looking for something on the sweeter side…Then try these Korean Beef Lettuce Wraps by The Complete Savorist. Garnished with green onions and sesame seeds, this flavorful stir-fried beef is sure to be a crowd-pleaser.
If it's seafood night…Then try out these Shrimp Lettuce Wraps with Peanut Dipping Sauce by Natasha's Kitchen. With a special peanut sauce drizzled over tasty shrimp, it's like a party in your mouth waiting to happen.
Consider serving lettuce wraps at your table this week! You'll be surprised how fun (and easy!) they are to make.
Bloggers, would you like your recipes to be included in our Friday Finds? Apply to be a BHG Insider here: BHG.com/BHGinsiders. And don't forget to tweet at @BHG with your favorite recipes.
10 Responses to " Lettuce Wraps "
July 13, 2015 at 11:23 am , by Stacey Burkett

August 15, 2015 at 8:09 am , by Nikki b

October 6, 2015 at 10:06 am , by Lena Zuñiga Rivera