One of the simplest improvements you can make to any room is to add new lighting. Easily said, and, these days, easily done. With a glorious price range, string lights can fit into anyone's budget and are so simple to use — they can be adapted for a variety of projects, both indoor and out. Though typically used in holiday settings, string lights have recently been trending across the Internet as wedding backdrops, bed canopies, and the ever-popular dorm room decoration. Check out these other unique purposes for string lights, and see how much you can impress your guests with your new decor.
1. Frameless Photos
Personalize classic string lights by hanging your favorite photos off them like Urban Outfitter's Instax-Inspired String Lights. Wrap the wire around nails or thumbtacks to suspend the lights. When you've found your desired shape, hang the images where you please by clipping mini clothespins over the wire.
Image via: UO Blog
2. Light Every Inch
Planning a big outdoor shindig? Don't compromise your backyard's beauty with your patio's floodlights. Instead, completely encompass your pergola with string icicle lights. Check out this and other special occasion tips from Noah Interiors' blog.
Image via: Noah Interiors
3. Starry, Starry Night Light
If you're fond of the old Lite Brite pegboards, you'll love this project. This fun DIY comes to us from Heidi, the creator of Happiness is Homemade. Her tutorial for a Constellation Canvas Nightlight is a great weekend project with just a few supplies. Choose any combination of favorite constellations, or make up your own!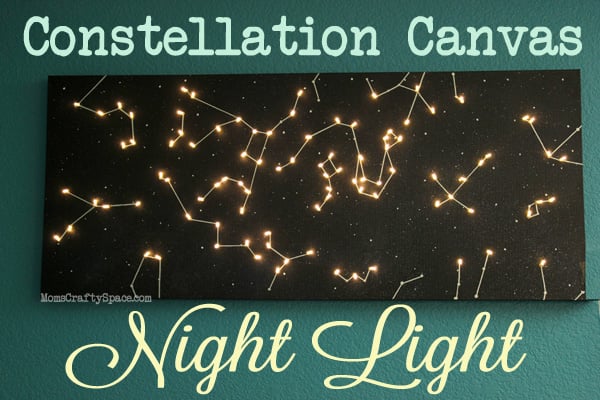 Image via: Happiness is Homemade
4. Hammock Happiness
If you have two trees close together in your backyard, you have to try this DIY Backyard Getaway. Stephanie Lynn of Under the Table and Dreaming decided to add a little something to her backyard and created a summertime oasis in the the process. The finishing touch was the two sets of string lights. Her trick? She purchased one clear and one frosted set, then combined them by alternating the bulbs.
Image via: Under the Table and Dreaming
5. Cheap and Chic
Update your porch, patio, or sitting room with this DIY Hula-Hoop Chandelier. Why? Because you can do it for just a couple bucks. Sarah created this light fixture with a couple of dollar store items and last year's Christmas lights. Use a hot-glue gun to adhere lace ribbon around a hula-hoop. Wrap icicle string lights around the hoop, then use more lace ribbon to hang and mount the chandelier.
Image via: Sarah On the Blog
6. Party-Light Placement
Bethany has four ways to light up an outdoor party. Her first — and my favorite– idea is to use string lights to create a faux canopy across the deck by zig-zagging the wires back and forth. She also mounted a set of string lights to the underside of the patio table umbrella, shining light directly onto the table. You could also use the lights around the perimeter of the deck for guests to easily identify where the entrances and exits are in the dark. 
Image via: Kirkland's Home Decor Blog
7. Biking Beauty
Pick up a few sets of battery operated LED string lights for this fun project. Cars can't miss you riding your bike with Eleanor's tutorial on Lights On a Bicycle. Don't be afraid to get them in a few colors! Be sure to test for range of motion with the handlebars, brakes, and pedals as you zip-tie the lights into place.  
Image via: Eleanor's
String lights can be used for a multitude of purposes; some of them surprising and a few I can't believe I've never thought of before. What other ways have you used string lights in your home or yard? Let me know, or try one of these projects and tell us how you did!
Until next time,
~Bri