Though it's been several years, I've always really enjoyed a good camping trip. Sure, I've got an issue with bees, spiders, and *shivers* freaky centipedes, but, really, how many of us like those critters anyway? But camping can truly be one of the most relaxing and enjoyable vacations you can take. Now that the trend toward glamping — that's "glamorous camping" for you non-Pinteresty types — is reaching new heights, anyone heading out to be one with nature is trying to do so in the coolest, easiest, chicest, most hackable way possible. We're here to help. Check out these 10 camping tips and tricks sure to exceed the usual camping standards.
1. #Adulting
The first issue you'll face when choosing to camp for the first time in your adult life is, well, everything. What tools do I need? What food should I bring? How do you build a fire? How do you pitch a tent? Where do you even put the tent? Trail Sherpa was kind enough to compile a list of tips from their bloggers that answers these questions and many more. If you were unsure about shaking hands with Mother Nature, you won't be after you read through the advice.
Image via: Trail Sherpa
2. Sip and Set
With the shortage of coffee tables you'll have in the woods, you'll need to be prepared with a place to set your beverage. Blogger Megan has the DIY solution for you. Her tutorial for this outdoor drink holder is a quick, fun project you can personalize. Use a different pattern for each member in your camping party.
Image via: Positively Splendid
3. Bright Bottles
Worried about tripping over your guylines and tent stakes while carrying the roasting sticks? Me too. Mike from Instructables relaxes our fears with these DIY tent stake markers. If you're not interested in an adult beverage, glass soda bottles will do the same trick!
Image via: Instructables
4. Floor Foam
Ever make it through the night in a tent with your air mattress still full in the morning? If you have, you're one of the few. Prevent the pain of might-as-well-have-slept-in-the-dirt bed-deflate with this clever idea from Tiffany's blog, A Little Campy. She lines the floor of her tent with huge, interlocking foam tiles. This gives support beneath the mattress pad and also lets you walk around your tent barefoot without worrying what might be beneath the canvas.
Image via: A Little Campy
5. Fashion-Forward Hiking
Hiking just got easier — and more beautiful. Spend time with friends or the kids making an afternoon craft for the next morning's hike. Christine shows us how she created these DIY painted walking sticks with her daughter over at her blog The DIY Dreamer. Be sure to give these beauties a decoupage finish to ensure a lasting paint job.
Image via: The DIY Dreamer
6. Prepared and Planned
Meal prep at it's finest, Mean Mommy Academy creator Sarah has a plan for your meal plan. You can download a template for free at her blogspot. Print one for each day of the trip; it will help you figure out not only what ingredients you'll need per meal, but also what groceries to buy, what tools to pack, and even reminders for the day's activities and what fun things you'll need to bring for those as well.
Image via: Mean Mommy Academy
7. Portable Kitchen Cabinet
Keep your campsite kitchen in order with a rolling drawer set. All of Melissa's favorite camping cookwear fits neatly into these four drawers and moves easily from car to campfire. See how she and her husband made this rolling cart chuck box over at her blog, Finally-Forever.
Image via: Finally-Forever
8. All Within Reach
Hanging shoe racks have become one of the most multipurpose items in home goods. Lifehacker Alan Henry put his to good use with this DIY camping kitchen organizer. Alan picked the plastic variety for it's durability and water resistance. Hang from bungee cords on an awning or as a personal items organizer inside the tent.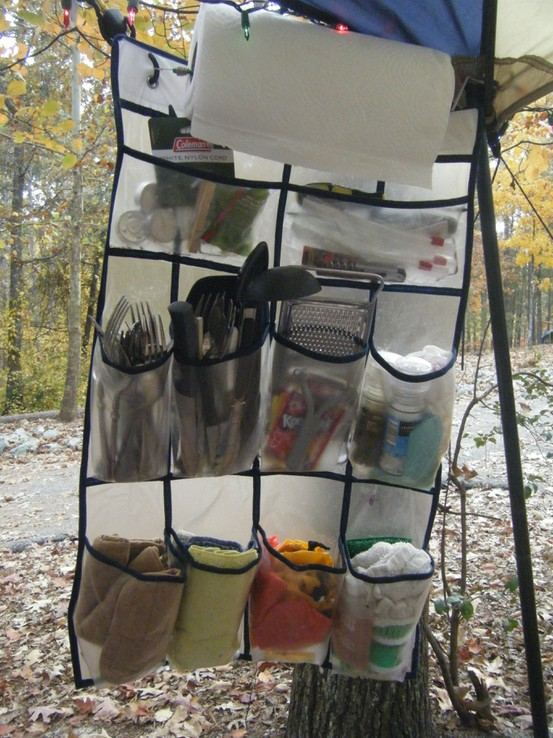 Image via: LifeHacker

9. With all these hacks, you'll have plenty of time to lounge for a bit during your glamping experience. Take a peek at how the gals from Spell Designs created this beautiful boho glamping site. Most items were from around the house and easy for two people to set up.
Image via: Spell Designs
10. Northstory creator Alex made these cute magnetic invites for her daughter's birthday party. As you plan your next camping trip, send these cute invites out to your friends. You can all connect with nature together.
Image via: northstory
Now that you're ready to get your glamp on, what project are you going to do first? Do you have any other great camping tips and tricks? Let me know all about it!
Until then,
~Bri