Are you looking for the perfect way to ask your friend to be in your bridal party? Are you and your partner trying to announce a new bundle of joy? Can't find the perfect tumbler to encourage you to drink more water on the daily? Or do you simply have boring glassware and are looking for the perfect quick-and-easy DIY project? You've come to the right place! Check out these 10 stellar projects that change boring beverage holders into gifts, announcements, inspirations, and the downright coolest drinkware around.
1. Copper Cups
As Delia says over at her blog, once you've made these unique tea cups and saucers, you'll want to paint ALL your dishes. This porcelain paint comes in small tubs or as a paint pen so you can paint large sections at a time, or create fine details. These paints are dishwasher safe, and Delia says a little paint goes a long way — enough for all these pieces and her dinner plates!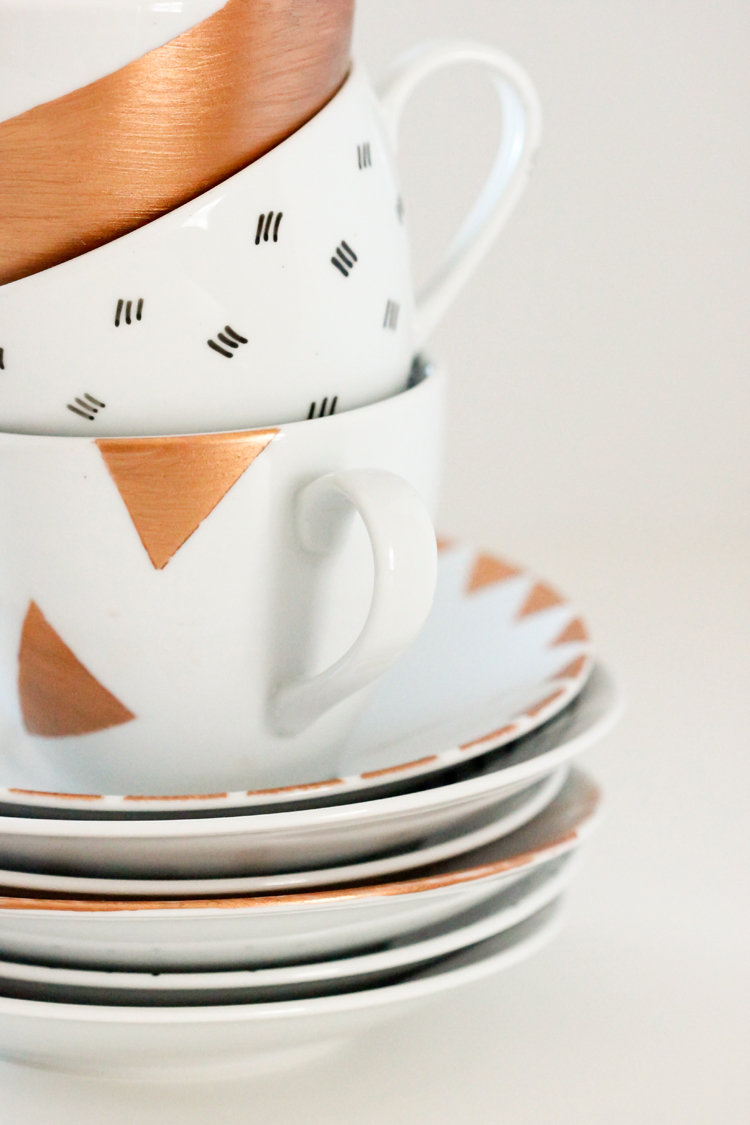 Image Via: Delia Creates
2. Easy Etched Glass
There's something especially classy about etched glass. Brit + Co writer Lee Schellenberger shows us how to totally personalize any glass cup, tumbler, or flute with the help of vinyl tape and etching cream. Follow the steps for her DIY lines, patterns, and monograms, or create your own. Don't host your next dinner party without these!
Image Via: Brit + Co
3. Ombre Glitter Cold Tumbler
It's not a DIY project until there's glitter and spray paint! Rachel Teodoro warns that you'll need time on your side for this project. Patience is your friend while waiting for these ombre glitter tumblers to dry between coats of spray paint. You can also have fun with vinyl adhesive, peeling the sticker off once the paint is dry.
Image Via: Rachel Teodoro
4. Alcohol Ink Watercolor Cups
Babble contributor Lucy Akins has a fun and funky way to add watercolor to your water cups, coffee mugs, and wine glasses. If you've never used alcohol ink before, you're in for a fun surprise. Generally used on nonporous materials — such as this dollar store porcelain mug — the solid-base dye comes in an array of colors and can achieve a watercolor paint effect by diluting them with rubbing alcohol. Look here to see more on how she achieved this look.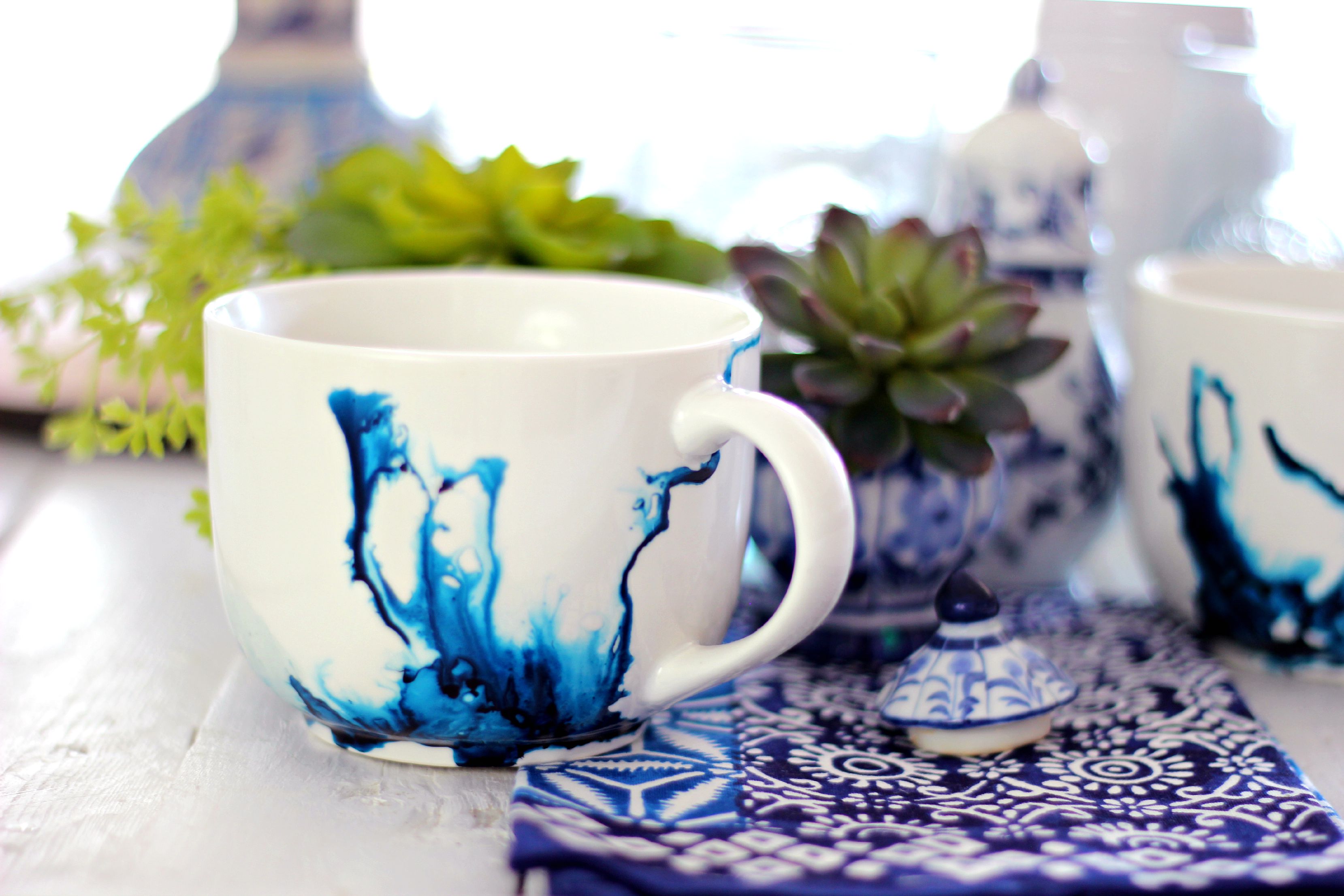 Image Via: Babble
5. Chalk Paint Martini Glasses
Do you use (or try to use) those drink markers and charms at parties, trying to distinguish your glass from your friends' and family members'? Then do you forget which charm you had to begin with? Here's the more helpful — and DIY-able — way to mark your cup. Something Turquoise creator Jen will show you how to make these chalkboard martini glasses, though you could do this with any type of glass or porcelain drinkware. Bonus: Once the paint has cured, these beauties are dishwasher safe!
Image Via: Something Turquoise
6. Glitter Dipped Coffee Mug
Another case of surprisingly dishwasher safe drinkware: the glitter mug. Mom and blogger Ann Marie wanted a mug that was fancy, glittery, and would make her coffee extra magical. She got what she asked for. The mug will take nearly a month to be considered fully dishwasher safe (based on decoupage manufacturer instructions), but a years later update from Ann Marie proves that the glitter really will last! Here's her how-to guide from her blog White House Black Shutters. She's even got a separate page for what NOT to do when glitterizing.
Image Via: White House Black Shutters
7. DIY Marbled Glassware
Though a drink doesn't change taste by the look of the cup it's poured into, it can be more fun to see an electric, marbled design after bottoms-up! Erica made this super fun DIY marbled shot glass set with just a few simple supplies. Pick colors to your choosing, but her selection of neon nail polish colors definitely did the trick here. Simply tape, pour, mix, dip, dry, finish, and peel. Got it? Good.
Image Via: HonestlyWTF
8. DIY Floating Glitter Tumbler
Travel back to the '90s with this hot cold cup. Kelly Mindell, main mind behind Studio DIY, was brought back to her childhood with thoughts of floating glitter, so she thought, why not craft with it? And the floating glitter tumbler was born. But not just any tumbler will do. You'll need the clear photo insert style tumbler (and there are travel mug styles, too, for you hot drink lovers!), water, and a variety of glitter, sequins, and metallic confetti.
Image Via: Studio DIY
9. Pastel Dipped Glassware
This easy-peasy project won't even take you all afternoon! Erin, of Earnest Home co., wanted a semi-opaque colored glasses, and she found the perfect way to make them. Mixing acrylic paint with a clear sealer kept the paint bright and glossy without it coming across as seaglass. Dip your cups in the one-to-one paint/sealer mix, let dry, and bake in the oven. They'll be top-rack dishwasher safe with the proper heating and cooling process. Note: though non-toxic, acrylic paint shouldn't be consumed — be sure to leave an inch or two between the paint and the mouthpiece.
Image Via: Earnest Home Co.
10. The Sharpie Treatment
Trendier than any design style on the internet, the DIY draw-whatever-/write-whatever-you-want permanent marker mug can be everything you ever wanted — if you know how to sustain the ink. Cool Crafts contributor Liz Nieman compiled a list of 50 DIY Sharpie mug ideas. They're all awesome, but don't forget to use an oil-base permanent marker. It's this type of ink that will actually remain permanent.
Image Via: Cool Crafts
For dishwasher-friendly designs on most projects, be sure to bake your cup. Though all projects vary, most instructions suggest placing the designed mug, cup, or glass in the oven while it preheats to 350 degrees. Bake for at least 30 minutes (depending on the medium used, longer oven exposure may dull colors), then let the item cool.
Give these projects a try, and let me know how they go! If you need me, I'll be making some of these in anticipation for Christmas gifts.
Until next time,
~Bri
---