Inspiration for a Farmhouse-Style Home
Farmhouse style is the perfect combination of so many things: vintage, rustic, handmade, collected, cozy. The list goes on! Create chic spaces with country flair and homey vibes with inspiration found in farmhouse finds.
1. Style Step One
There's a number of things that will help you along your path to creating the perfect farmhouse-style home. Liz Marie starts you off by listing the first 10 things needed to master the trend. Shiplap, special textiles, and antiques: she discusses everything, including the farmhouse kitchen sink!
Image Via: Liz Marie
2. Rustic DIYs
If you're just getting started in your pursuit of the farmhouse dream, Jennifer has eight do-it-yourself projects to get you going. Indoor, outdoor, office, living room, and more, there's a DIY for every place in your home. Check out her list of ideas and inspirations over at her blog, The Willow Farmhouse.
Image Via: The Willow Farmhouse
3. Entryway Envy
When styling your home with a farmhouse feel, it's important that the very first impression for your guests coincides with the rest of your house. A stylized entryway is ideal for inviting friends and family into your country-theme home. Start off with a rustic armoire, a wooden bench, and exposed coat hooks, as Liz did over at her blog, Love Grows Wild.
Image Via: Love Grows Wild
4. Refreshing Living Room
Bre's country home was ready for a small update this year. A whiter-white was just what her farmhouse ordered. Additionally, she moved around some of her rustic decor to create a beautiful gallery wall and added a cowhide rug, perfect for her farmhouse-flair living space. See Bre's whole living room refresh over at her blog!
Image Via: Rooms for Rent
5. Half-Bath Wonder
Layla's half-bath makeover is everything you've been looking for in a quick farmhouse update. Between the before, the after, and the inspiration, it's clear to see her understanding of the style flows  throughout her cottage home. The shiplap alone is enough to make any country heart swoon. See the makeover and other farmhouse-inspired rooms at The Lettered Cottage.
Image Via: The Lettered Cottage
6. Country Cooking
This chic country kitchen is brought to you by Vintage Whites writer Vanessa. She revamped her kitchen to echo the perfect farmhouse feeling. With old-fashion appliances, an apron-front sink and a vintage kitchen block, it's hard to say our favorite accent in this room. The raw-wood cabinets and cream-color walls definitely hit the nail on the head.
Image Via: Vintage Whites
7. Dining in Farmhouse Style
Suzy had a lot of work to do to get her 20-year-old house to match her country-chic vision. Some paint, a plank wall, and stylish decor did most of the work to turn her dining room into a farmhouse beauty. The opposite wall hosts a pair of buffalo-check chairs while the adjoining wall holds a grid of botanical art. Fresh greenery exudes farmhouse style.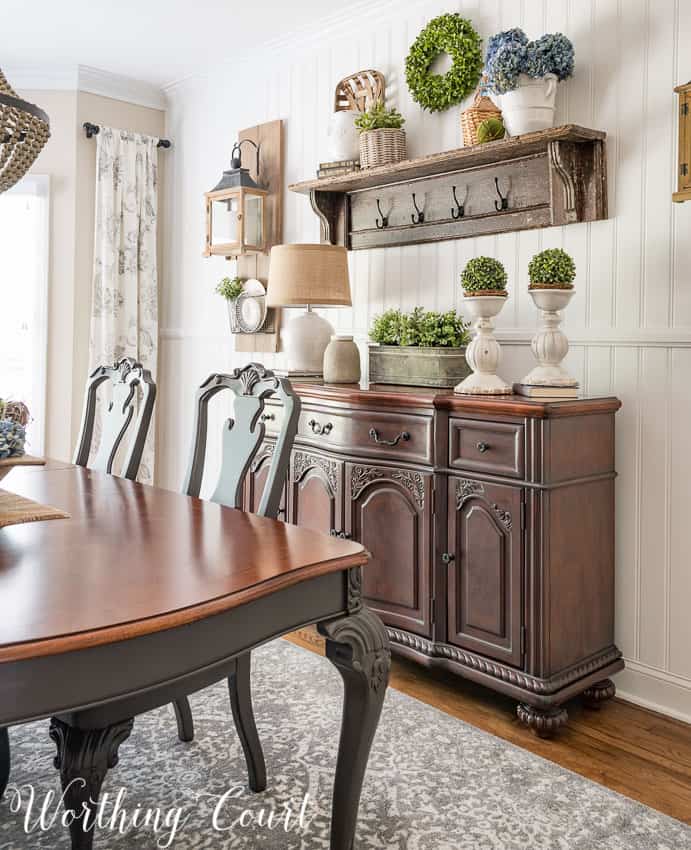 Image Via: Worthing Court
8. Vintage Home Office
The Little Glass Jar blog brings farmhouse inspiration into every room, no matter the size or use. Tired of the sports theme her husband gave the family office, blogger Ashley wanted to incorporate a more rustic feel when she started working from home. After a few paint colors and decor changes, she fell in love with her finished farmhouse-inspired workspace. Stained wood and old-fashion finishes are the perfect touches.
Image Via: Little Glass Jar
9. Rustic and Roomy
KariAnne's blog post about her bedroom explains her learning experience with photography while showing off her fabulously styled farmhouse master bedroom. Get inspired by her neutral, natural rustic space. The mix of textures, patterns, and pops of color are ideal for her home's theme.
Image Via: Thistlewood Farms
10. Masterful Master Bath
You won't believe the photos of this before and after are of the same bathroom! Little Vintage Nest creator Sarah was tired of her outdated 1980s bathroom and spent six months completing her vision of a vintage-country master bathroom. She farmhouse-flipped two dressers into bathroom vanities while pairing them with the perfect rustic decor. See the whole process here!
Image Via: Little Vintage Nest
With a few tiny tweaks, (just add wood, white paint, and the perfect combo of vintage pieces) you too, can have the farmhouse-style home of your dreams. Which room will you tackle first? Let me know how it goes!
Until then,
~Bri