8 Pretty No-Carve Pumpkins to Boost Trick-Or-Treat Curb Appeal
If you're anything like me, you're a little late with the Halloween decor. So late, in fact, you're worried about being able to put out any curbside or porch indicator telling costume-clad kids they're totally welcome to ring your doorbell on the 31st. The clearest sign for the little monsters, Avengers, pirates, witches, and Minions is a cool or creepy jack-o'-lantern shacking up on the front stoop. No time for carving? Me neither. Let's shoot for one of these pretty, no-carve pumpkin styles instead.
1. Metallic Mod Pumpkins
Taryn has the chic candy-giver in mind. For these dripping, shimmery metallic pumpkins, she explains that no design skills are really necessary. Just some paint! She used faux pumpkins, but the process will work on regular pumpkins, too. Pop over to her blog Design, Dining and Diapers to see how she did it (and some pumpkin styling ideas from some other great blogs).
Image Via: Design, Dining and Diapers
2. Melted Crayon Pumpkin
Definitely nix the standard orange-and-black theme this halloween, and try this splattery rainbow effect on your pumpkins. Allison contributed this idea — melting crayons over a white pumpkin — to the blog Mom Spark. Special tip: glue down the crayons before you start. This helps avoid burnt fingers between the wax and the hair dryer!
Image Via: Mom Spark
3. Glow-in-the-Dark Pumpkins
Why have I never thought of replacing the candle inside the pumpkin with textured light on the outside? Glow-in-the-dark puff paint for the win! Alisa Burke has this tutorial on her blog, as well as a dozen other no-carve, painted pumpkin ideas. For the best glow, prime your pumpkins with a base coat of paint first!
Image Via: Alisa Burke
4. Office-Supply Pumpkins
This is truly the simplest no-carve pumpkin idea ever. If you check out the tutorial on A Subtle Revelry, creator Victoria Hudgins will show you a couple cute designs for decorating pumpkins with colorful push-pins and brads. Older kids can help you with this one (the kids that won't put point objects in their mouths) and you'll be done in 30 minutes or less.
Image Via: A Subtle Revelry
5. Spooky Splatter-Paint Pumpkins
Another child-friendly project — you prime, and they splatter — Homey Oh My creator Amy spray painted some craft pumpkins before going to town with some contrasting colors. The result? A look that's creepy enough for your porch but sophisticated enough for a tablescape centerpiece. Check out how she made these splatter-paint pumpkins here!
Image Via: Homey Oh My
6. Woodland Creatures Paper Pumpkins
Dress up your pumpkins in a family-friendly format this Halloween! Rebecca and her daughters made a series of cute, woodland creature no-carve pumpkins this fall. They used faux pumpkins, paint, cardstock, and felt to make fox, owl, and racoon pumpkins. Feel free to use real pumpkins instead! Instructions — found here at Simple As That — are the same either way.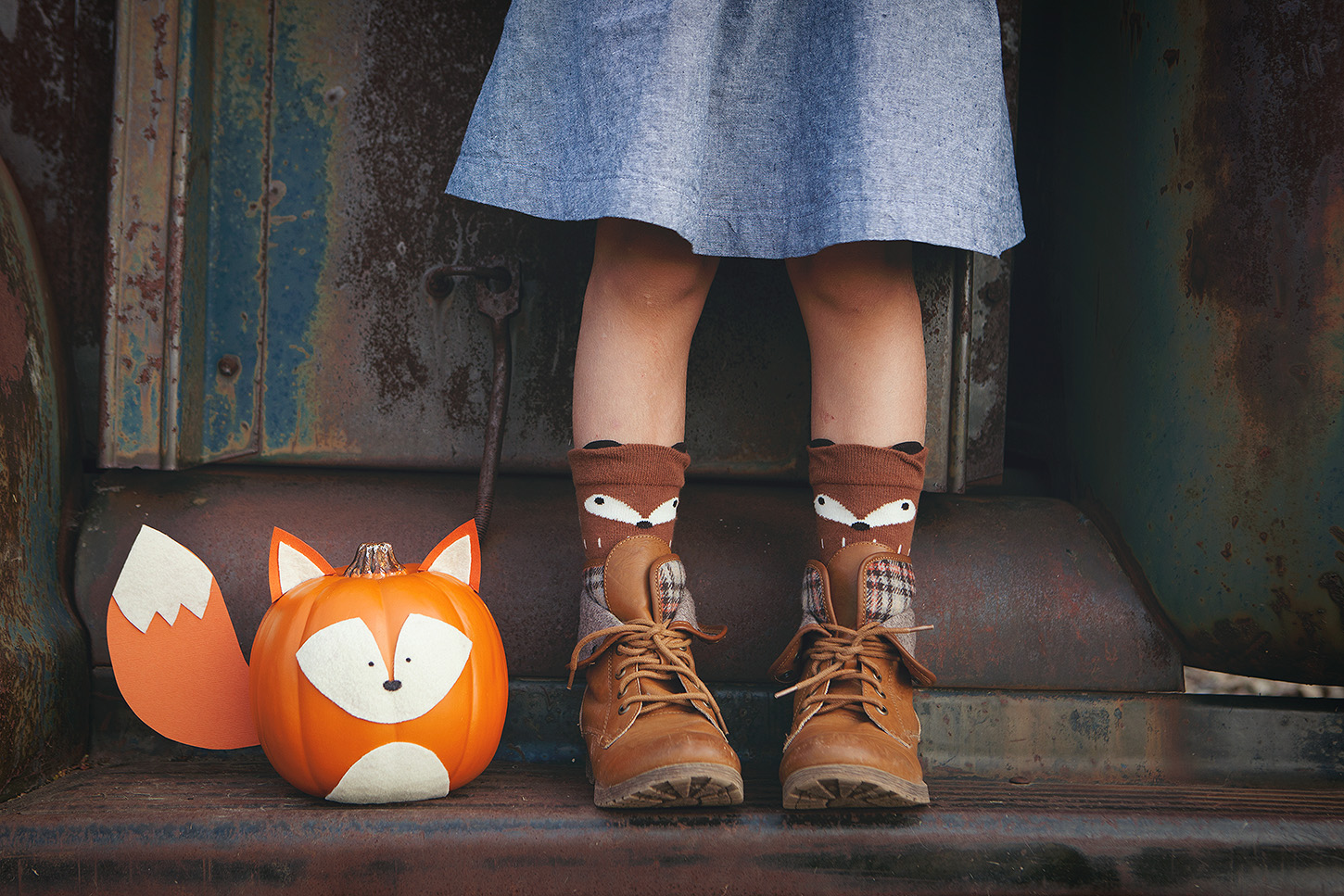 Image Via: Simple As That
7. Studs-and-Spikes Pumpkins
This edgy craft come to us from blogger Julia, creator of Cuckoo 4 Design. Covering the pumpkins with some fun-color chalk paint is the perfect first step to creating these gold, pointy decorations. The matte colors make the metallic tips shine that much brighter! Some rub and buff gold powder on the stems and a bit of twisted gold wire are the perfect accents to complete the look. Check out Julia's studded chalk-paint pumpkins here!
Image Via: Cuckoo 4 Design
8. DIY Watercolor Pumpkin
After a few trial-and-error projects, Rachel landed on this to-die-for watercolor pumpkin design. She started by spray-painting her pumpkins white, then used a wet sponge to spread and dilute the colors she placed on the pumpkins. As the paints dry, use a paper towel to spread the color around as you see fit. Be sure to finish with a sealant!
Image Via: Lines Across
All of these projects can use real or faux pumpkins, so choose whichever is more convenient for you to find! Paint projects will do best with a coat of matte-finish paint as a base, but experiment on any of these projects to find a look that suits your needs. They are all simple and pretty and are so much more easier and faster than carving! Even I have time to get one of these done. Be sure to let me know what no-carve pumpkin ideas brought the wizards, princesses, and Jedi to your door.
Until then,
~Bri
2 Responses to " 8 Pretty No-Carve Pumpkins to Boost Trick-Or-Treat Curb Appeal "
September 21, 2017 at 1:06 pm , by ROhn