Shine, Shimmer & Sparkle: 10 Ideas for DIY Metallic Decor
While my taste for glitter, sparkle, and shine never wanes, my particular taste in metallics seems to eb and flow with the seasons. Back in the spring, I couldn't get enough brass. All summer long I embraced champagne gold, and now that autumn is upon us, I can't help but drool over anything with copper leaf! These bloggers have my taste in mind. Check out their projects, and shine up your home with some DIY metallic decor.
1. DIY Gold Trim Agate Coasters
Just the tiniest bit of glitz really makes these coasters pop. Jamie Harrington, creator of Totally the Bomb, DIYed her way to these lovely Anthropologie knock-off coasters. Rather than spend $100 on a set, she created her own with some cheap agate slabs and a smidge of gold liquid leaf. Check out how she did it over at her blog.
Image Via: Totally the Bomb
2. Metallic-Paper Boxes
Kristi Murphy contributed this fun mixed metallics project to Brit + Co. These gold and copper contact-paper-covered boxes are ideal for your office space. They hold all your stationary odds and ends without being an eyesore. Paint accents, add decals, or create labels to make these boxes even more stylish and efficient.
Image Via: Brit + Co
3. Copper Cap Container
This is the easiest project you've ever done. Promise. I Spy DIY creator Jenni's copper addiction began when she purchased plain copper plumbing caps from her local hardware store. One look told her they were meant to be lovely copper succulent containers. Plant your succulent in the copper cap, cover with gravel, and enjoy!
Image Via: I Spy DIY
4. Champagne-Glitter Champagne Bottle
For the glitter lovers of the world (like me) this is the perfect way to stylize any bottled beverage, whether gifting or keepsake decor! Jen, the founder of Something Turquoise, loved the look of glitterized bottles, but hated the mess they left behind. Instead of cutting her losses, she found a new way to keep glitter on the bottle — even in the fridge or from condensation! Check out how she does it over at her blog. Choose your favorite glitter, or mixed metallics as Jen does here: rose gold, silver, gold, and champagne!
Image Via: Something Turquoise
5. Rose Gold Polish Frame
This sassy, rose gold gilded frame was painted — with nail polish! The Style Guide expert Sera McDaid took a cheap white plastic frame and upcycled it to something much classier and flashier. The two coats of polish on the outer frame create a lovely rose gold finish while chunky gold glitter over the inner frame gives an extra pop.
Image Via: The Style Guide Blog
6. Silver Leaf Furniture
Racha Moussa – creator
The metallic crafter's day is never complete until leaf has been involved; and in this case, A LOT of leaf. Racha Moussa wanted to update a worn dresser and decided silver leaf was the way to go. Rather than accenting the top or the drawer faces, Racha went all out and leafed the entire dresser. Check out her great tips for applying, burnishing, and sealing metallic leaf over at her blog My Champagne Taste.
Image Via: My Champagne Taste
7. Pink and Copper Lampshade
German blogger Antonia added the perfect subtle dose of copper to her home. Originally stark white, she painted the outside a pale pink, then toned down the frilly color by coating the interior with a couple coats of copper spray paint. Be sure to translate her blog to English! Otherwise the pictures do a good job of showing the steps for this DIY pink and copper lampshade.
Image Via: Craftifair
8. DIY Golden Globe
Another Anthropologie inspiration, Classic in Gray's Jessica wanted her own gold accent globe — just without the hefty price tag. For this project you'll need a globe (she found hers for $13 at a department store) and a variety of paints. First, paint the stand your favorite metallic color (if it isn't already). Then, use acrylic paints to cover the bodies of water, the continents, and the latitudinal and longitudinal lines. Use the same metallic you used for your stand to write out geographical locations in big, loopy lettering.
Image Via: Classic In Gray
9. Copper Plate Floating Shelves
These copper floating shelves are to die for. Vintage Revivals founder Mandi wanted to add a bit of greenery to her entry and thought copper would be the perfect accent. Check out how to build the shelves and how to case them in copper plating! She'll give you all the tips you need (and a few quirky mistakes to avoid along the way).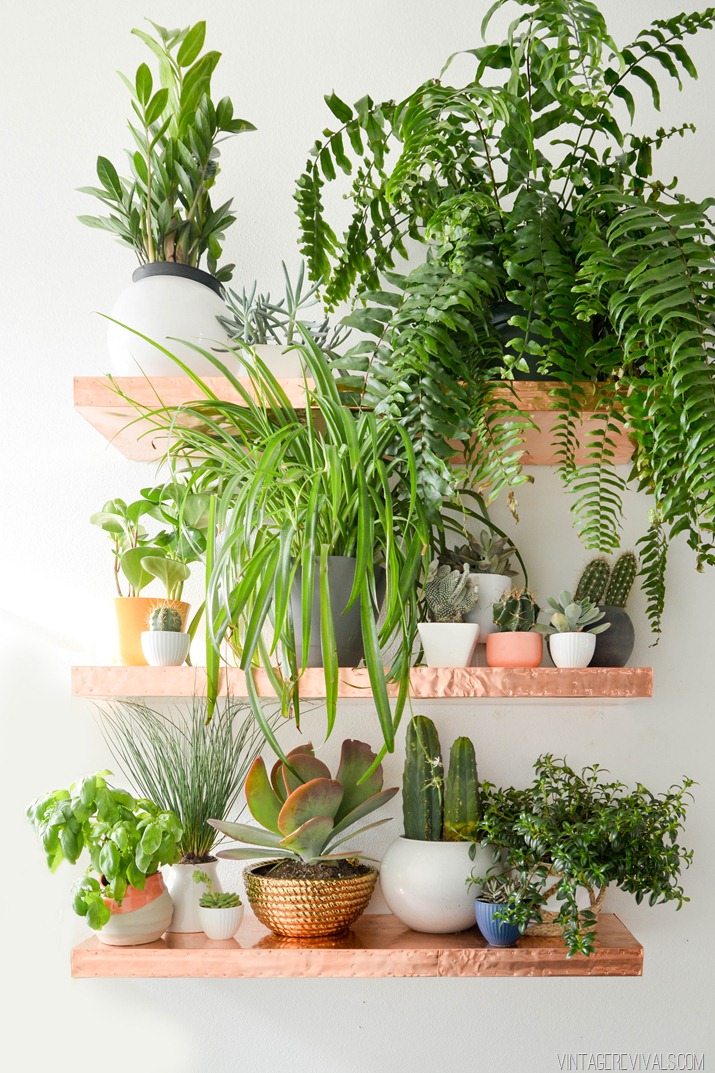 Image Via: Vintage Revivals
10. Gold Leaf Embellished Curtains
Who knew DIY could be so stylish? I guess Brynne Delerson did. Over at her blog The Gathered home, she shows us how she uses spray adhesive and gold leaf to create these awesome gold and gray curtains. Followed up with a spray sealant, these window coverings will be shining for quite some time!
Maybe as the months turn colder and darker I'll fall for something a little more bright. Rose gold, perhaps? In the meantime — as always — I'll embrace the mix of metallics and enjoy that my favorite color (sparkles) is trending.
Until next time,
~Bri
One Response to " Shine, Shimmer & Sparkle: 10 Ideas for DIY Metallic Decor "
October 31, 2017 at 7:55 pm , by Marcia