6 DIY Treehouses for Your Kids (Plus One That's Just for You)
Rediscover the good old days of playing pirates, super spies, and damsels in distress. The imagination, motor-skills, and teamwork that's developed when playing make-believe in a treehouse is really what childhood is all about. So go ahead. Reminisce with your long departed imaginary friends, and show your kids what having a tree-fort is all about — or maybe just build one for yourself.
1) Building How-To
Makendo, a contributor to Instructables, built (and rebuilt) this classic take on a treehouse for his children. His very detailed how-to guide will tell you everything you need to know about constructing a treehouse and what to do to maintain the structure once the trees have grown too much.
Image Via: Instructables
 2) Family Farm Treehouse
Ruth and husband Paul built an awesome treehouse for their five children. Making it up as she went along, Ruth's take on tree fort structure is all about paying attention to and using the surrounding area. Her tutorial on her blog, Family Farm Experience, will show you all the details, down to decorating, how to hang a swing, and building a sandbox.
Image Via: Family Farm Experience
3) Simple and Sturdy
If you're feeling over your head on the building side, you may want to try this simplistic version of a tree house. Kristen Duke shared her family's backyard treehouse and how she and her husband constructed it. Rather than relying on the support of trees for construction, the Duke's opted to build around a tree, using rocks and concrete to hold down the structure.
Image Via: Kristen Duke Photography
4) Tree Stump-House
Did you lose a tree to disease or storm and now have an ugly stump taking up a corner of your yard? Do what Alli did, and build a treehouse right on top! Hope over to her blog Made with Happy to see her design and the separate tutorials for the frame, floor, roof, and walls.
Image Via: Made with Happy
 5) Treehouse Fun (Or Exercise?)
The Wellness Mama, Katie, knows the importance of her children's physical development. She invented an amazing treehouse for them to use for fun without realizing they were exercising. Added bonus? The structure is strong enough for adults to play too! Be sure to check out the video of the whole treehouse at the end of her blog.
Image Via: Wellness Mama
 6) Playhouses are Cool, Too!
Tiny trees or no trees at all in your yard? No problem. Your kids can get the same imaginative wonder out of a grounded fort. Vintage Revivals creator Mandi built this adorable outdoor hideaway with her husband, Courtney. Jump over to her blog and see how they designed, built, and decorated the backyard staple.
Image Via: Vintage Revivals
7) This One's for You
Maybe you remember the simple pleasures of building forts and climbing trees; maybe you never had a clubhouse at all. It doesn't mean you can't have one now that you're grown. Just ask these friends who built a lifesize tree house on an old campground — complete with electricity and two lofted bedrooms — in honor of a late parent. Childhood dreams coming true in adulthood!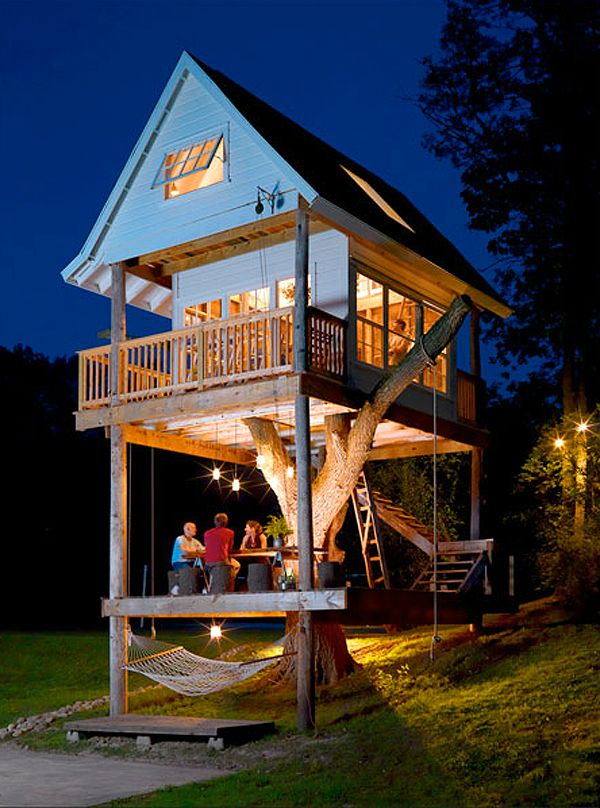 Image Via: The Lettered Cottage
There is so much to think about when deciding whether or not to build a treehouse. Where would it go? How big can it be? Is my tree strong enough? All good questions — all good things to decide. One question you'll never need to ask, though, is, "Will my kid like it?" Well, answer yourself this. Wouldn't You?
Until next time,
~Bri