9 Hacks for Your Best Ever Garage Sale
Around this time each year, my tub of time-to-get-rid-of items is practically overflowing. I know I'm not alone, because summer is sometimes called Garage-Sale season; that special time of year where we place our junk out on our yards for other people to claim as treasures. Some garage sales go better than others, and we've pinned down a few special tricks to make sure your sale is part of the former.
1. What Are You Selling?
If you've never hosted your own yard sale, Brad's Deals was kind enough to provide a list of tips to get the most out of your first sale. More importantly, though, writer Rebecca Lehmann says you should take a second look at the items you're trying to get rid of. Some collectibles, tools, baby gear and more are on a list (near the end of the article) of things you should reconsider selling at your garage sale. Outdated safety codes — old cribs and helmets — or potential small fortunes — vintage comic books and family heirlooms — are just a couple reasons she gives to help you determine if it's even worth hosting a sale.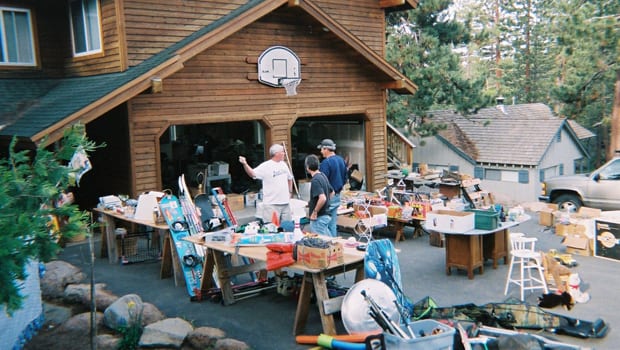 Image Via: Brad's Deals
2. Band Together
When you have determined what you're going to try and sell, check around and see who else is interested in having a garage or yard sale. Adam Baker, founder of Man Vs. Debt, suggests either grouping with a few families to do a large sale, or trying to get the whole neighborhood involved. Adam says the more there is to sell, the more interest there will be for people to attend your and nearby sales.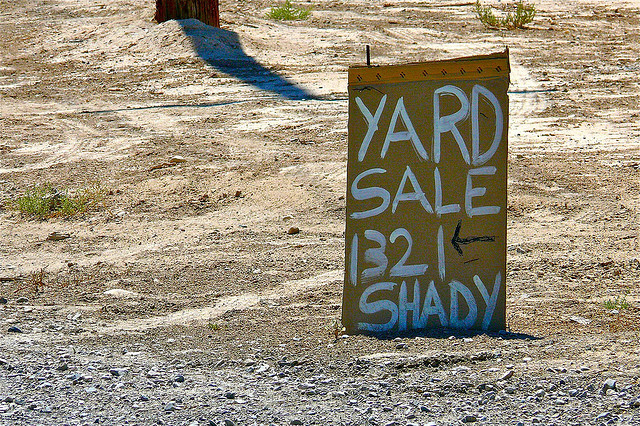 Image Via: Man Vs. Debt
3. Stand Out
Now that your neighbors are on board, how do you get people to come visit your garage? Vintage Revivals creator Mandi says it's all in the advertising. Her No. 1 tip is to make sure your ads stand out. Try advertising as a Hoarder's Sale instead of just a garage sale. Mandi also left cute, comical ads on Craigslist and social media to advertise her sale. Take a leaf out of her book and call your sale a DIYers paradise, or the Black Friday of  yard sales. 
Image Via: Vintage Revivals
4. All About the Price Tag
One of Crystal Paine's top garage sale tips is to put a price sticker on everything. She's found, in her garage-sale experiences, some people are too shy to ask for an items price, costing you a potential sale. With pricing you have options, though: purchase prepriced stickers; purchase multicolor stickers and have each color coordinate with a price; and if you're doing a multifamily garage sale, you can use any stickers to mark family initials so that it's easy to track each family's sales.
Image Via: Money Saving Mom
5. Location, Location, Location
Perhaps you live in a rural area or an apartment and don't have a convenient home for a yard sale. This is where those community and multifamily sales come in handy. Back to Her Roots creator Cassie asked her sister to do a joint garage sale in at her city home instead of Cassie's country road  house. She admits that it was worth the 2 1/2 hour drive just for the prime location. 
Image Via: Back to Her Roots
6. Electric Ideas
The Cash Cow Couple, Jacob and Vanessa, will tell you all about how to price, market, and organize your yard sale. More than that, though, they share three tips on selling electronics: 1. Have batteries and an extension cord out so shoppers can test them, 2. discount items that don't work, and 3. sell your electronics as soon as you've decided you won't use them anymore. Check out why and the rest of their garage sale tips. 
Image Via: Cash Cow Couple
7. How You Make Them Feel
Your attitude during your garage sale can earn you a lot of money — or help you lose money. J.D. Roth, founder of Get Rich Slowly, says to be honest with your customers, but don't be negative. You don't need to tell shoppers you hated the movie they're looking at or the board game they picked up is boring. Feel free, though, to mention how that movie was nominated for some awards or how much kids will love that board game. 
Image Via: Get Rich Slowly
8. Haggling Hacks
Sarah Lemp has a great hack for garage  sale shoppers and sellers: Negotiate. She says it's about being flexible but knowing your bottom line. Check out some of her suggestions for things to say when you want a better price or someone approaches you with a lower offer. 
Image Via: All Things with Purpose
9. Closing Time
So what happens at the end of your garage sale when you still have items left over? Lynnette Walczak has five options for you. Try another garage sale down the road, try selling on eBay or similar sites, freecycle via Craigslist or similar sites, pass books, magazines, music, and similar items onto doctor's offices and nursing homes, or give to local charities — some charities may even pick up your items for free. And let's be honest, the whole point of the garage sale was to get rid of these items anyway.
With your garage sale planned, your items priced, and your location picked out, your next sale should be a piece of cake, right? In case you're still unsure, feel free to view the bloggers full articles with hundred of tips for your best garage sale ever.
Until next time,
~Bri
3 Responses to " 9 Hacks for Your Best Ever Garage Sale "