Say Cheese! 9 DIY Photo Booth Ideas You Need to Try
A party is never complete without the group photo. Many wonderful parties have been reminisced by looking at that group shot; the one with the partially empty pizza box on the table and the dirty dishes stacked up in the sink. Don't let this image be the one to remind you of your awesome night. A lot of work — and fun — went into and came out of that event. Set up a DIY photo booth backdrop so that your future nostalgic moments can be remembered as awesome — not as a group of unfortunate photos.
1. Shiny Style
Pin up a stylish display of large, reflective sequins for a classy photo backdrop. The party resource blog Oh Happy Day found a beautiful use for for 60mm pailletes. Pick your pattern, straight, formal lines, or staggered, like here, which encourage movement. See how they did it here.
Image Via: Oh Happy Day
2. Chevron Sparkle
Jenni has your next bash covered. She'll give you all the party tips and tricks you need for decor, but be sure to pay attention to her chevron fringe backdrop. Pick up a few packs of metallic fringe in your favorite colors, some scissors, and a roll of tape. You'll create this glamorous backdrop in just a few minutes with help from her how-to guide.
Image Via: I Spy DIY
3. Strike a Pose
If you — or someone you know — is handy with power tools, this is the photo booth for you. A Flexible Life writer Jennifer Cario had this DIY photo booth prop wall created for her wedding. Think of all the fun poses you can create reaching through, standing behind, and posing in front of the wall.
Image Via: A Flexible Life
4. Balloon Backdrop
If you're looking to save a buck and still create an exciting DIY background, try blowing up some colorful balloons, crafting some streamers, and tacking them to the wall and ceiling. Drew B of Mom*tog took her son's birthday photo shoot with this fun backdrop she made out of rainbow balloons and construction paper.
Image Via: Mom*tog
5. Simple, Subtle Streamers
Looking for a subtle and beautiful background for you celebration? Try this DIY wax paper backdrop. Style Me Pretty writer Erin Lepperd got the scoop on the simple white streamer wall that went viral on Pinterest. Check out how the bride and her designer friend Katie M Kulper did it!
Image Via: Style Me Pretty
6. Skip the Paint
There's a good chance you can create this DIY colored fence photo booth with items you already have. Whimsy and Hope creator Sarah Halstead colored her backyard's wood fence — not with paint — with sidewalk chalk to create this unique photo booth backdrop. Use your favorite colors, take your photos, then wash off the fence with a hose. Or wait for rain and let nature do the work later.
Image Via: Whimsy and Hope
7. Posh and No Frills
Chic, cute, and easy are just a few words to describe FP Jana's minimalist DIY Party backdrop. Standing in front of these balloons for a photo will make you feel austere and lavish at the same time. Bonus money-saving tip: use rocks to weigh-down your helium balloons rather than shelling out for balloon weights.
Image Via: Free People
8. Geo Drop Cloth
Meg Keene, the CEO and Editor-In-Chief of A Practical Wedding, headed this funky project. Using acrylic paint and a heavy canvas drop cloth, Keene's team created a beautifully geometric DIY photo backdrop. Pick paint colors to match your wedding, birthday, baby shower, bachelorette or whatever-other-reason party color scheme. And the best part? No sewing!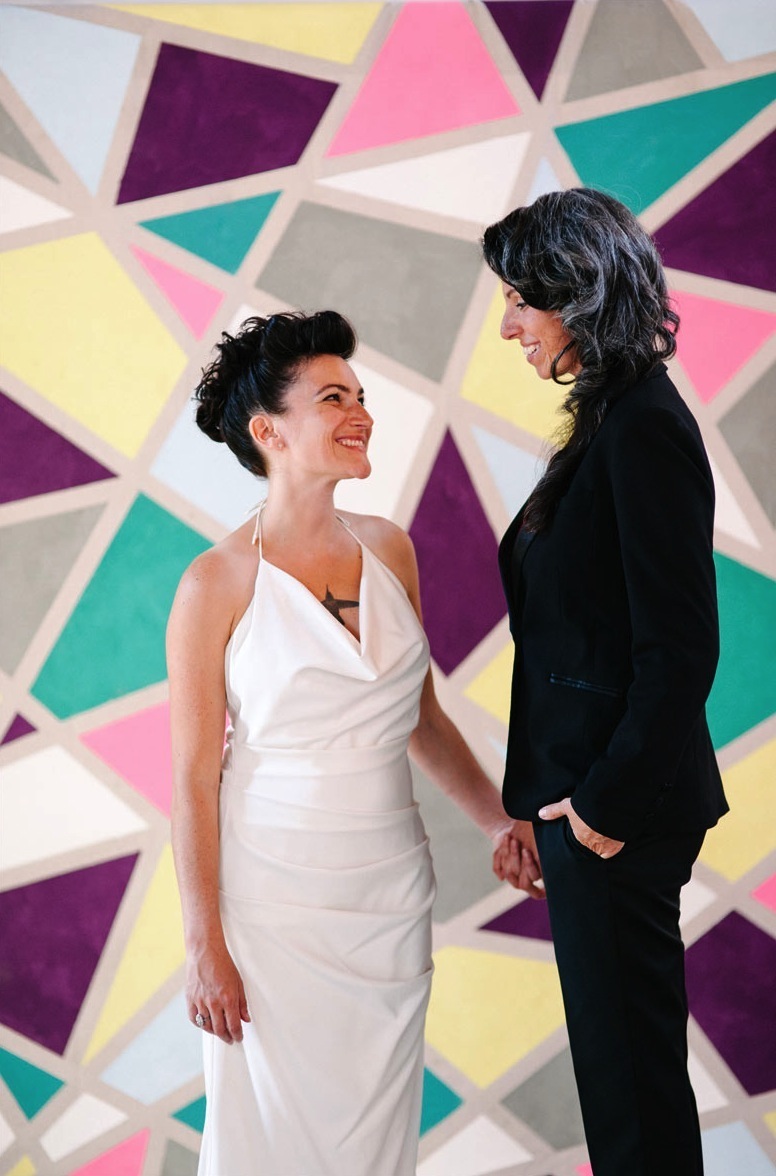 Image Via: A Practical Wedding
9. Learn from the Professionals
Though they have several other DIY photo booth concepts (check out the ombre- and tinsel-backdrop projects), the talent behind Lovely Indeed shows us the simplest DIY backdrop imaginable. Chelsea and husband Ryan use just a few colors of crepe-paper streamers and tape to make this DIY streamer backdrop. Cut, tape, repeat, repeat, repeat, done.
Image Via: Lovely Indeed
When your next get-together is near, get your DIY on, and prep the perfect space at your party — and everyone gather in!
Say "cheese!"
~Bri
One Response to " Say Cheese! 9 DIY Photo Booth Ideas You Need to Try "
June 27, 2016 at 11:03 pm , by Kerstin