Never Buy a Headboard Again; 9 Amazing DIY Headboards
A bedroom is never truly complete until the headboard is in place. Often the focal point of the room, retailers ask big bucks for this single piece of furniture. But don't bother turning your pockets inside out for this statement piece just yet. Here at BHG we like to save a dollar where we can, too. Check out this awesome list of DIY headboards and headboard alternatives that will give your bedroom the finished look you've been searching for — without the big dollar signs!
1. Wordy Wall
This DIY book headboard is perfect for all the literary fans out there. Design Every Day creator Kassandra made this wordy focal piece with plywood, nails, tape, and old thrift store books. She completes the look with a vintage hanging lamp.
Photo via: Design Every Day
2. Fab Refurb
Serena Appiah understands how to pay a little and get a lot. She painted and reupholstered this vintage DIY headboard over on her site, Thrift Diving. This beautiful headboard, Serena suggests, could also be used as a dining room bench backrest.
Photo via: Thrift Diving
3. Double Drapery
This bed canopy is soft, romantic, flowy, and — added bonus — it involves no sewing. Teryn Yancey, of Vintage Romance Style, created this dramatic DIY bed canopy out of curtain rods, chandelier swags, ribbon, and two tablecloths. Held together with hot glue, this faux headboard is sure to draw attention.
Photo via: Vintage Romance Style
4. Headboard or Footboard?
Moroccan-theme headboards can fall into the hundreds (sometimes thousands) of dollars. Don't shell out the dough until you've searched for Moroccan…doormats? That's what Kara Paslay did! She spent under $100 and made her very own, very trendy DIY West Elm Morocco headboard look-alike.
Photo via: Kara Paslay Designs
5. Upholstered Upcycle
Speaking of unique repurposing, who knew that an old door could make a perfect headboard? Rachael Ranney shows us how to make this upcycled upholstered headboard from a door in her video-and-photo tutorial on Buildipedia's blog. Story here? Salvage old furniture and your room could look this good, too.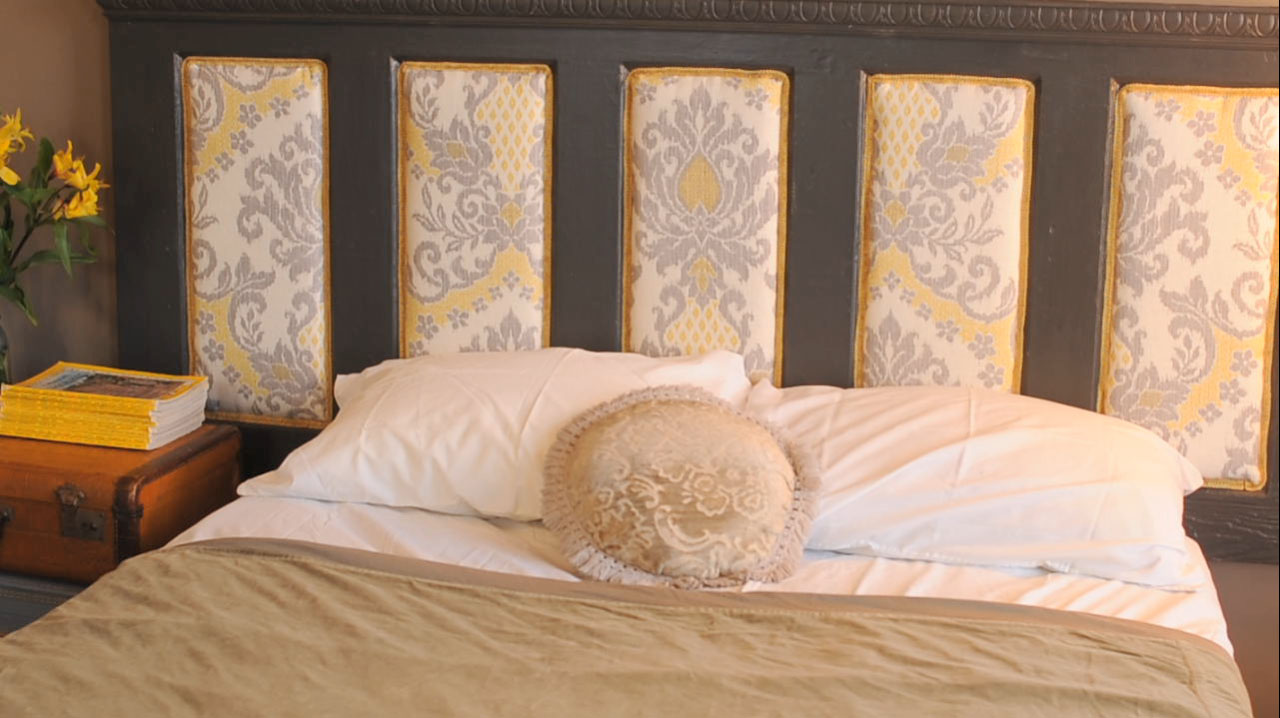 Photo via: Buildipedia
6. Nightlight, Better Built
DIY this fun marquee-inspired headboard with help from Emma Chapman's step-by-step guide on A Beautiful Mess. She and her sister created the headboard for a guestroom, but a piece like this could also look great in a kids' room and double as a nightlight.
Photo via: A Beautiful Mess
7. Hunted Happiness
The Hunted Interior's Kristin Jackson created this DIY headboard from scratch with her husband. Together they formed and built the backboard, filled with foamed and batted the front, upholstered (and problem solved) the unique shape, and perfected the project with nailhead trim. See how they made this top-notch piece in Kristin's step-by-step tutorial.
Photo via: Hunted Interior
8. Foam Faux Tile = Fauxm Headboard
Feel like there's not enough time to make these neat projects? Courtney can show you how to create a stylish DIY headboard in just 20 minutes. Check out this fun project over at her blog, Sweet C's, and see what you can make with just a little paint and a few foam tiles.
Photo via: Sweet C's Designs
9. Maybe a Mountainscape?
Who needs any kind of headboard when this beautiful landscape is behind their pillows? Artist Pam Lostracco shows us on her blog how she painted her bedroom wall into a beautiful mountain mural rather than adding a headboard. The effect is stunning.
Photo via: Pam Lostracco
These DIY's are not only lovely, they'll save you a pretty penny too! If you're looking to update the look of your bedroom soon, I hope you've found some inspiration here from these brilliant blogger ideas. In the meantime, keep DIYing, and let me know how your projects go!
Until then,
~Bri
5 Responses to " Never Buy a Headboard Again; 9 Amazing DIY Headboards "
March 2, 2017 at 12:42 am , by Lifehacks

August 9, 2017 at 10:30 am , by kandungan

September 16, 2017 at 10:34 am , by marty