10 Decorating Ideas to Bring the Beach to Your Home
I have always been a beach-loving girl. I don't know if it's because of the salt in the air or the sand in my hair. But every time I'm there, I feel an overwhelming sense of peace, tranquility and relaxation. Unfortunately, a seaside vacay isn't looking like an option for me this summer. However, I am not going to let this news drag me down (and neither should you)! If you're like me and the seashore is your "happy place," then do the next best thing. Experience the coastal vibe that you crave by bringing it to the comfort of your own home.
Take a peek at my top 10 decorating ideas that are certain to bring back some of that beach bliss you long for.
1. DIY Sea Glass Vases
Accessorize any room in the house with sea glass vases. Skip the department store's hefty fee and make them yourself. The materials you'll need: clear glass vases, rubbing alcohol, a flat tipped brush and frosty glass paint. Add a personal touch to your project by leaving messages in the bottles.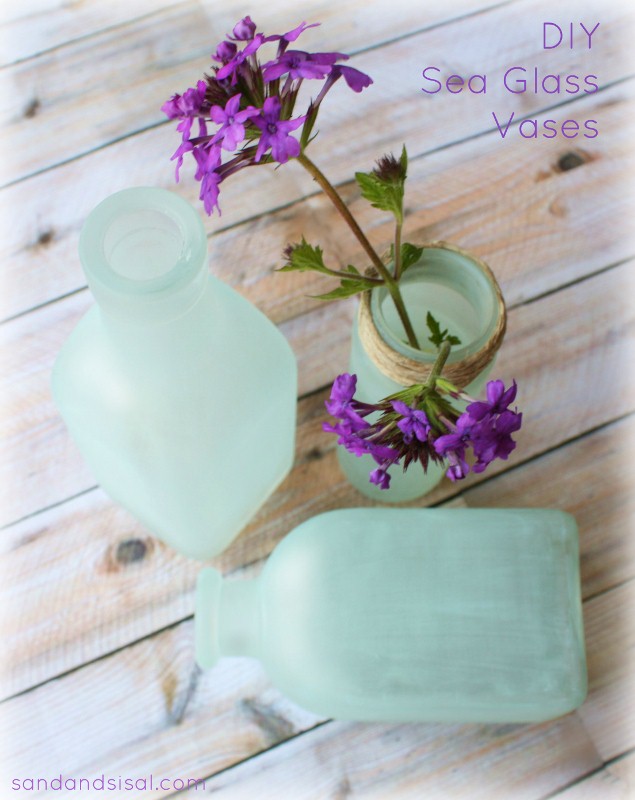 2. Driftwood Mirror
Bring the wild into your home by using driftwood. You can usually find this unique material washed up along the shore (or you can purchase it at a craft store). All you need is a few pieces of wood and some strong glue to transform a plain mirror into an enchanting statement piece.
3. Driftwood Sea Creature
Create a one-of-a-kind composition of your favorite deep-sea creature with a sheet of heavy-duty cardboard, a pencil, pieces of driftwood, a utility knife and a hot glue gun.
4. Knot Rope Lamp
Rope is a classic material that immediately gives any room a nautical feel. Place a knot rope lamp on the bedroom nightstand and let your dreams set sail.
5. Free Printable Wall Art
Wall art doesn't have to be expensive. Scientific journal-like prints of seashells are available for free online. You can also make custom prints using Photoshop. For an extra vintage touch, display your prints in distressed frames.
6. Coastal Table Setting
Express your love for the sea by showcasing its different elements. Consider color, texture, size and pattern when styling your dining area.
7. Seashell Letters
Collecting seashells always sound like a good idea, but what do you do with them after your coastal adventure comes to an end? Keep your seashore treasures from collecting dust in the garage by re-purposing them as household decor. Display your favorite findings by gluing shells on to wooden letters.
8. DIY Starfish Salt Dough Garland
Who says that a garland has to be reserved for the winter months? Decorate an empty fireplace mantle or an old-wooden fence with a seaside arrangement that will never go out of style.
9. Clear Glass Lanterns
The great thing about lanterns is that they can be used for practical purposes and for pretty purposes. You can welcome your guests with a lantern lit entryway or you can arrange the lanterns with other nautical accessories as decor in your living room.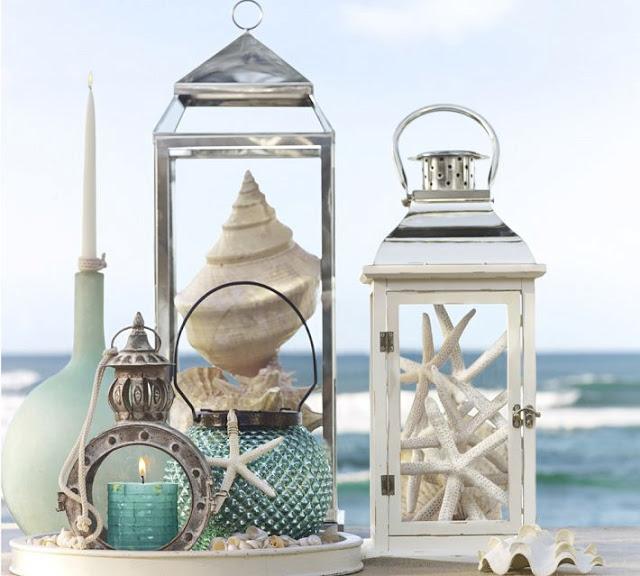 10. Large-Scale Photos
Poster size images (when paired together) make an eye-catching display. What better way to reminisce over your trip highlights than with pictures.
Someday, I will live in a house beside the sea, but for now the sea will just have to come to me.
31 Responses to " 10 Decorating Ideas to Bring the Beach to Your Home "
June 17, 2015 at 8:35 am , by Maria C. Marruffo

June 17, 2015 at 10:41 pm , by Juanita Poli

June 18, 2015 at 2:09 pm , by debra

July 7, 2015 at 4:26 pm , by Zsófi V

August 24, 2015 at 6:20 pm , by Going Beach

October 6, 2015 at 12:38 pm , by Malwina

June 6, 2016 at 8:25 am , by Mary

July 1, 2016 at 8:04 pm , by Angela

September 1, 2016 at 8:58 am , by Paula Piskie

October 20, 2016 at 7:15 pm , by Carolyn Byrd

January 17, 2017 at 11:12 am , by Stephanie V

February 16, 2017 at 4:29 am , by Tina Padgett

March 12, 2017 at 2:33 pm , by Susan

August 11, 2017 at 12:53 am , by hdpunjab

October 24, 2017 at 3:45 am , by ブランド時計コピー