DIY Halloween Swizzle Sticks
Hello! My name is Carrie – I'm the founder of lifestyle and DIY blog, Dream Green DIY. While there, you'll find me up to my elbows in Mod Podge, spray paint and the like just about any day of the week. Like many of you, I am constantly evaluating the little things that inspire me on a daily basis. Can I make that? Is there a more affordable way to achieve a high-end look? And how can I use what I already have to bring a little flair into my everyday?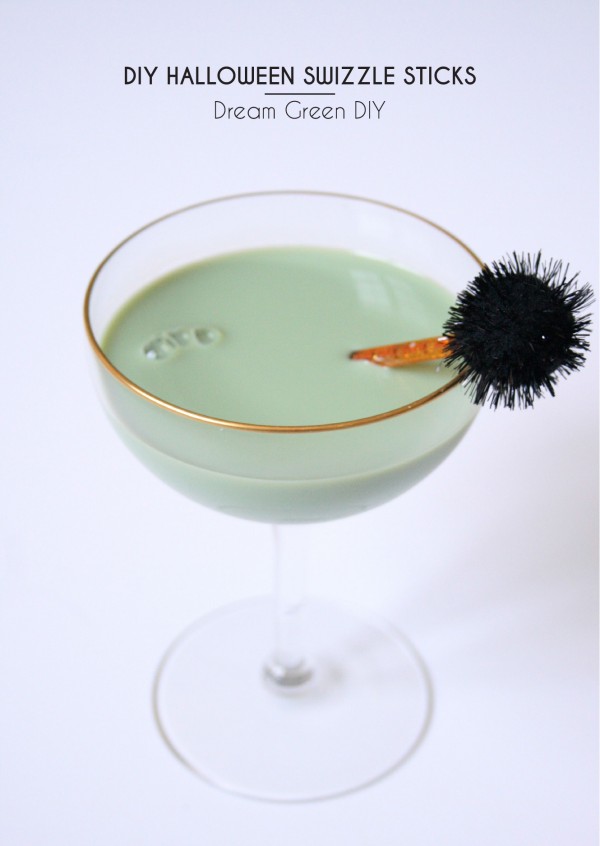 Case in point, today's simple Halloween DIY project. With the holiday weekend fast approaching, I've been brainstorming party-ready ideas that won't break the bank. I doubt I'm the only one who has to keep to a strict budget this time of year, what with the gift-giving season just around the corner. So you can imagine how satisfied I was when my DIY Halloween Swizzle Sticks ended up costing less than $10. See below for instructions on how to make your own!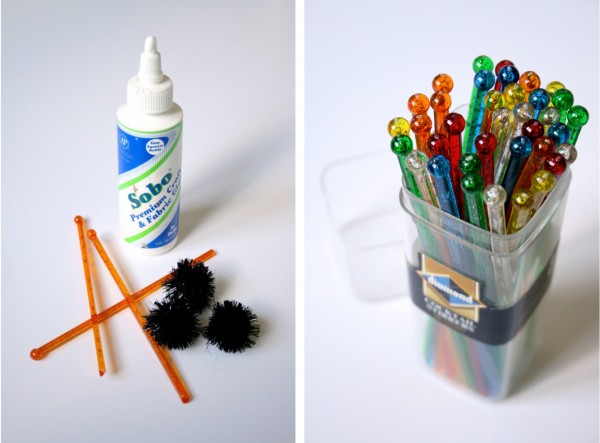 Supplies:
Plastic swizzle sticks (I pulled out the orange ones for this project)
Black pom-poms
Craft glue
Directions:
First, grab a pom-pom and gently pull apart the fibers until you see the round center. Squeeze a bit of the craft glue inside.
Next, pick out one of the orange swizzle sticks and put another dot of glue on the end.
Push the end of the swizzle stick into the middle of the pom-pom, holding it in place until it doesn't move when you gently let go. Set aside to dry for a couple of hours before handling any further.
Repeat until you have the amount of swizzle sticks desired.
This weekend project only requires about 30 minutes of hands on time, which, if you're anything like me, is a blessing what with multiple priorities taking up any given hour. The other great thing about these fluffy drink accessories? They can be repurposed for just about any holiday. Try red and green for Christmas, blue and crystal clear for the New Year and any other combination for life's little celebrations in between.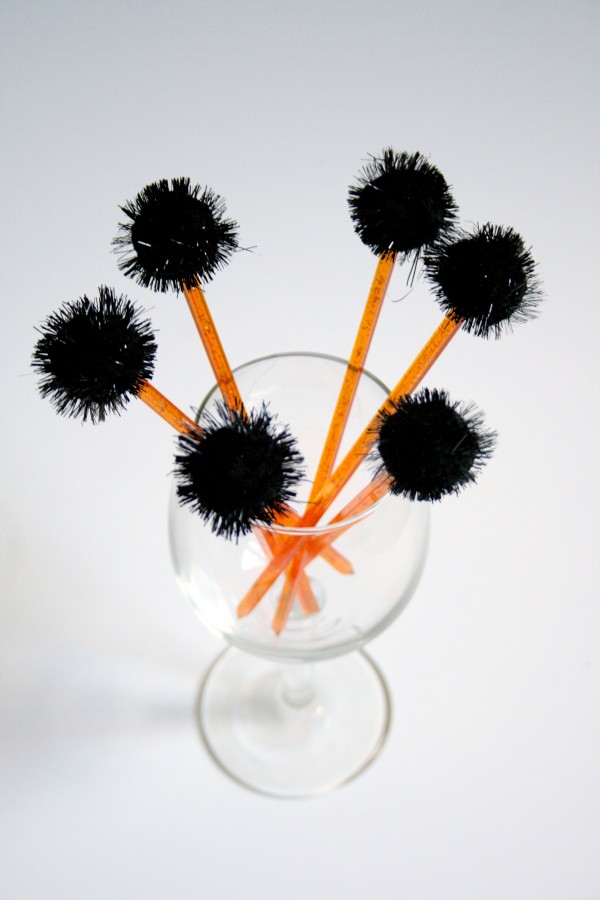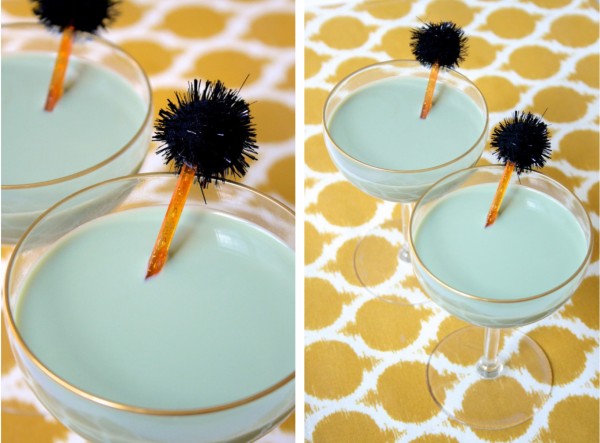 See the bonus recipe below for those tasty green concoctions. It's nearly impossible to go wrong with this smooth, creamy, minty cocktail (with just a hint of rich chocolaty flavor!) come bash time.
Halloween Mintini
Godiva
Kahlua
Bailey's
Creme de menthe
Milk
Green food coloring
Combine all to taste, add about 4 drops of the food coloring and pour into cocktail glasses. Pop in a DIY swizzle stick at the rim, and serve.
Cheers! -Carrie, Dream Green DIY