Perking Up a Room With Drop Cloth Curtains
Hi friends! Jenny Komenda here, from Little Green Notebook.
I remember years and years ago when I was shopping for my first pair of curtains from a retail store. I remember being sort of shocked at the price. Really, $150 per panel?! It had to be less expensive to make my own curtains. After doing some research, I realized, after buying the fabric I liked and all the necessary linings, I was close to $100 per panel in my costs! Curtains are just expensive.
BHG
One trick I've learned over the years is canvas drop cloths can make amazing curtain panels, especially if you have extra tall windows. The canvas fabric is heavy too, so if you're trying to cut costs, you can likely get away with not lining these panels. Here is a link to my favorite drop cloth (just $22 for a 9×12!) though you can find all sorts of sizes at your local hardware store.
Leaving the drop cloth in it's natural finish is a lovely look. They're usually an oatmeal color with a linen-y texture. It's easy and fun to jazz up the panels though, and luckily the web is full of great DIY ideas!
Stripes are the obvious choice! Just a little fabric paint and some painters tape. Wouldn't these be cute in a kids room or as a shower curtain?
image via Dwellings by Devore
I also love these stripes!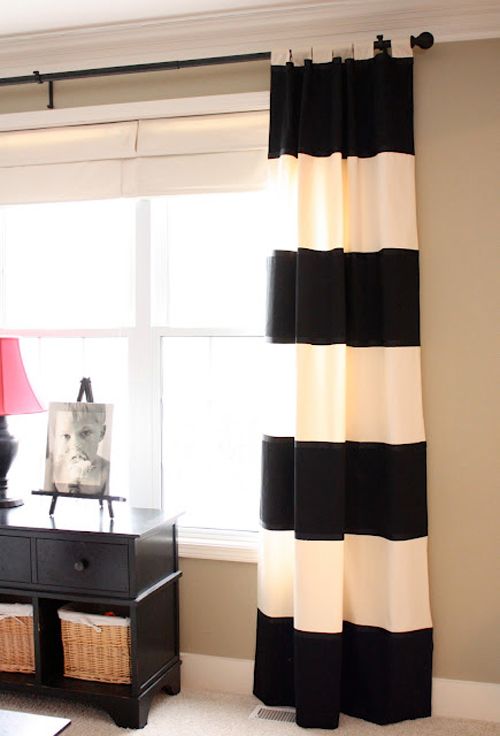 image via The Yellow Cape Cod
These tone on tone stripes are subtle and gorgeous. I'm thinking of trying something similar in our new house.
image via Cottage and Vine
Or maybe try adding stripes to just the bottom of your panels?
image via Shanty 2 chic
Or try adding ribbon trim!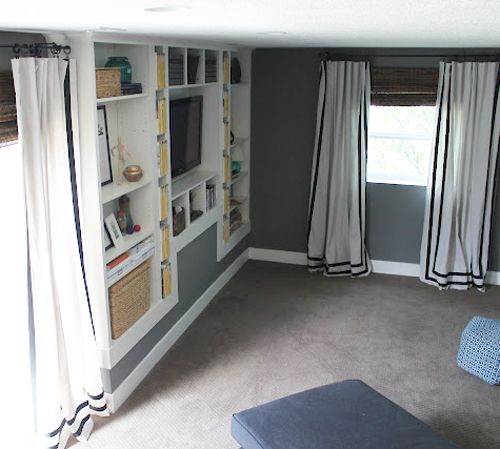 image via Chris loves Julia
Take a cue from these Anthropologie curtains and dip-dye the panels for an ombre effect.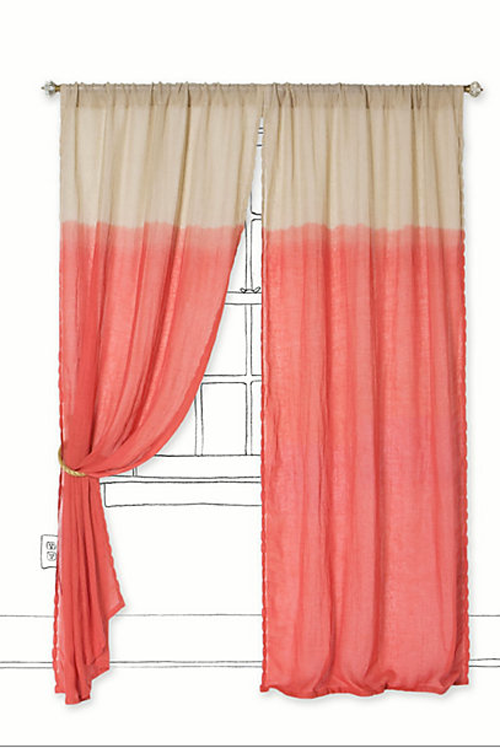 image via Anthropolgie
Or if you like the ombre look, try stencils in tonal colors.
image via my hands made it
 Here's another stenciling project. I love the ikat pattern.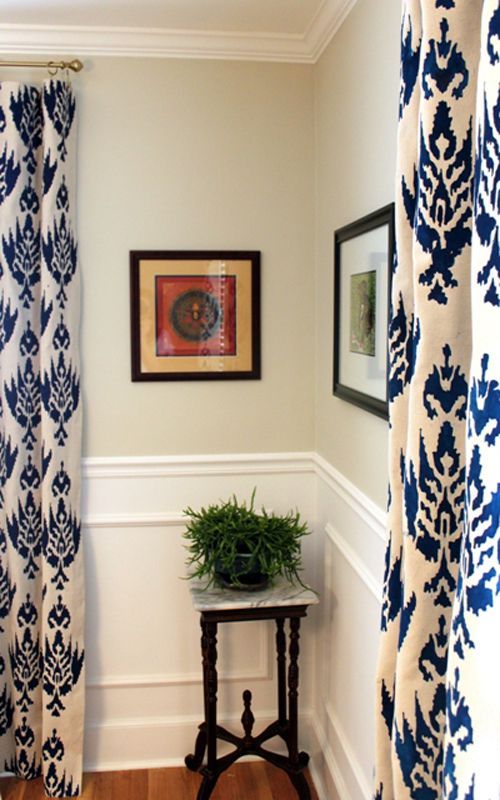 image via Triangle Honeymoon
Geometric stencils also work really well.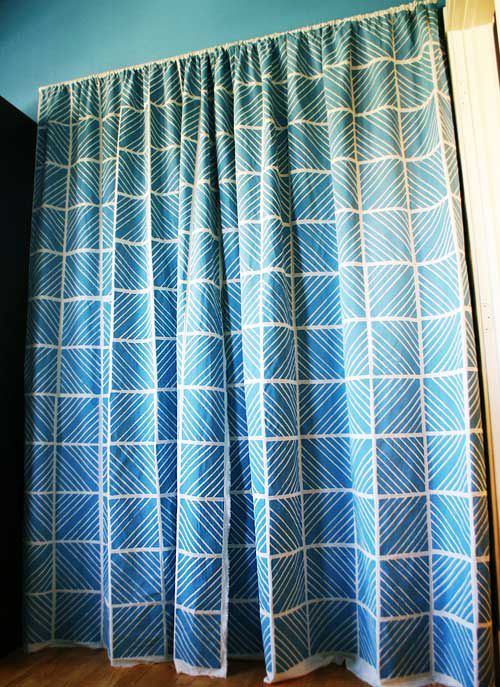 image via Apartment Therapy
If you're even more artistic, try a free-hand squiggle design with some fabric paint.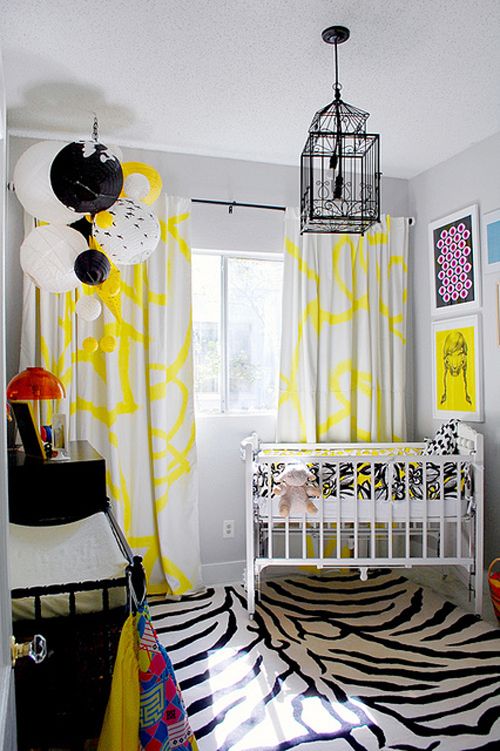 image via Design Crisis
Or maybe you don't feel like getting too crafty? Why not try dying the whole panel a dark color? I love this moody black.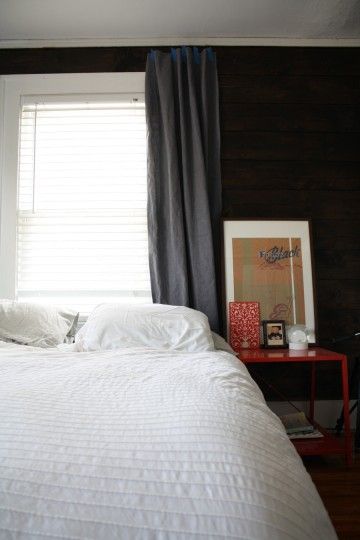 image via MerryPad
It looks similar to this image from BHG.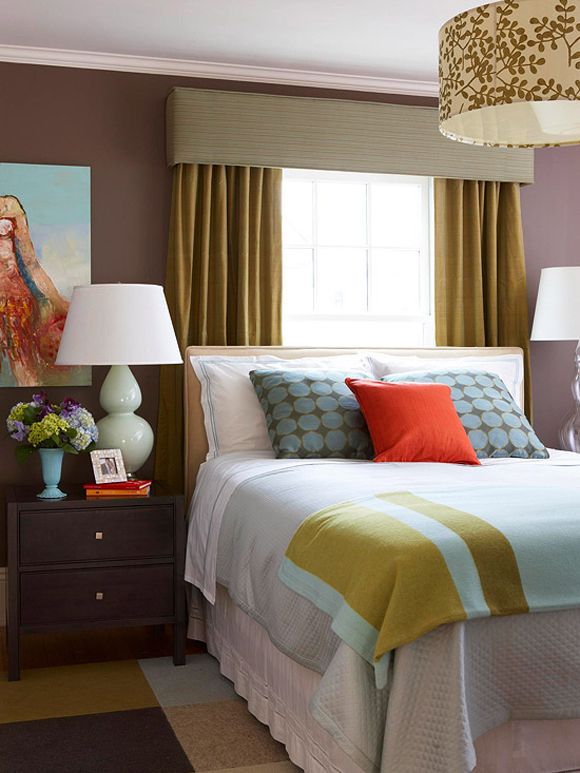 25 Responses to " Perking Up a Room With Drop Cloth Curtains "
July 25, 2012 at 11:55 pm , by shawna

July 26, 2012 at 10:21 am , by emily

July 26, 2012 at 11:05 am , by Stephanie

July 27, 2012 at 11:39 am , by Jenny

July 27, 2012 at 3:09 pm , by Sue in RI

July 29, 2012 at 6:17 am , by Kells

April 24, 2013 at 10:56 am , by Martha

July 8, 2013 at 12:33 pm , by John Decker

July 29, 2013 at 7:38 pm , by Sarah

April 17, 2014 at 2:48 am , by Jack Fan

May 22, 2014 at 3:45 am , by TOM

July 24, 2014 at 2:07 am , by shane watson

October 18, 2014 at 12:23 am , by Harrison